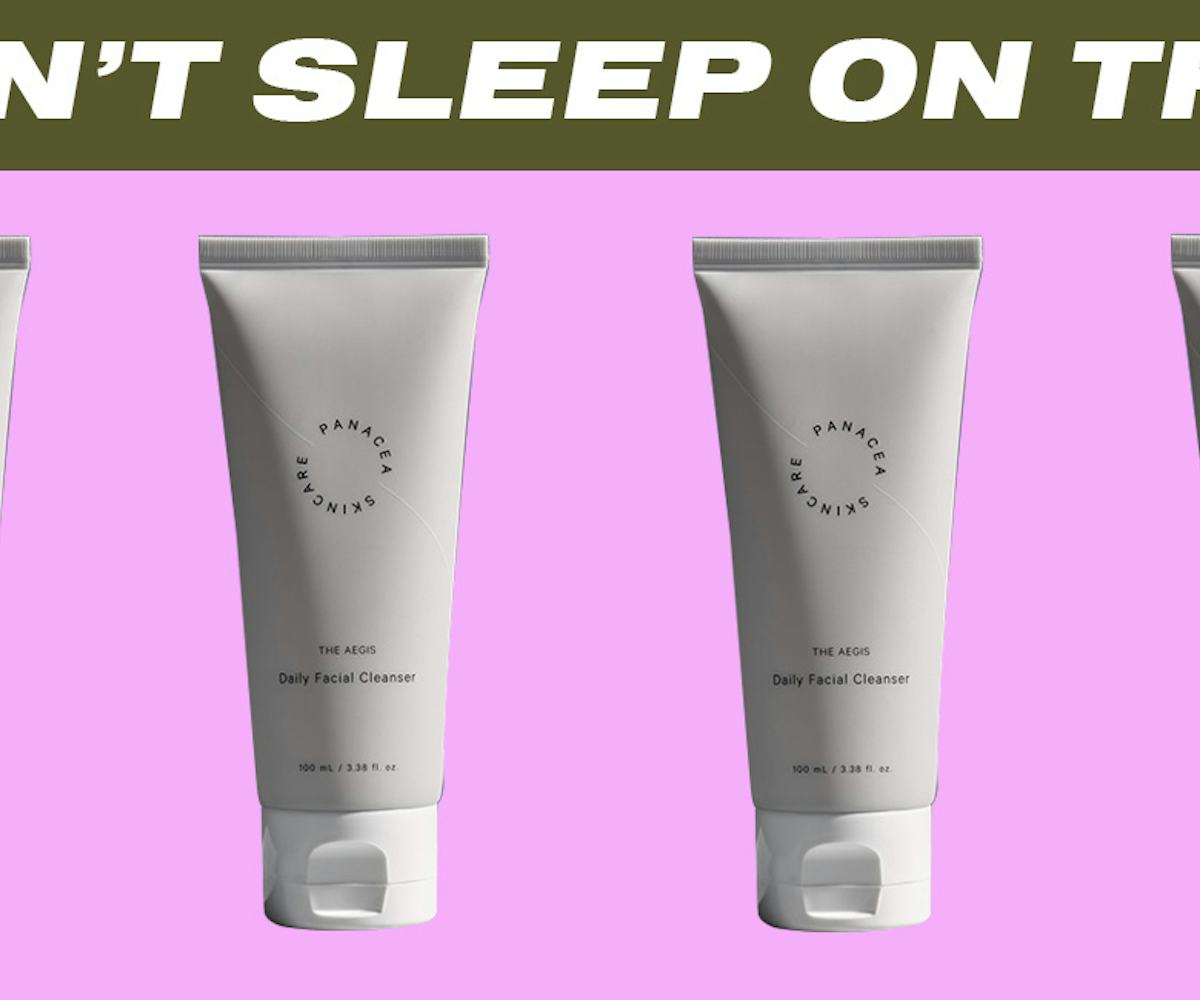 This Is The Only Cleanser That Doesn't Make My Sensitive Skin Break Out
Friends don't let friends miss out on all the cool, under-the-radar things they know about, like which little-known beauty brand is low-key making the best highlighter around. And because we consider our readers to be like friends, we gather together all our best finds in our Don't Sleep On This series. Check in every week to see what things we can't wait to share with you.
My skin is sensitive. It breaks out at the mere sight of an irritant, which means it's been causing me grief since I hit puberty. I struggled through a round of Accutane, but I still relied on a medical-grade facial cleanser to keep the breakouts at bay for years after. And I hated it. I dabbled with other cleansers, of course, especially the trendiest ones on the market, but it was no use; I always made my way back to the boring, prescription cleanser I was given by my dermatologist. It was my crutch.
Until, that is, I stumbled across Panacea's Aegis Daily Facial Cleanser. I was given the brand's full three-step line as a gift, and I'd already used and loved its moisturizer and sunscreen, so I finally thought, What the hell? If I'm going to have this product taking up valuable real estate in my medicine cabinet, I'd better use it.
So, I made a deal with myself: If after a week, I found that my skin couldn't handle this new product, I'd banish it to a box underneath my bed where all the other cleansers that had failed me lived quietly, in a purgatory of sorts.
Obviously, it did not end up there; actually, that prescription cleanser I used begrudgingly for so long is what ended up banished to my below-the-bed purgatory. Because Panacea was different. Yes, the cleanser was formulated with acne-prone and sensitive skin in mind, but, so were all the others I'd tried. Yet unlike those other cleansers, it was equal parts gentle and combative—and totally effective. My ever-present acne spots dried right up, but the rest of my face didn't. And that was a first, even with my medical-grade cleanser: I always had to deep-moisturize after washing my face with it, but the same wasn't true with the Aegis cleanser.
This is likely because this cleanser is meant to do the job of a few products: Panacea's line was modeled after and inspired by the K-beauty regimen, which, as you know, consists of applying at least 10 products for optimal effects. Panacea offers the same results as a more thorough (and pricey) routine, packing all the goodness into three products. In the cleanser, there's hyaluronic acid, vitamin E, green tea extract, and fig extract, all of which bring in hydration and moisture, while laminaria japonica makes skin even and glowing. It's basically a cleanser, moisturizer, and brightening serum all in one. It's also free of parabens and sulfates and is cruelty-free.
I've been using this cleanser for about a year now, and it's given me the same flawless results every season (which I can't say about the rest of skin-care regimen). I don't see myself ever going back to the dark days of having to use medical cleanser ever again, and I only have Panacea to thank.
Panacea, Aegis Daily Facial Cleanser, $24, available at Panacea.