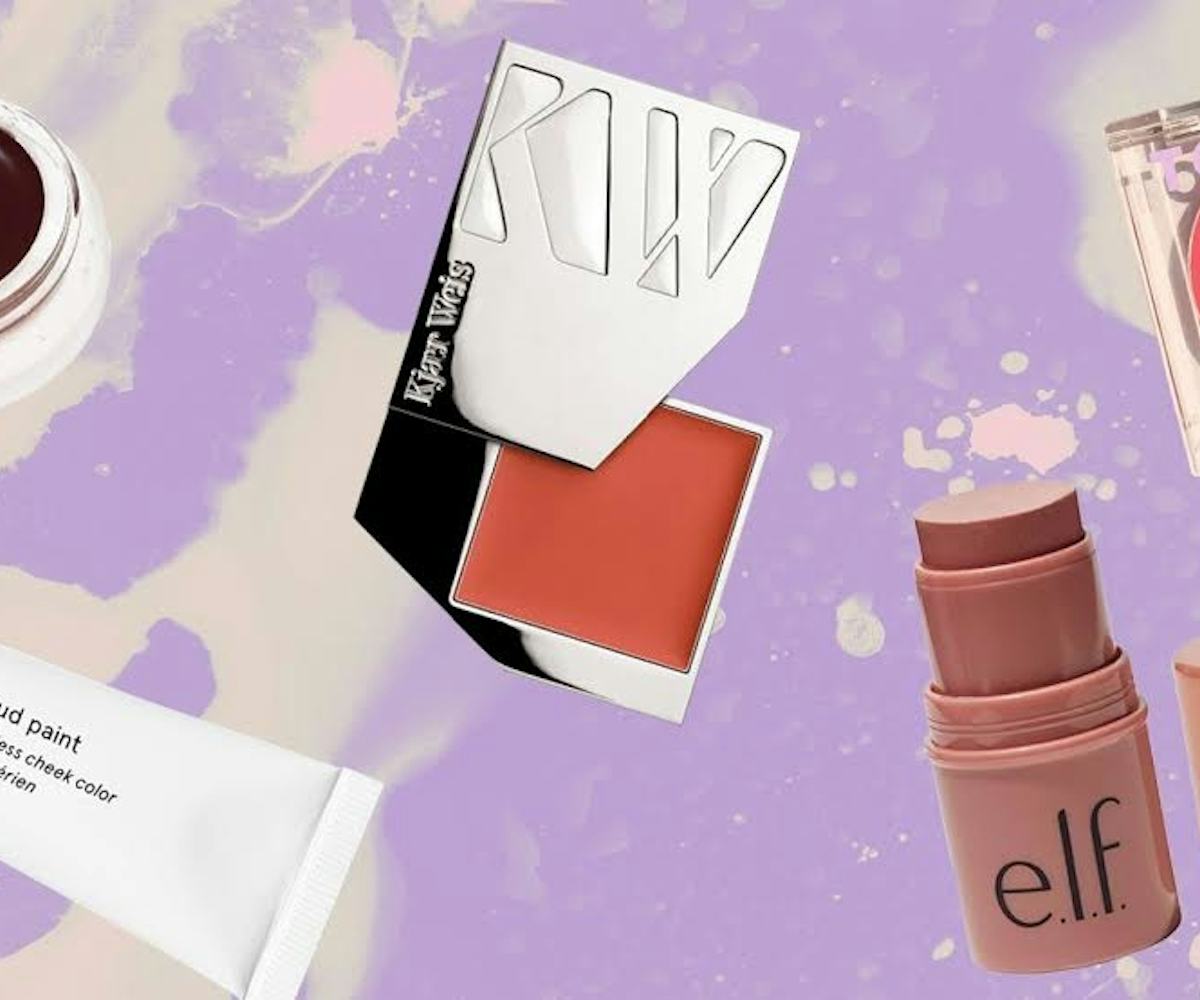 Images courtesy of brands
9 Dewy Cream Blushes That'll Liven Up Your Winter Skin
The winter is notorious for doing a number on the skin. From drying it out to draining it of any semblance of warmth in tone, the season makes it hard to live your best, dewy life without a doubt. Thankfully, there are a handful of products out there that try and make achieving that healthy, luminous skin look in the colder months a lot easier, and the best cream blushes on the market are no exception.
Commonly praised for its similarities to fingerpaint, the foolproof category offers the best of both worlds, and a solution to two of winter's biggest skin woes — by adding sunkissed-washes of color to the skin and offering hydration and nourishment. Coming in a variety of shade options — from fresh pinks and corals to deep, intense burgundys and reds — the best cream blushes aren't just for your cheeks, but recommended to be multi-use as a highlighter, lip stain, lid color, and more. What's more, the packaging is often optimized for easy and quick on-the-go application, coming in sticks and pots — no brush necessary.
Check out nine of the best cream blushes on the market right now — from luxe options to drugstore favorites — below.
RMS Lip2Cheek Blush, Lip, And Cheek Stain 
RMS, Lip2Cheek Blush, Lip, And Cheek Stain, $36, available at RMS.
Use it as a blush, lip tint, cheek stain, or sheer wash of color on the eyes, this multi-use pot offers a luminous, healthy sheen wherever you want it. The buildable formula combines hydration and protection with stunning mineral color for a natural look, and because the pigments are so concentrated, a little goes a long way.
Glossier Cloud Paint
Glossier, Cloud Paint, $18, available at Glossier.
The hype checks out on this creamy blush from Glossier. Packaged to look — and feel — like individual paints, the gel-cream formula melts into the skin, for buildable coverage that's just as easy to apply as it is to wear.
Pixi On-The-Glow Blush
Pixi, On-The-Glow Blush, $18, available at Pixi.
This new formula from Pixi infuses ginseng, aloe vera, and a blend of fruit extracts into an easy-to-use tinted balm that hydrates and conditions the skin. It's available in three, bold shades — and as its name suggests, comes in packaging that is perfect for touch-ups on-the-go.
NARS The Multiple 
NARS, The Multiple, $39, available at Sephora.
This stick formula is a classic for a reason — it's designed to quite literally do whatever you need it to. From highlighting and sculpting to warming up the skin with sheer color, The Multiple can be used on the eyes, cheeks, lips, and body.
Kjaer Weis Cream Blush 
Kjaer Weis, Cream Blush, $56, available at Follain.
With a hefty $56 price tag, this option isn't cheap. But if blush is a staple in your beauty routine, and you want to treat yourself to something luxe, this offers just the right sun-kissed pigment. Bonus: It comes in chic, metal refillable packaging, so you're able to just buy refills when you run out.
Tower 28 BeachPlease Tinted Lip + Cheek Balm 
Tower 28, BeachPlease Tinted Lip + Cheek Balm, $20, available at Sephora.
These newly-launched multi-use tinted balms deliver the ultimate, luminous summer glow and color, without any caking or harsh lines. Formulated with green tea extract to calm the skin, and aloe vera extracts to hydrate and soothe, the silicone-free formula feels like a second skin.
E.l.f. Monochromatic Multi-Stick
E.l.f., Monochromatic Multi-Stick, $4, available at Target.
The ease of a stick, the hold of a cream-to-powder formula, and the versatility of a multi-use product all under $5? Perfect. What's more, the shimmery, subtle finish actually works, too — leaving the skin with a natural glow.
Kosas 8th Muse Cream Blush
Kosas, 8th Muse Cream Blush, $34, available at Kosas.
Can't resist a two-in-one? This cream blush option — an ultra-blended formula with a high dose of pigment — comes alongside a coordinating highlight pan.
Ilia Multi-Stick
Ilia, Multi-Stick, $34, available at Sephora.
This multi-stick comes with Sephora's stamp of Clean Beauty approval, blending the hydrating powers of vitamin E, avocado oil, and organic shea and cocoa. The buttery slick formula helps to nourish and regenerate the skin while sculpting the lips and cheeks with a sheer, natural-looking flush.
NYLON uses affiliate links and may earn a commission if you purchase something through those links, but every product chosen is selected independently.