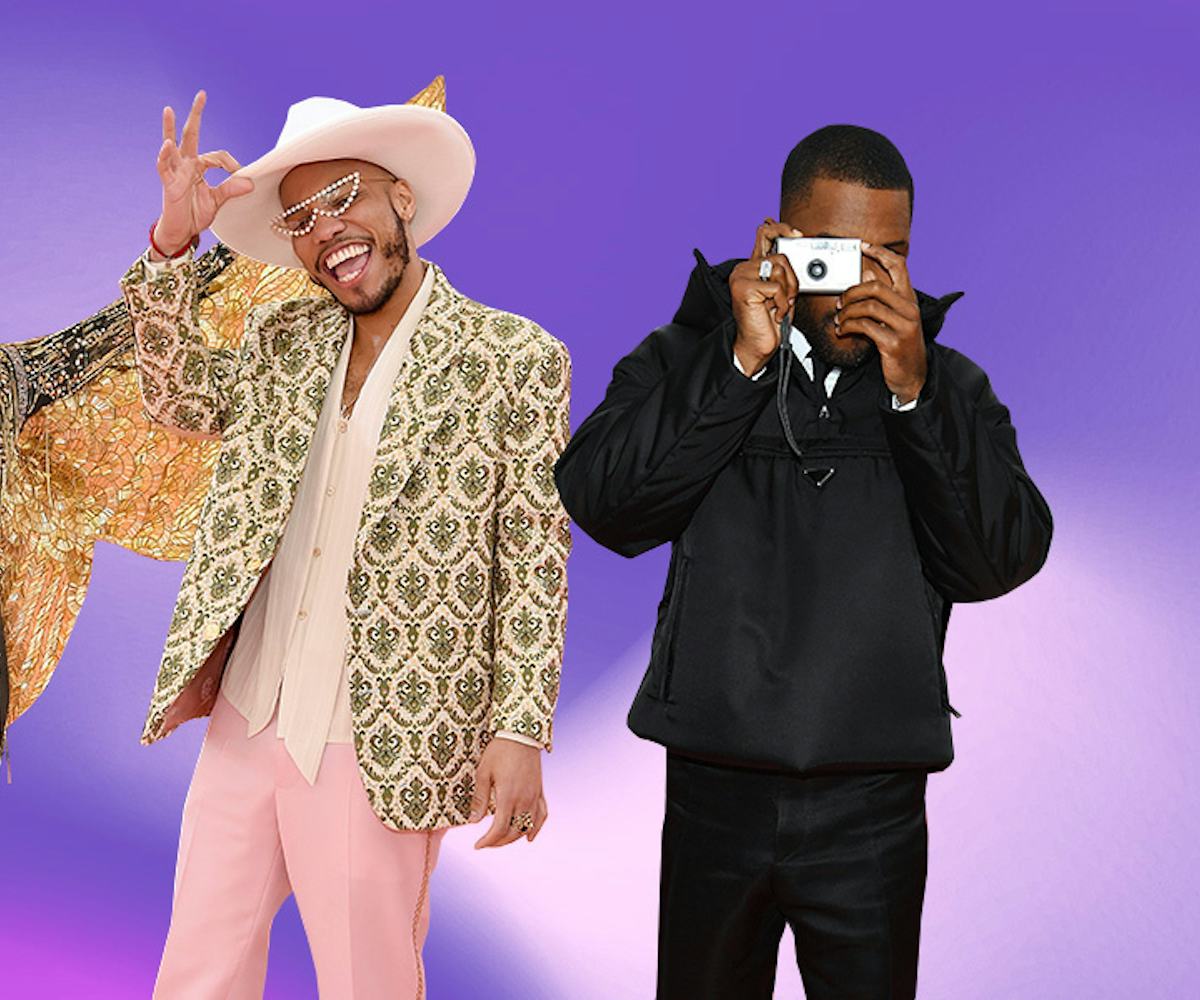 Photo by Neilson Barnard/Getty Images, Jamie McCarthy/Getty Images, and Dimitrios Kambouris/Getty Images for The Met Museum/Vogue
Men Served At The 2019 Met Gala
These looks were very good
At this year's Met Gala, something unexpected happened: The men took as many fashion risks as the women that walked the red carpet. In place of black and navy tuxes typically donned for these type of formal events, almost every man who walked down the flowery pink carpet was wearing something truly unique and out-there.
Though it was probably the camp theme that allowed men to feel comfortable wearing something they normally wouldn't have dared, I'm left hoping that this will inspire more men to turn up to awards shows in outfits this exciting.
Below, check out the best-dressed men from the 2019 Met Gala.
Darren Criss wore a very oversized pussy bow and a truly unconventional makeup look to the red carpet, putting the other men who wore a printed suit with a little nail polish to shame.
You may think Frank Ocean's look is mundane, but he actually pulled off one of the most subversively campy looks of the night.
I tip my hat right back to Anderson .Paak.
Jeremy O'Harris further proving our point that no one does camp like Black people.
Bow down to Billy Porter's gold-encrusted butterfly moment.
I was truly not prepared for this Cody Fern look. The sheer shirt over the suit. The dramatic gloves. The curls. The hint of yeehaw with the boots. The sheer, oversized turtleneck.
Ashton Sanders may have just reinvented suit dressing, and we're not mad about it at all. He's also a serious contender for the best hair of the night.
Ryan Murphysaid that his look was a tribute to Liberace, but I'm even more interested in the fact that this pearl-incrusted look weighs 100 pounds, and that he had to lie down in the car on his way to the event. Now that is dedication.
Hi, I'd like to be wrapped in Hamish Bowles' jacket for the rest of my life.
Dapper Dan is truly dressed like he's running this whole show, and maybe he is.
Jared Leto brought back my favorite Gucci runway moment.
Michael Urie's gender-bending outfit is made better by the fact that the bare half of his face is paired with the dress half, and the fully made-up half of his face is paired with the suit side.
Cole Sprouse looked better with Lili Reinhart attached to his side, but his look does stand on his own. Something about that vest!
Ezra Miller's incredible look had me genuinely confused as to where his real eyes were at times.
Though we're a bit disappointed he didn't come in drag, RuPaul's oversized bowtie and the literal zebra on his shoulder made up for it.
Harry Styles in a sheer ruched jumpsuit? Sign me up.
Jordan Roth's look may have been better suited at last year's theme, but its excessiveness is still very campy.