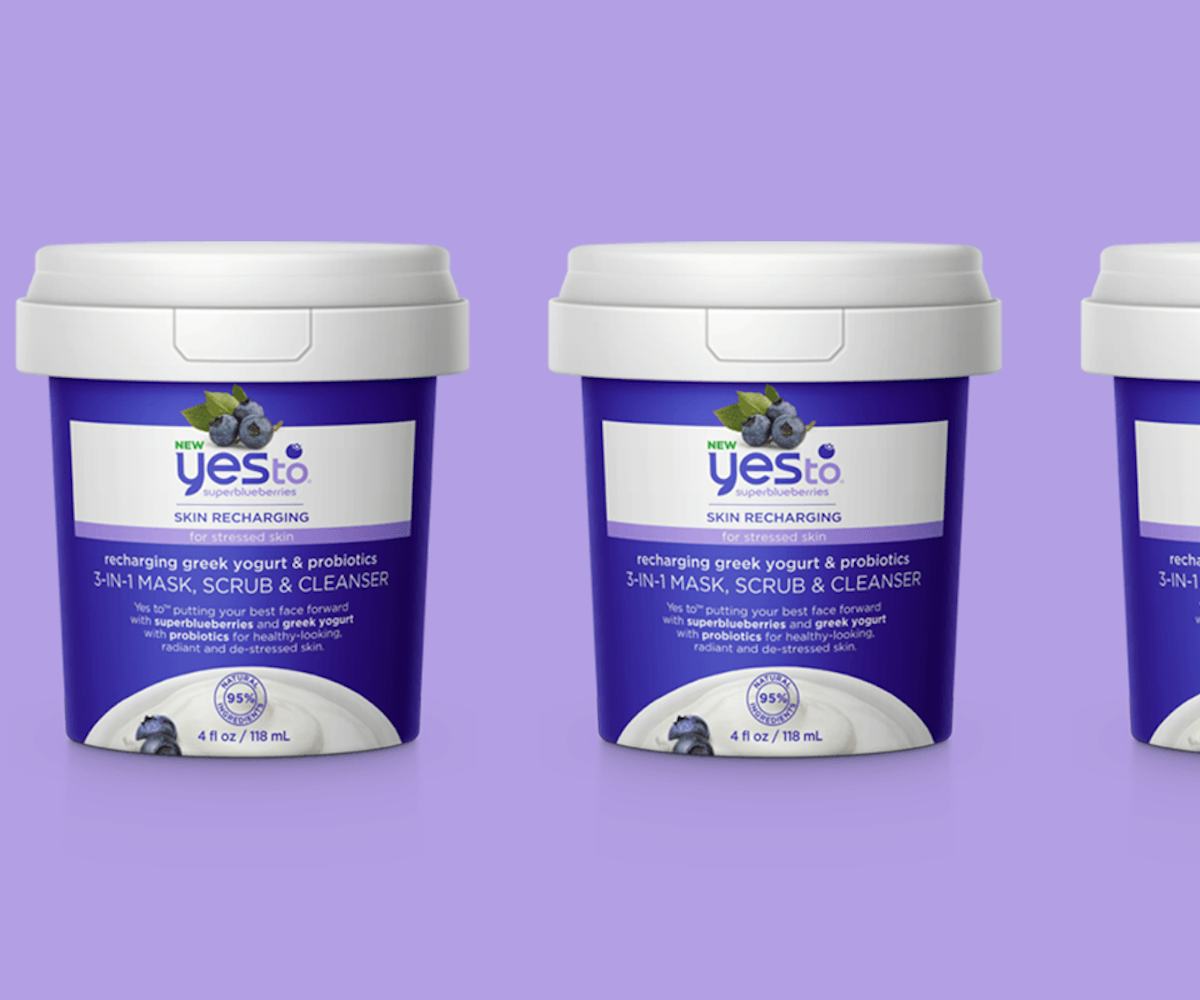 Photo courtesy of Yes To
This Drugstore Mask Gave Me The Smoothest Skin Of My Life
Friends don't let friends miss out on all the cool, under-the-radar things they know about, like which little-known beauty brand is low-key making the best highlighter around. And because we consider our readers to be like friends, we gather together all our best finds in our Don't Sleep On Thisseries. Check in every week to see what things we can't wait to share with you.
Like the rest of the universe, I'm a sucker for a good face mask. But, to be honest, I've always been a bit annoyed by them, especially since I try to steer clear of sheet masks for environmental reasons. Lathering on a slimy mess, becoming increasingly uncomfortable as it dries, and then spending forever washing it off has always felt like a waste of my time, though it's taken me a while to admit it. I love a cheap, relaxing self-care moment, but I've mostly felt like masks have been more work than they're worth—I don't usually see much change after I scrub (and scrub, and scrub) them off.
But maybe my problem has been that I wasn't trying the right face masks, because, ever since I spotted my newest Yes To obsession at the drugstore, I've been a convert. Initially, this mask caught my eye because it was packaged like Greek yogurt, complete with a spoon, and I'm a sucker for cool packaging. I was also drawn to the claim that it doubled as a scrub and a mask, because I love a multitasking beauty product.
What else do I love about it? Well, there's no tightening or drying process, where it feels like your skin has shrunken to the point where it's too tight for your skull. Instead, this mask stays nice and slick on your face for as long as you keep it on. When you want to remove it, it comes off like a dream, and you're supposed to take a few seconds to scrub it into the skin, giving yourself a bit of exfoliation to boot.
Using yogurt as a mask is said to be a great DIY treatment, and this mask takes that claim and makes it fact. It has Greek yogurt and probiotics as key ingredients, which balance your skin without stripping it of moisture. It's also a good source of lactic acid, a key ingredient of cult favorite (and pretty pricey) Sunday Riley's Good Genes.
Washing this mask off for the first time marked one of the only times that my face has actually looked different after taking off a mask. Not only were a few dry skin patches gone, but my skin actually looked brighter and felt more moisturized. My sensitive skin was also devoid of redness, which doesn't typically happen after trying a new product. And, after using it regularly for a couple of months, I'm still getting the same results.
Though I use it as a mask and exfoliator most often, this product can also be used as a cleanser if you don't have the 15 minutes to spare in your skin-care routine. And, even if left on just long enough to be rinsed off, it'll still make you glow. That particular perk would be thanks to the "superblueberries," which the brand claims make your skin radiant.
I'd say I'm lucky (and a bit spoiled) to work at a place where there seems to be an endless supply of beauty products at my fingertips. But, even though I've tried much more expensive masks to try to get over my distaste for them, I don't think there is one better than this one—which just so happens to be available at an incredibly friendly price.
Yes To, Yes To Superblueberries Recharging Greek Yogurt And Probiotics 3-In-1 Mask, Scrub, And Cleanser, $8, available at Amazon and Ulta.
NYLON uses affiliate links and may earn a commission if you purchase something through those links, but every product chosen is selected independently.