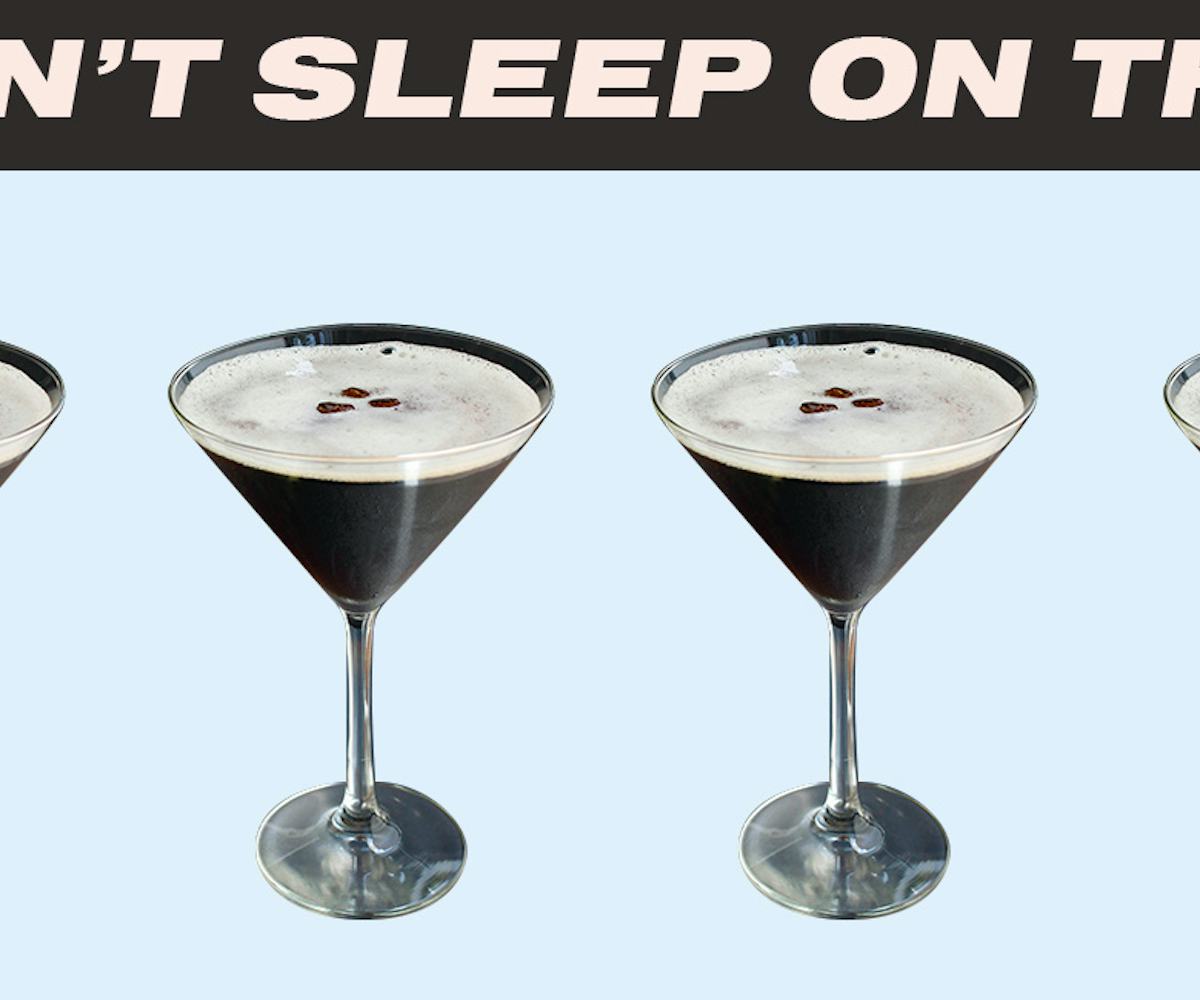 This Is The Best Martini Recipe I Have Ever Tasted
When I went to Iceland, this wasn't the "souvenir" I planned to come back with
Friends don't let friends miss out on all the cool, under-the-radar things they know about, like which little-known beauty brand is low-key making the best highlighter around. And because we consider our readers to be like friends, we gather together all our best finds in our Don't Sleep On This series. Check in every week to see what things we can't wait to share with you.
"Why did we ever stop drinking these?" asks Miranda after taking a sip of a Cosmopolitan at the end of the Sex and the City movie. Equally satisfied Carrie replies, "Because everyone else started."
Late this summer, I found myself asking the same question to one of my friends as we ordered Espresso Martinis at the Williamsburg Hotel restaurant in Brooklyn. Granted over the past few months, I have found myself drinking any cocktail that the restaurant's beverage director Rael Petit puts out, but, still, it was an unexpected order, and felt like a flashback to an earlier era. But then, something about the freshness of the coffee, combined with a clean vodka profile, prompted a Proustian memory that took me back to the time I used to order Appletinis and Cosmos when I first moved to New York—but, like, with less sugar and no Ocean Spray. It was, simply put, delicious.
Fast-forward to last month, and I was in Reykjavik, Iceland, in the trendy cocktail bar-restaurant Apotek where I saw two bartenders furiously shake several Espresso Martini-filled shakers until a beautiful ombré formed in the coupe glass , complete with a thick layer of foam on top. "It's an Employees Only recipe," one of the bartenders states to another patron, rubbing his wrists following the vigorous shaking, referring to one of the most esteemed cocktails bars in New York City, that has since opened locations in Miami, Los Angeles, Singapore, Hong Kong, and more.
It's true. This recipe has traveled halfway across the Atlantic Ocean, and Trevor Schneider, Reyka Vodka brand ambassador, is responsible. "I was taught this recipe when I was working at Employees Only by the one and only Dev Johnson," he tells me. "Dev was taught by Tim Hedstrom back in 1986, when the Espresso Martini was just getting into the L.A. scene and fresh ingredients were not a common thing behind the bar. Dev had an espresso machine behind his bar and decided to tweak a recipe using fresh espresso instead of [coffee-flavored] liqueur, and that's when this version was born! We have both been making it this way ever since." After traveling at least twice a year to Reyka's distillery in Iceland for the last few years, the recipe has become part of many bar menus there (it should be noted that the city is fairly small!), which is how I find myself sipping on the most exquisite and refreshing Espresso Martini I have ever had, a recipe that Schneider convinces me I can make at home.
Schneider attributes that refreshing profile to the fresh espresso which "creates a texture, that is far superior to a liqueur," and points to movements like farm-to-bar, that have seen a rise to seasonal and fresh-ingredient cocktails, as the reason for why drinkers like me are suddenly getting a taste back for flavored martinis and early aughts-favorited cocktails like Cosmopolitans. "The cocktail movement has changed the way people drink and order cocktails. Mixologists and bartenders are now using less pre-made mixes and are opting for fresh juices and ingredients, opening up new doors for creative cocktails and giving the traditional flavored martinis a small break," Schneider says.
The rise of the craft coffee culture is also undoubtedly responsible for the comeback. Schneider insists that the secret to this recipe is the fresh coffee. "The fresh espresso lends a simple yet flavorful touch to the cocktail," he says. While Schneider says any fresh brew will work for this recipe, according to Erika Vonie, Trade's director of coffee, the best espresso to mix with vodka and simple syrup is "a classic coffee that doesn't impart distinctive fruity characteristics, stays more on the chocolatey and caramel side, that also compliments added sugar really well," like Onyx's Eclipse.
The other secret to the perfect Espresso Martini? That wrist-numbing, vigorous shaking that creates the perfect layer of foam, which, according to Schneider, not only creates the desirable texture but also serves as "a pillow for the coffee bean garnish." Though I think the true appeal for someone like me (read: home bartender) lays in the short list of ingredients that you likely always have around: vodka, coffee, and simple syrup. "Cocktails with tons of ingredients have cooled off and now people are interested in drinking simple yet fresh cocktails that taste great but still offer that sophistication of a martini," he says. "The Espresso Martini is a perfect example of that!"
After rediscovering my love for a flavored martini in New York, and confirming that love halfway across an ocean, I recently found myself making the recipe (see below) back at home in New York for a couple of friends. "This is the best Espresso Martini I have ever had," says one who has an aversion to sweet drinks. "People should start drinking these again!"
Not wanting to take away from their moment of delight, I thought to myself, They have.
Reyka Vodka Espresso Martini
Ingredients:
2 parts Reyka Vodka
1 part fresh espresso
1/2 part simple syrup
3 espresso beans, for garnish (optional)
Directions
Combine all ingredients into a cocktail shaker with ice, shake vigorously, strain into a martini glass, and garnish with espresso beans.