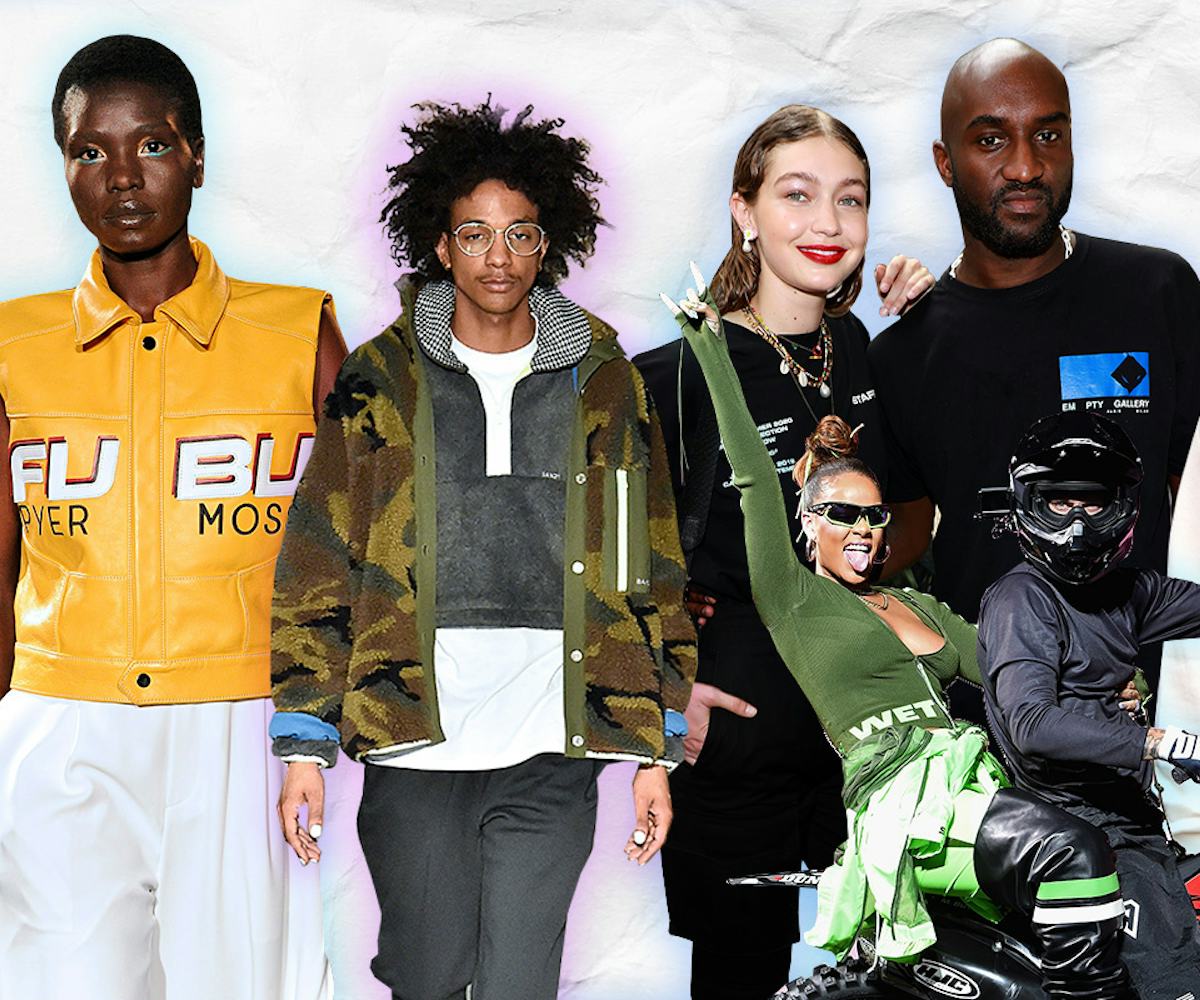 Photos from Getty Images
The 15 Fashion Brands That Took Off In The 2010s
From Mansur Gavriel bucket bags to Vetements' high-fashion hoodies
When it comes to fashion brands, the 2010s brought us plenty of front-runners and rule-breakers. We saw labels and designer names take what we thought were once strict style (or industry) laws, and turn them on their heads. Rihanna, for example, essentially reshaped the way we viewed celebrity brands, turning her fame into an booming business across a number of categories, from sportswear and beauty to ready-to-wear and lingerie.
We also witnessed the impetus of direct-to-consumer brands, such as Everlane and Warby Parker, which made shopping from our couches even more convenient and comfortable. Streetwear changed the game, too, as it conquered the traditional retail business model and our wardrobes, thanks to Vetements, Yeezy, and Off-White. And while we started dressing for Instagram throughout the 2010s, a slew of brands caught our attention with their quirky, punchy product, like Susan Alexandra's beaded bags, Sandy Liang's cozy, cool fleeces, and Batsheva's vintage-inspired dresses. Thoughtfulness infiltrated our personal style and brand choices, and our shopping decisions are becoming more complex and aware than ever before.
It's a difficult task to name the top brands that broke the internet in the past 10 years, but we're going to give it our best shot. Below, we explore the revival of fashion houses Gucci and Bottega Veneta, how Ganni put Copenhagan on the fashion map, and so much more.
Batsheva
Ever hear about a lawyer who just wanted to revamp an almost-perfect vintage dress, and then an entire career was made around it? Enter Batsheva Hay, who did just that in 2013. Inspired by Hasidic and Victorian garments, the designer just wanted to wear her favorite vintage pieces, but make them modern. So she did, and then she just never stopped.
Her label, now stocked in Opening Ceremony and Farfetch, brought a shock of color and whimsy to the streets of the city, with unexpected stiff collars, almost childish prints, and a tried-and-true fan in the hearts of people like Lena Dunham and Gillian Jacobs. Think power and point of view, with a teddy-bear print.
Bottega Veneta
Bottega Veneta has always been a staple of the fashion set with its iconic woven clutches in the hands of almost any Vogue editor. But newly appointed creative director Daniel Lee breathed new life into the label in 2018 by designing those padded sandals and handbags that were on every influencer during Fashion Month. Plus, Lee took home four awards at the 2019 Fashion Awards in London, including Designer of the Year and Brand of the Year.
The respected fashion house had the tough challenge of taking the "old" Bottega customer and refreshing it to fit the newer, cooler but still elegant customer. They chose well — Lee did that and then some.
Everlane
Everlane has become a closet staple for millennials and beyond since arriving onto the scene in 2010 with cozy basics and an eco-friendly mission. The San Francisco-based brand was founded by Michael Preysman and Jesse Farmer originally as only menswear, with the belief that pricing should be transparent and available to consumers. Women's wear was launched soon after, and is now considered a favorite for anyone who cares about where their clothes come from, as well as a quality fit. Everlane was the first to use their social presence to educate customers on supply chain, factories, employees, as well as break down the price of each product.
Ganni
Scandinavian street-style brand Ganni first appeared in the U.S. in 2015, and was quickly co-opted as a Danish "It" Girl favorite. Though the brand has been around well before 2010, it was revamped this decade by husband-and-wife team Ditte and Nicolaj Reffstrup and soon Ganni sweaters and dresses were seen on every influencer on your Instagram feed. The look is more about confidence and less about high fashion, which might be why it's become aspirational and yet also attainable.
Pink linen jumpsuits paired with unbrushed hair, slouchy pants, and attitude for days. The VSCO girl all grown up? Maybe. Ganni hits that sweet spot that all our Insta-crushes are clamoring for.
Gucci
The name Gucci obviously rings some bells as one of the most-recognized fashion brands in history, but we can thank creative director Alessandro Michele for making it cool and modern again. Having worked his way up within the brand for years, Michele unveiled his new vision for the luxury brand in 2015. The designer was tasked reviving the Italian fashion house in order to boost abysmal sales, to which he achieved with flying colors. It was all about logo sweatshirts clothes you could move in, brocade suits to go out in, and a shift towards maximalism among the general style set.
Michele was lauded as a top brand of 2017 by Business of Fashion, proving that people want luxury, softness, and a little brand recognition.
Fashion Nova
In a time where our shopping habits are moving away from fast fashion, Fashion Nova has become the most-searched e-commerce company in both 2017 and 2018. Perhaps we can thank Cardi B for that, as she shouts out the ultra-trendy line in her song "She Bad," and would eventually go on to develop her own collection for the brand. Or it could be because the brand is whip-fast when it comes to recreating celebrity looks right off the runway, and at a much lower price point. This business model is controversial, of course, and Fashion Nova recently came under fire due to an investigation and report by The New York Times, so whether or not this trend continues into the next decade remains to be seen.
Mansur Gavriel
Mansur Gavriel, the New York City-based luxury label, was launched in 2012 by Rachel Mansur and Floriana Gavriel. The duo quickly took off with their hit bucket bags, and received the Swarovski Award for Accessory Design in 2015 and the CFDA Accessory Designer of the Year Award in 2016. In a sea of flashy sneakers and Supreme sweatshirts, this team knew that at the end of the day, there was still very much a need for gorgeous, well-made leather goods that could last beyond trend cycles.
Mansur Gavriel, which has since launched into ready-to-wear, has over the years become a closet staple for many an influencer and celebrity, like Kirsten Dunst, Miranda Kerr, and more.
Off-White
Virgil Abloh's Off-White helped with making streetwear a high-fashion favorite and a mainstream success. Founded in 2013 and based in Milan, the luxury label is known for its extra-long industrial belts, Nike collaborations (among many, many other partnerships), and any design with "AIR QUOTES" emblazoned on it. You can now spot the brand's four-arrow logos from a mile away on bags, pants, and hoodies. Abloh once described his customer as "the girl [who] wears Celine, the guy [who] wears Supreme, and they share a closet," which is perhaps a literal explanation of Hailey and Justin Bieber.
Pyer Moss
In the spirit of designers making meaningful statements with fashion, enter Kerby Jean-Raymond of Pyer Moss. The Haitian-American designer first turned heads in 2016, with his menswear collection that highlighted police brutality and Black Lives Matter, then took on a hiatus until Jean-Raymond bought back full ownership of his brand. In 2018, he returned to New York Fashion Week with a runway show that took the fashion industry by storm. His brand has since committed to making waves and starting conversations, and bringing overall depth and thoughtfulness to our style choices.
Jean-Raymond was listed as a Forbes' "30 under 30" in 2015, and continues to highlight Black culture within his designs. In 2019, his two-year partnership with Reebok turned into a full-fledged creative role at the global sportswear brand.
Fenty
Bow down, as the queen continues her reign. Without even mentioning Fenty Beauty, the Barbadian mogul has proven that everything she touches turns to style gold. Her foray into fashion began with a Puma collaboration, transitioned to the all-inclusive lingerie line Savage x Fenty (famed for its all-size models and body types), and finally, Fenty Maison. This past year, after almost a decade of diving into all the things women want and need when it comes to fashion, Rihanna became the first-ever woman of color to lead a fashion house owned by LVMH.
And if we know Rihanna at all, she will continue to make the world a more beautiful place through the next decade.
Sandy Liang
Inspired by the ladies in Chinatown where her dad owned a restaurant, Parsons alum Sandy Liang launched her namesake in 2014 and used her own grandmother as her first model and longtime muse. Cult status soon followed: Her signature oversized coats in leather and bright, colorful shearling have become a fashion elite fave, and soon everyone wanted one of her $500-plus fleece jackets. With design nods to nostalgia-friendly inspirations like Spongebob Squarepants and Polly Pocket, Liang keeps her seasonal collections cool and playful at the same time.
Susan Alexandra
When it comes to pure joy in accessories, look no further than Susan Alexandra. In a world where things are taken too seriously too often, enter beaded watermelon bags, giant sequin heart earrings, and bucket bags dangling with oranges, cherries, and flowers. Her pieces are a delightful mix between a childhood dream and your grandmother's closet. The kitschy, refreshing brand is created in Alexandra's Chinatown apartment, made with pliers and mountains of gem-like, colorful beads.
Alexandra's beaded beauties exploded since they launched in, and she now has reached cult status with the likes of Gigi Hadid and just about every fashion insider.
Vetements
When we say Vetements exploded out of nowhere in 2014, we mean it. The self-aware, tongue-in-cheek label was suddenly a street-style mainstay, as influencers and clout-chasers alike were spotted wearing the brand's high-price hoodies and bomber jackets. The high-end brand, which moved its Paris headquarters to Switzerland, has been responsible for making the most unexpected brands cool again, like courier service DHL, Champion, and Juicy Couture.
The brand's leader Demna Gvaslia eventually would go on to head Balenciaga after Alexander Wang stepped down in 2015, and later left Vetements entirely in September. Who else is behind Vetements? No one actually knows — the rest of the collective is totally anonymous.
Warby Parker
In 2019, we are so used to companies sending things directly to our front door, and that's thanks in part to Warby Parker. The NYC-based brand was founded in 2010 to fix the painful process of shopping for eyewear. It was a radical notion at the time: Select five pairs of glasses, try them on, and simply send back what you don't like. Endless start-up brands have co-opted the concept since, but Warby has stayed true since that day of inception.
Now having developed brick-and-mortar stores in case customers do prefer a more traditional shopping experience, Warby Parker has become the gold standard of direct-to-consumer accessibility and style.
Yeezy
Kanye West's Yeezy Season 1 with Adidas dropped in 2015 and the fashion world was, perhaps, never totally the same again. Over the years, the partnership has become most known for its hypebeast-worthy sneaker drops, but also went on to offer ready-to-wear, as well, creating a popular athleisure-leaning aesthetic of cozy sweats and leggings in muted tones. Since Yeezy's launch, there have been a total of six (or seven) seasons, embraced by both the fashion community and celebrities, including, of course, the entire Kardashian-Jenner clan.
West was one of a few during this decade to prove that celebrity collaborations can indeed be high fashion.