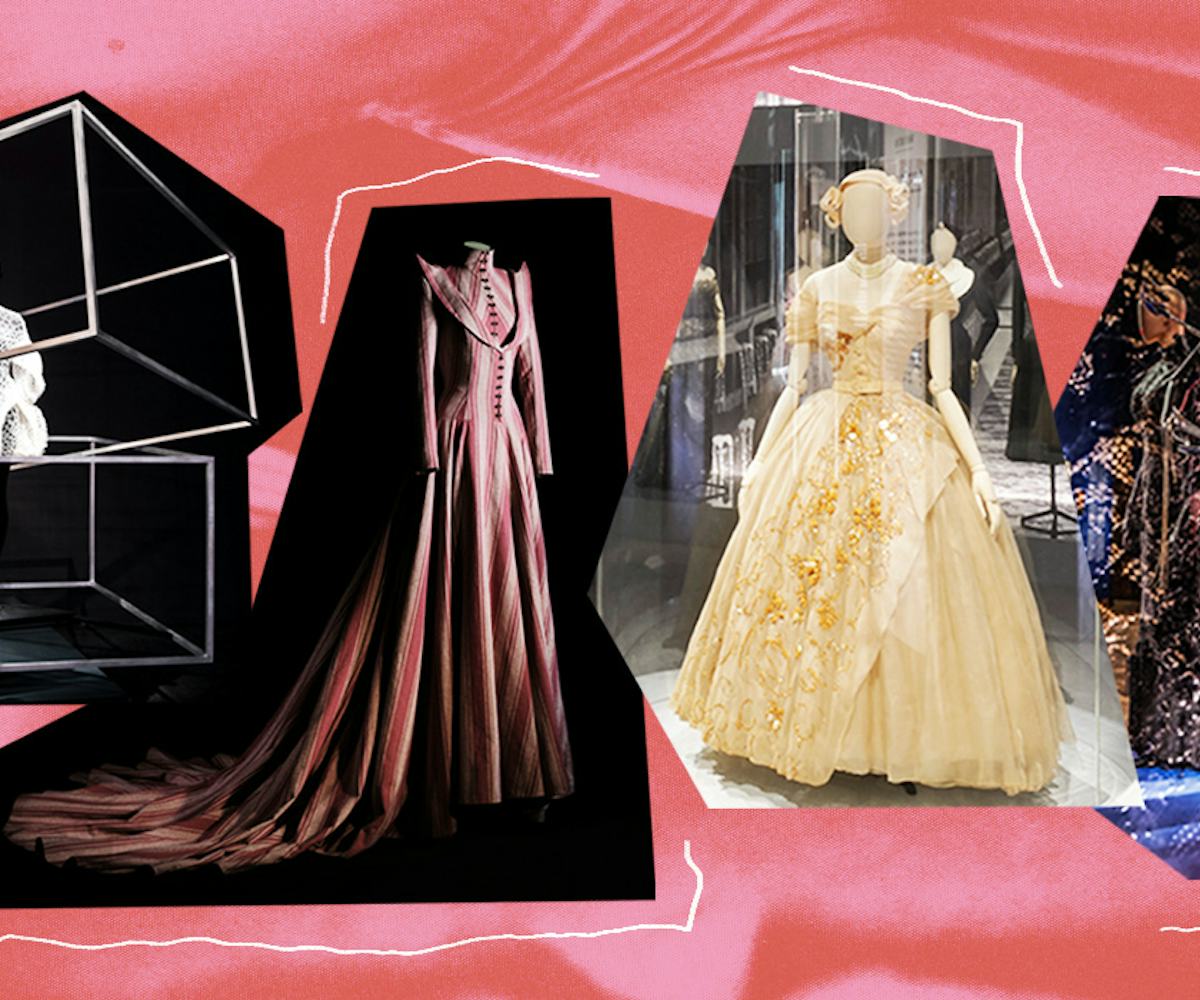 10 Fashion Exhibits Worth Traveling To This Summer
From New York and Chicago to Madrid and London
With the public interest in fashion exhibits rising, most major museums now host shows dedicated to specific designers or iconic fashion looks on the regular. But it's not only locals who are keen to see the typically visually stunning exhibits at their go-to art institutions—fashion-loving tourists are also frequently seen making time in their schedules to see the temporary exhibits, sometimes in lieu of seeing the main collections or visiting a larger museum.
In fact, when I was in Madrid earlier this summer, it wasn't the Reina Sofia museum (where Picasso's "Guernica" is alone worth the trip) or the massive Prado National Museum that I went running to, like I usually would, but the privately owned El Museo Nacional Thyssen-Bornemisza, that was hosting an exhibit dedicated to the great Cristóbal Balenciaga. While at a wedding in Chicago two weeks ago, I likewise skipped The Art Institute for the Museum of Contemporary Art Chicago to see the Virgil Abloh retrospective. And I am not alone in making these fashion exhibits a part of my travel itinerary, if the lines filled with tourists for Camp: Notes On Fashion at my go-to Metropolitan Museum of Art are any indication.
With that in mind, from New York and Chicago to Madrid and London, here are the cities to consider traveling to next based on the fashion exhibits they are currently hosting and where to stay when there.
Virgil Abloh: "Figures Of Speech," Chicago
See: The first museum exhibition devoted to the fashion designer and artist, Virgil Abloh: "Figures Of Speech" at the Museum of Contemporary Art Chicago explores Abloh's subversive work across the worlds of fashion, music, graphic design, and architecture. With looks from his best collections for his fashion house Off-White, that revolutionized high-end fashion by incorporating elements of streetwear, to the large-scale installation of the Yeezus album art, that Abloh designed while working as creative director for Kanye West, and prototypes for his collaboration with Ikea, the immersive exhibit recounts Abloh's journey that led to him becoming the first Black artistic director of Louis Vuitton's menswear.
Stay:The Hoxton, Chicago not only is located in the trendy Fulton Market neighborhood but gives you a separate entrance (read: no line) to the popular Cabra Cevicheria, chef Stephanie Izard's (of the Girl & The Goat fame) new Peruvian-inspired restaurant located on the rooftop of the hotel. Speaking of the rooftop, there is also a pool there and the option to order from Cabra, with dishes like the refreshing shrimp-crab-octopus ceviche and the most indulgent black plantain waffles with pork belly, pickled mango syrup, and pork fat butter delivered straight to your lounger.
Balenciaga and Spanish Painting, Madrid
See: Before there was Balenciaga, the brand responsible for high-end dad sneakers and the coveted City tote, there was Cristóbal Balenciaga, the couturier from Spain who dressed the likes of European royalty as well as style icons like Jackie Kennedy and Pauline de Rothschild. It is the latter who is explored in El Museo Nacional Thyssen-Bornemisza's Balenciaga and Spanish Painting exhibit, in which 90 fashion looks from the master designer are displayed alongside great 16th-to-20th-century Spanish painters like El Greco, Velázquez, and Goya to show how the influential designer was inspired by their art when creating his own masterpieces.
Stay: Fittingly located in a 19th-century mansion in the hip Salesas neighborhood, Only YOU Boutique Hotel Madrid boasts an Asian-inspired wellness center, a book store-turned-tapas eatery, and stylish rooms. Not only can you buy tickets to the exhibit while booking the room, but the hotel also currently offers a tapa and cocktail inspired by Getaria and Paris, the two cities that marked the life of the designer.
Christian Dior: Designer of Dreams, London
See: After taking Paris by the storm, the Christian Dior: Designer of Dreams exhibit now lives at the Victoria and Albert Museum. Featuring iconic designs, spanning 1947 to the present day, from the French luxury fashion house's many artistic directors—including Christian Dior himself, Yves Saint Laurent, Raf Simons, and Maria Grazia Chiuri—the exhibition (the largest of its kind with a whooping 500 pieces on display) highlights the enduring legacy of the 70-plus-year-old brand and the man who first put it on the map.
Stay: Located less than a 10-minute walk from Harrods, The Hari is a stylish boutique hotel with 85 design-forward rooms, bikes available for guest use, and a beautiful Garden Terrace for an alfresco drink.
Note: If London isn't in your cards, the Dallas Museum of Art is hosting Dior: From Paris to the World, also dedicated to the French designer.
Gender Bending Fashion, Boston
See: Displaying 60 looks from experimental designers including Rick Owens, Rei Kawakubo, Yohji Yamamoto, and Viktor&Rolf, Gender Bending Fashion show at the Museum of Fine Arts Boston (that ends this month!), as the name suggests, explores fashion's aversion to the gendering of clothing. Pointing to things like the evolution of gender roles and the increase in visibility of the queer community as the reason for why the idea has taken on another life in the modern world, the exhibit also features gender-fluid looks worn by celebrities like Marlene Dietrich, David Bowie, and Jimi Hendrix as a way to support the perhaps not novel, but still incredibly timely and important concept.
For a full review on Gender Bending Fashion, click here.
Stay: Having opened just earlier this summer, Encore Boston Harbor is more akin to a village than a property, with a harbor and riverwalk, 12 restaurants (the famous Buffet is one of them, as are other Vegas favorites like Sinatra and Rare Steakhouse, whose menus have been localized to resonate with the New England palate), several bars and lounges, a 19,000-square-foot spa, and 650-plus rooms (in addition to, yes, a casino).
Thierry Mugler: Couturissime, Montreal
See: The newest from the Montreal Museum of Fine Arts, Thierry Mugler: Couturissime is the first exhibit dedicated to the French designer, whose '90s design recently made headlines when Cardi B wore it to the Grammy's, before it made its way to the Camp: Notes on Fashion exhibit (see below). An avant-garde fashion visionary (as well as director and photographer who frequently collaborated with Helmut Newton), his designs have been worn by the likes of Diana Ross, David Bowie, Lady Gaga, Liza Minnelli, and Céline Dion. Now 150 of those garments, made between 1977 and 2014, are on display at the exhibit that runs for just another month.
Stay: Ideally located between downtown (close to where MMFA is) and Old Montreal (with its charming cobblestone streets and restaurants that feel from a different time), W Montreal holds modern rooms with floor-to-ceiling windows, a '40s-inspired bar that specializes in gins and tonics, and a spa.
A Queen Within, Seattle
See: Exploring six feminine archetypes—Sage, Enchantress, Explorer, Mother Earth, Heroine, and Thespian—through fashion, Seattle's Museum of Pop Culture's A Queen Within: Adorned Archetypes exhibit displays looks by boundary-pushing designers like Chromat, Alexander McQueen, Gypsy Sport, Vivienne Westwood, and Iris van Herpen, as well as luxury house like Prada, Gucci, and Chanel.
Stay: Downtown Seattle's Motif Seattle is a chic boutique hotel with newly renovated, tech-savvy rooms and programming inspired by the region, with in-house music, design/artwork, and food curated by Seattle creatives. Make sure to visit the fifth-floor terrace, which masks as an outdoor urban oasis, for a handcrafted cocktail with views across the city.
Olivier Theyskens, In Praesentia, Calais
See: In celebration of its 10th anniversary, Cité de la Dentelle et de la Mode is hosting Olivier Theyskens, In Praesentia, a collaboration with the Belgian designer known for his romantic style and the use of fabrics like lace, which is apt given that the Northern French city is known for producing the delicate fabric. In addition to displaying his pieces from over the years, Theyskens was also given a chance to pull from the museum's textile and industrial archives to create a visual narrative worthy of the centuries-old fabric that still holds an important place in fashion today.
Stay: While this is not in Calais, the 30-minute drive to La Ferme du Vert is worth it. The 19th-century farmhouse has been transformed into a rustic hotel with an awarded seasonal restaurant, a cheese farm (samples from which are served at breakfast), and a cottage with a private garden should you not want to say in one of the 16 rooms on the main property.
Camp: Notes On Fashion, New York City
See: This year's Met Gala theme, Camp: Notes on Fashion, attempts to answer the question of what camp is, through the lens of Susan Sontag's seminal 1964 essay "Notes on Camp." The answer appears to be: looks paying homage to historical figures like Oscar Wilde and Stella and Fanny (Erdem Moralioglu, Chanel, Jean Paul Gaultier, and Yves Saint Laurent) and uber-camp designs by avant-garde designers like Jeremy Scott, Maison Martin Margiela, and Demna Gvasalia. Don't miss Björk's iconic swan dress and a gown from Viktor and Rolf's delightfully snarky collection.
For a full review on Camp: Notes on Fashion, click here.
Stay: The access to the private Gramercy Park alone warrants a stay at the Gramercy Park Hotel, but once you learn about the property bar's "Rose Bar Sessions," which sees up-and-coming artists as well as veteran musicians (last month saw Third Eye Blind) performing, the dreamy rooftop terrace, and the delicious Maialino restaurant, well, you will never want to leave.
Body Beautiful: Diversity on the Catwalk, Edinburgh
See: Rather than just a display of beautiful clothes, Body Beautiful: Diversity on the Catwalk at the National Museum of Scotland puts an emphasis on designers who are embracing inclusivity and body positivity, whether through size, gender, age, race, or disability. It also highlights important statistics—like, only 36 models were over the age of 50 on the catwalks of Autumn 2019—to show the many steps that others in fashion still need to take in order to make the industry more inclusive.
Stay: Steps away from many of the popular restaurants and bars, Eden Locke is an Instagrammable "aparthotel" that holds a coffee house in which you can hang out or work from, hosts events and talks with local artists and musicians, and offers wellness and fitness classes. Every apartment is decked out to be a millennial haven with wood and gold detailing and pastel furniture.
Kaleidoscope Katrantzou: Mary Katrantzou, 10 Years In Fashion, Atlanta
See: A retrospective in time for the 10th anniversary of the designer's eponymous label, KALEIDOSCOPE KATRANTZOU: Mary Katrantzou at the SCAD FASH Museum of Fashion + Film offers a look at the some of the boldest looks from her career. Known for her print-heavy and sculptural creations, Greek-born, London-based Katrantzou has not only dressed celebrities in looks more akin to art pieces than dress but also created looks for the New York City Ballet and Paris Opera and exhibited her work at the Metropolitan Museum of Art.
Stay: Atlanta's newest boutique hotel, Hotel Clermont, where even the "bunk rooms" exude a certain kind of Wes Anderson-like charm (don't worry: there are enough private rooms and suites if you don't want to share your accommodation). You won't have any reason to leave (aside from going to see the exhibit of course), with an on-property restaurant—a French-American brasserie answer to Southern cuisine—a rooftop bar overlooking the skyline and serving frosé, and a bourbon-centric bar.