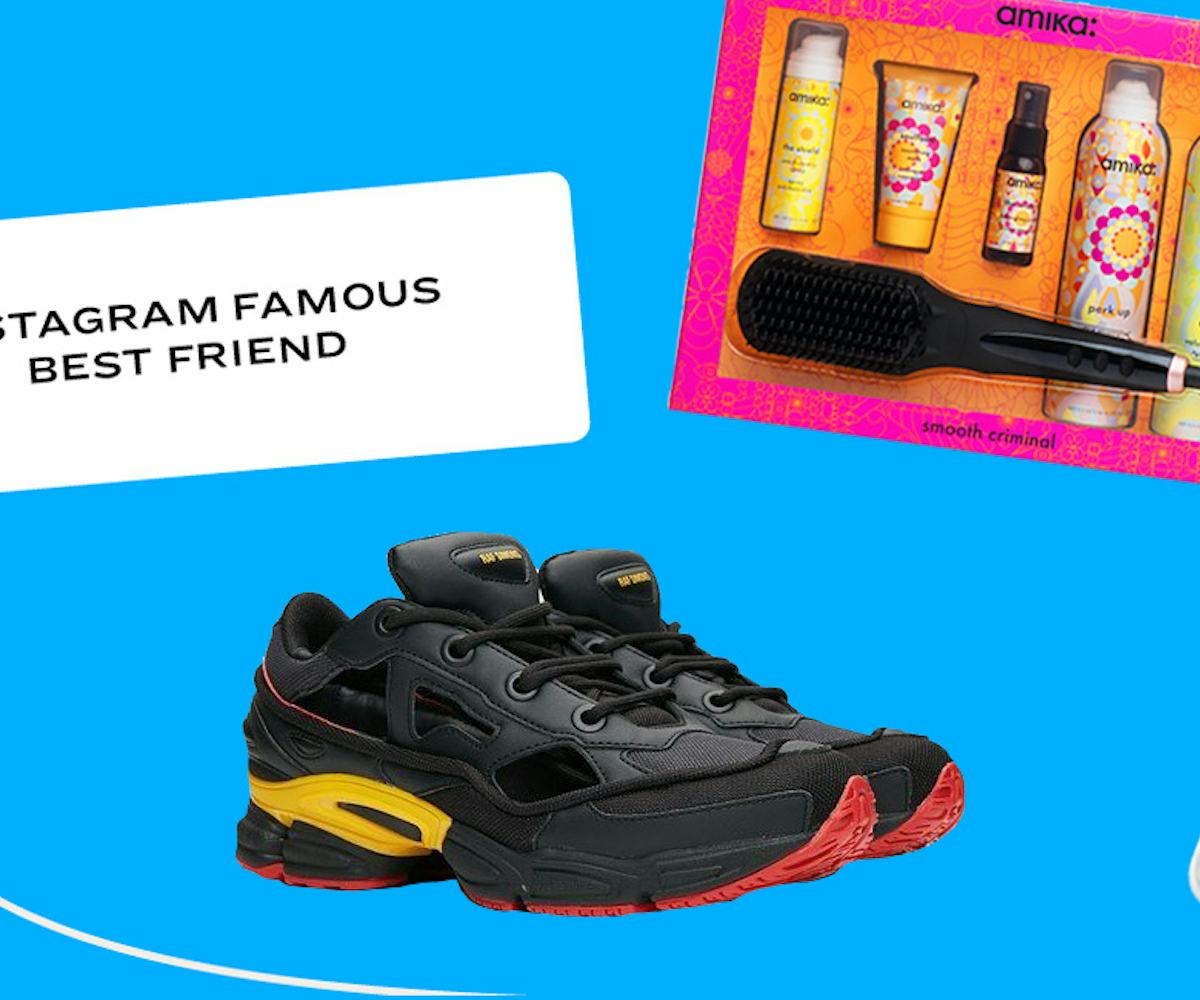 Unwrapped: 16 Gifts For Your Instagram-Obsessed Friend
These will get them likes
Tis officially the season for gift-giving. For us, that's a full month in which we'll be providing gift ideas for everyone on your list with our Unwrapped holiday gift guides. So make your holiday shopping a breeze this season, and let us help you find gifts for all the people in your life.
We all have that one friend who loves their IG feed just a little too much, and there's nothing wrong with that! But trying to source the perfect gift for a person who most likely knows it all about fashion and beauty can be a daunting task. You know they're always online, scrolling for the trendiest brands and products to feature on their own feed.
Don't be discouraged, though: We've got you. Below, we rounded up the products we think will work magic on the 'gram, which your friend will no doubt love. And so will her followers. Which will make her love these gifts even more.
Charlotte Simone, Candy Clutch, $192.20, available at Charlotte Simone.
We've never seen anything more photo-worthy than this clutch.
Michael Kors, Michael Kors x FUJIFILM INSTAX Camera, $74.25, available at Michael Kors.
Is there anything better than analog? Short answer: no. This trendy collab will make sure even your friend's photos are designer.
Adidas, Adidas x Raf Simons Replicant Ozweego, $314, available at Sneakerstuff.
Dad sneakers aren't going anywhere, make sure your friend has the freshest pair on their feed.
PhoneSoap, PhoneSoap 3 + Shine 5 Pack, $80.90, available at PhoneSoap.
Okay, so everyone probably needs this, regardless of how many followers you have. This gadget sanitizes your phone while it charges, which is much needed after a day of scrolling.
- This slide is sponsored by amika -
amika, Smooth Criminal Polished Perfection Gift Set, $120, available at Sephora.
Everybody wants smooth and polished hair, and this kit is perfect for getting your locks camera-ready. Valued at $202, this gift set is like getting the brand's best-selling straightening brush with five free products. Score.
Lazy Oaf, Dalmation Fur Beret, $31,85, available at Lazy Oaf.
You can never have too many faux fur accessories, TBH.
PopSockets, Corgi Whatcha Workin With, from $13, available at PopSockets.
Not only is this PopSocket adorable, but it was designed by Queer Eye's Antoni Porowski and 50 percent of proceeds go to New York City's Lesbian, Gay, Bisexual & Transgender Community Center.
Alias Mae, Akilah Boot, $249.95, available at Alias Mae.
Because everyone needs a staple ankle boot.
Valfré, Sage Jacket in Black, $98, available at Valfré.
Fuzzy accessories are all the rage, but it feels like everyone has a fuzzy jacket. Your friend will stand out with this vegan patent leather coat.
Chemex, Chemex Classic Filter-Drip Coffeemaker, $44, available at Trade.
Haven't you heard? This is now the trendiest way to brew your morning cup.
Poppy Lissiman, Coco Husk in Torti, $115, available at Poppy Lissiman.
A great pair of shades makes any selfie better, and Poppy Lissiman definitely makes the best ones for this.
Dalmata, The Diamond Cut Curb Hoops, $90, available at Dalmata.
Hoop earrings are all the rage, but the chain link detail on these set them apart from the rest.
Botkier, Cobble Hill Crossbody in Black Heart, $228, available at Botkier.
Tell me you wouldn't pose with this bag if you had it.
Wolf Circus, For All Womankind x WC Necklace in Gold, $105.63, available at Wolf Circus.
A dainty necklace is the perfect accessory, and proceeds from this one go directly to The Latitude Project.
Casetify, Neon Sand Liquid Case in Hotline, $49, available at Casetify.
The photos don't do this case justice; we'd strongly suggest you go watch the GIFs on the product's page. These case are definitely Boomerang-worthy and are even customizable.
Rituel de Fille, The Alchemist Highlight Intensifier, $32, available at Rituel de Fille.
Also known as the "highlighter for your highlighter," this product will make sure your friend's glow will be seen in any photo.
NYLON uses affiliate links and may earn a commission if you purchase something through those links, but every product chosen is selected independently.