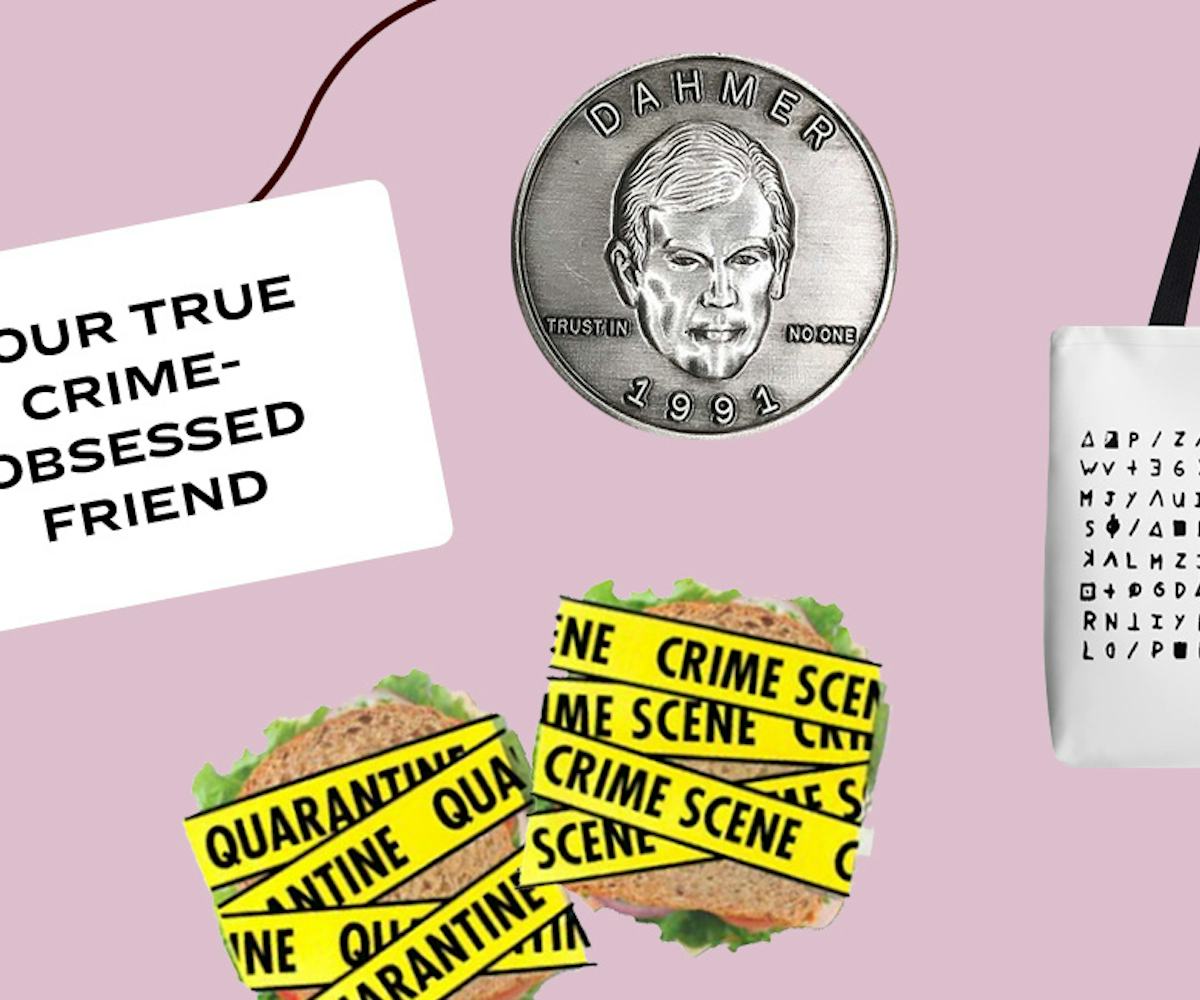 Unwrapped: The Best Gifts For Your True Crime-Obsessed Friend
Serial killers! Kidnappers! Cult leaders! Oh my!
Tis officially the season for gift-giving. For us, that's a full month in which we'll be providing gift ideas for everyone on your list with our Unwrapped holiday gift guides. So make your holiday shopping a breeze this season, and let us help you find gifts for all the people in your life.
The true crime lover isn't a difficult creature to please around the holidays. One quick look on Netflix and you'll realize they're being plenty catered-to in the mainstream right now, so getting a perfect gift for a true crime fan shouldn't be hard, right? There are hundreds of excellent true crime books, some of which are included here, to please your ~murder-loving~ BFF/sister/co-worker. But what if you want to get a little more creative than a quick trip to the bookstore? In lieu of committing a true crime for them to experience in real time (please, don't do that), there are plenty of other puzzles, apparel items, and more that could make the ultimate thoughtful gift.
After doing a little research, consisting of very weird and questionable Google searches, we've compiled this strangest of gift guides for your most morbid friend. Who knows, maybe in the process, you'll become a Murderino, too!
Workman Publishing, True Crime Year Of 2020 Desk Calendar, $15, available at Calendars.com.
Enjoy every day thanks to this true crime calendar which includes easy tear-off pages, news headlines, and some of the most bone-chilling true crime stories committed by serial killers, kidnappers, cult leaders and more. It's a real page-turner.
Hunt a Killer, Hunt a Killer Subscription Box, $30/month, available from Hunt a Killer.
Spoil yourself or give the gift of a lifetime with this monthly Hunt a Killer subscription box! Every month, a handpicked storyline will be delivered to you, and it will be your job to solve the puzzle, curated by a team of professional murder mystery writers. Each monthly storyline gets more complex as you complete one and move onto the next. Trust us when we say it's addicting.
CrimeCon, Crime Con Festival - Orlando, $259+, available from CrimeCon.
What true crime fan wouldn't want to go to Orlando to check out an impressive speaker list comprised of reporters, true crime podcasters, and former FBI agents. Snatch up tickets for you and yours for a night full of alibis, hidden motives, and plenty of wine to go around.
Professor Tooth's Odditorium, Serial Killer Ted Bundy Soft Enamel Pin, $12, available from Professor Toothy Odditorium.
Novelty pins and coins with serious attitude are the perfect gifts for the true crime-obsessed. This pin featuring the notorious California serial killer from the 1970s is excellent for the Bundyphile or true crime enthusiast in your life.
Shopiker, The Husband Did It - Women's Cut Shirt, $25, available from Etsy.
The true crime experts who have tirelessly watched every procedural crime show, know that the clues usually point to one suspect: the husband. This "The Husband Did It" shirt will receive a universal nod and thumbs up from enemies of the patriarchy everywhere.
Etsy, Cereal Killer Spoon, $16, available from Etsy.
This CEREAL KILLER spoon is equal parts cute and creepy. The vintage spoon features skull and cross-bone detail, comes beautifully gift-wrapped, and is pretty much how we want to start our morning off. So go on, murder your breakfast cereal with this hand-stamped spoon.
I'll Be Gone in the Dark: One Woman's Obsessive Search for the Golden State Killer by Michelle McNamara, $18.95, available from Amazon.
This gripping novel reveals details about the true story of the elusive serial rapist-turned-murderer who terrorized California in the '70s and '80s. The gifted journalist who wrote this book passed away tragically while spending the final years of her life chasing the Golden State Killer, hoping to identify him in the book. The book is captivating and relevant since the murderer was caught this April.
Red Bubble, Zodiac Killer Shirt, $17.36, available from Red Bubble.
This cotton tee is printed with strange symbols that true crime fans will recognize as being the calling card of the infamous Zodiac Killer, who terrorized northern California in the late 1960s and whose identity still remains a mystery today.
Etsy, Wine & True Crime, from $14, available from Etsy.
Sit back and sip back with this wine glass as you binge your latest true crime documentaries or flip through your favorite true crime books. The wine glasses features "Good Wine & True Crime," and it's perfect for the true crime (and true wine) aficionado.
Amazon, Crime Scene Sandwich Bags (20 Total), $4.99, available from Amazon
You'll be able to stop any office lunch thief dead in their tracks with these crime scene-themed sandwich bags. They are also perfect for striking up conversation with fellow true crime fan coworkers.
NYLON uses affiliate links and may earn a commission if you purchase something through those links, but every product chosen is selected independently.