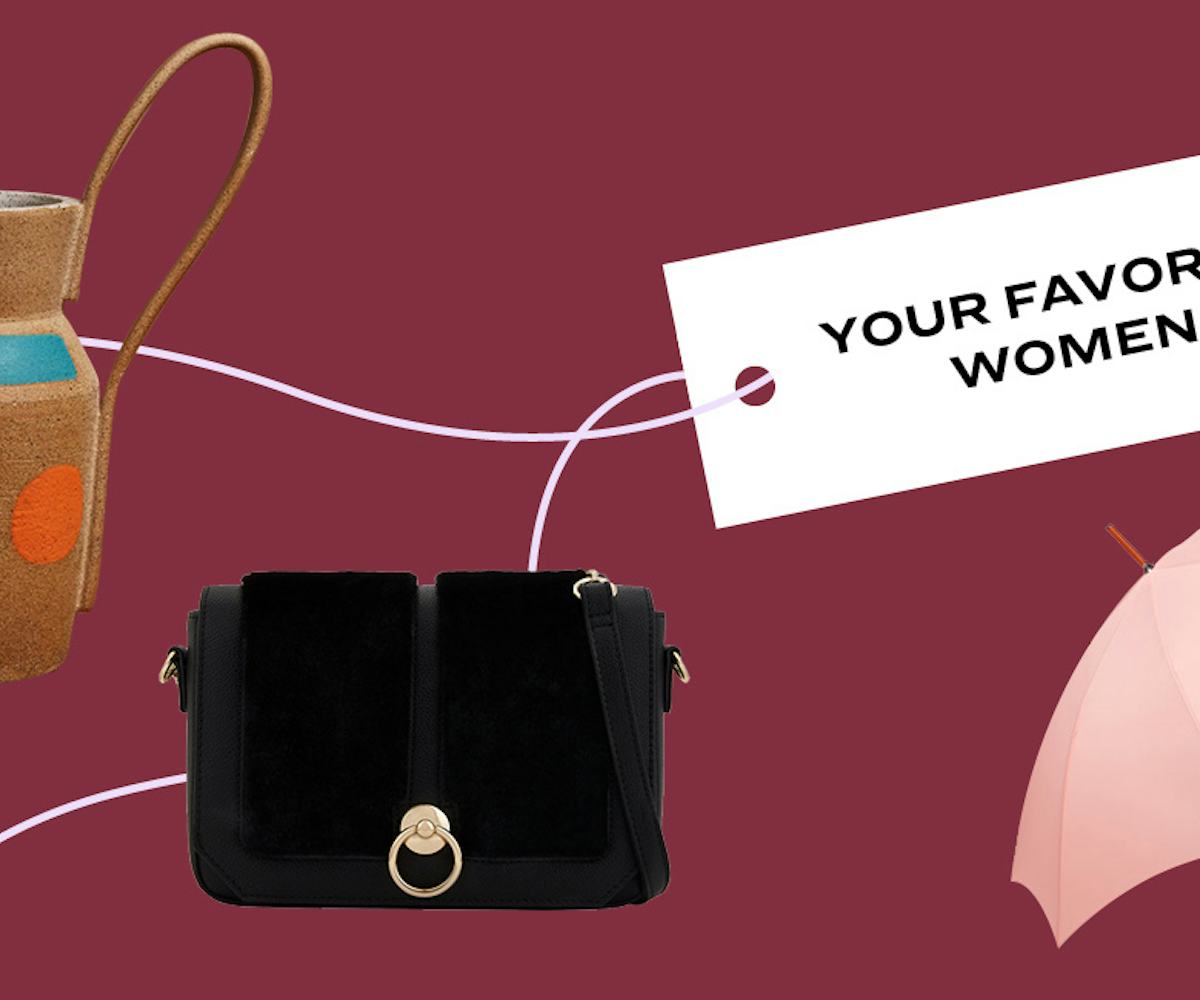 Unwrapped: What To Get Your Favorite Women
From best friends to moms to sisters
'Tis officially the season for gift-giving. For us, that's a full month in which we'll be providing gift ideas for everyone on your list with our Unwrapped holiday gift guides. So make your holiday shopping a breeze this season, and let us help you find gifts for all the people in your life.
Oh, this is easily the most fun gift guide of all, because it is all about spoiling the most beloved women in your life, and what's more fun than that? Below are presents that are bound to please, demonstrating to them just how much you care—a lot, right? Like, the most.
For the film fiend slash candle connoisseur in your life, this new collaboration between A24, one of the most exciting independent film studios right now (think: First Reformed, Eighth Grade, Hereditary), and Joya, a Brooklyn-based fragrance studio that makes some of our favorite scents, is sure to draw squeals of appreciation upon opening. Each candle is inspired by a different film genre, so make sure you know where your friend's film loyalties lie before shopping. Personally, I'm partial to Adventure, which smells of sun-baked stones with just a trickle of sweat and heat. Then again, I also like its opposite, Musical, with its cool, verdant wash of fragrance. You kind of can't go wrong, but the one thing you can really do right is make sure to burn one of these while watching a movie with your giftee. As First Reformed reminds us, the whole world is going to burn soon, so you might as well light a candle in its honor now.
A24 x Joya, Genre Candles, $48, available at Joya.
This gloriously fun, acerbic, raucous roller coaster of a diary came out last year, but the paperback was only released late this fall—and, truly, this is a book that was meant to be read in paperback, since it should be easy to carry around, so that its recipient can read it and be pleasantly scandalized on their morning commute. It's a fascinating peek into a time when the media industry was wholly different (if still thoroughly recognizable) and everyone wore shoulder pads, because, you know, the '80s.
For more book recommendations, here's our guide to the best books of 2018.
The Vanity Fair Diaries: Power, Wealth, Celebrity, and Dreams: My Years At The Magazine That Defined A Decade by Tina Brown, $13.39, available at Amazon.
These dainty studs still offer a major impact, thanks to the multicolored gemstones embedded within the gently curved shape. This would be a welcome addition to anyone's earring collection, and since we all have that friend who's constantly getting a new piercing, now you can cross her off your list, secure in the knowledge that she'll love this gift.
Scosha, Cloud Studs, $260, available at Scosha.
- This slide is sponsored by Call It Spring -
Sleek and simple is definitely the best option when it comes to sourcing accessories for the coolest woman in your life. A simple, structured bag with gorgeous details (like this one from Call It Spring) is a safe bet.
Call It Spring, Brerassa, $34.99, available at Call It Spring.
This slinky slip dress is as soft as the inside of a rose petal and is exactly the kind of thing we want to live in as we proceed to spend the rest of this winter hunkered down inside our home—and we're pretty sure our friends feel the same way. We're also really into the fact that, even though this dress has cashmere, it's still machine washable. What's not to love? For a 20 percent discount between now until the end of day December 25th, use code "futurefeminine20".
As We Are Now, The Slip Dress with Cashmere, $128.99, available at As We Are Now.
Just look at those elegant swooping handles! I love them. They're so full of joy, like a little girl throwing her arms up in the air, begging for her mother to swing her around and around. Bring someone else that kind of joy by giving them this gorgeous vase this year.
Marian Bull Ceramics, Daughter Vase, $210, available at Marian Bull.
If one of your favorite women happens to be a vegan, well, these boots are perfect for her. (Also, check out our vegan gift guide, while you're at it.) But honestly, these boots are great for anyone who wants to play around with the holograph trend without fully committing to head-to-toe shimmer.
BC Footwear, Ringmaster II Ankle Boot in 'Blue Metallic,' $85, available at BC Footwear.
This gorgeously scented body wash is loaded with oils, making it perfect for even the driest skin this winter. It's also packaged so much more beautifully than just about any other body wash on the market, and since it's only just recently launched, it's sure to please even the most product-elitist women you know.
Nécessaire, The Body Wash in 'Sandalwood,' $25, available at Nécessaire.
Let's say your favorite woman's movie is The Favourite, and so you want to get her something to honor that! Well, you could do something bunny-related, but also, you could buy her a gift that references that moment when Abigail (Emma Stone) says that a maid is about to bring her "something called a pineapple." So these pineapple shot glasses would be perfect to celebrate that movie, Stone's performance, and spiky, tart fruit. And alcohol, I guess.
W&P, Pineapple Shot Glasses (set of two), $35, available at Coming Soon New York.
-This slide is sponsored by Certain Standard -
The coolest woman you know wouldn't be seen dead with an accessory that clashes with her outfit, so why should she stick with a boring old umbrella? Short answer: she doesn't need to. Certain Standard's umbrellas come in a variety of colors—and two sizes—so even your coolest friend can splash through puddles in style.
Certain Standard, French Concession Large, $95, available at Certain Standard.
If your favorite woman is anything like me, all she wants to do is be in bed all the time. So why not treat her to these gorgeous sheets, so that she'll feel like that time is well-spent? Each of these sheet sets is individually dyed, and thus unique—just like your favorite woman. And I, for one, love the gentle color gradations, that vary from a lurid cat's tongue shade to the pale pink of the inside of an oyster's shell.
Flaneur, Color Study Sheet Set in Red, $348, available at Flaneur.
Liana Finck is one of the most compelling, witty illustrators working today, and she also wrote and illustrated the exceedingly beautiful graphic memoir, Passing for Human. (Which, would also be a great gift, and you can buy it here.) For a truly perfect present, check out Finck's Instagram, find an illustration you love (it won't be hard, other than having to narrow it down), and email her to get a redrawn original that you can then frame and give to someone you love. Art is good.
Liana Finck, Cartoon Drawing (8x10 redrawn original), $125, available by emailing lianafinck@gmail.com.
NYLON uses affiliate links and may earn a commission if you purchase something through those links, but every product chosen is selected independently.