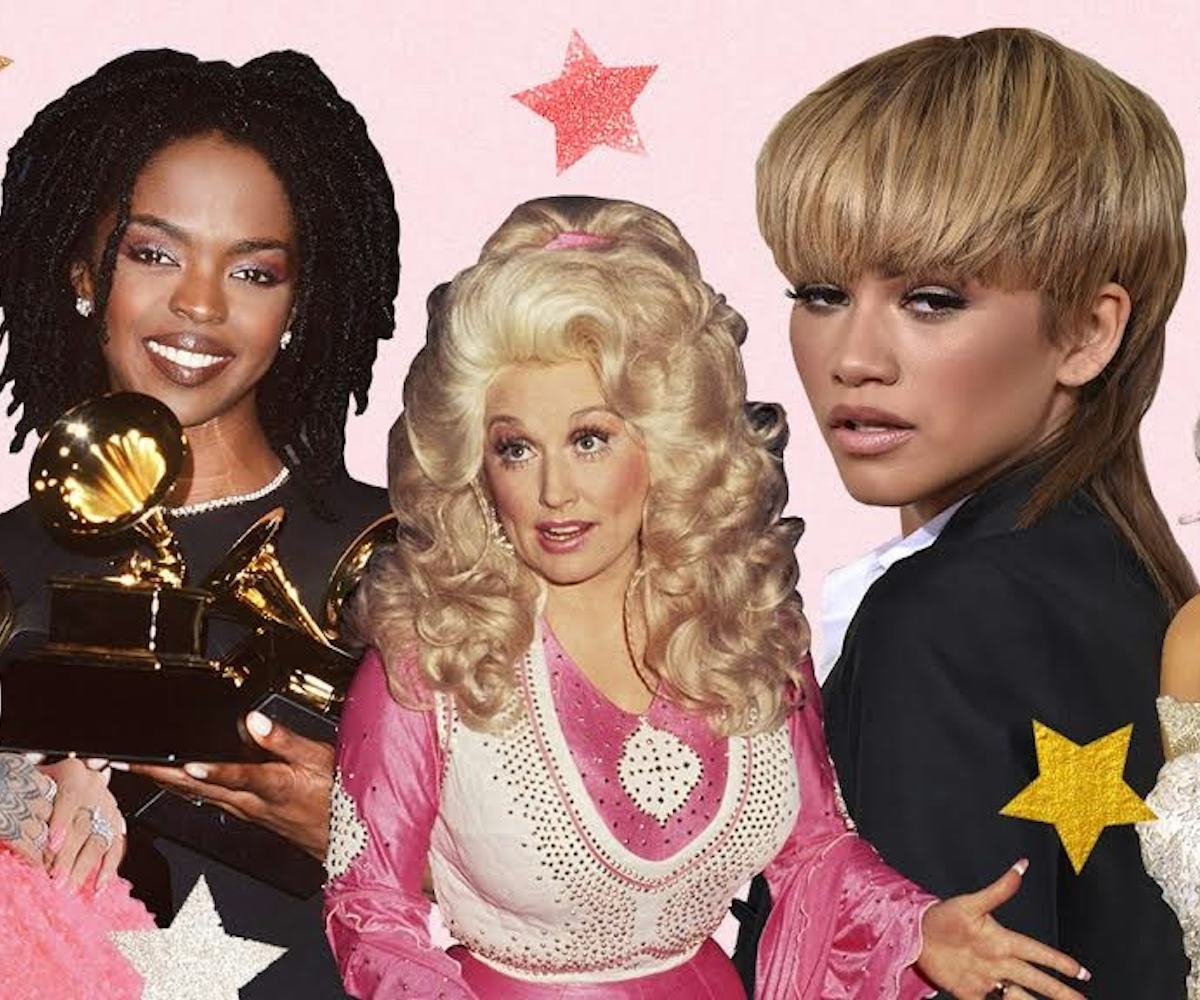 Photos courtesy of Ron Galella, Steve Granitz, Jon Kopaloff, Axelle/Bauer-Griffin, Vinnie Zuffante via Getty Images
The 21 Most Unforgettable Grammys Beauty Looks Of All Time
From Cher's butterfly clip to Tyler The Creator's leopard dye job
One of the best parts of awards shows, if not the best, is waiting to see how your favorite celebrities show up for the red carpet. That sentiment might be the most true when it comes to the Grammys, where artists are known to make bigger and bolder statements than for any other red carpet on the awards show circuit — and it doesn't just stop at the fashion. Without a doubt, some of the best Grammys beauty looks will go down in history, whether for being extremely over-the-top (see: Cyndi Lauper), or for marking a new era in an artist's career.
Take, for instance, when country legend Dolly Parton arrived at the 1977 Grammys, nominated for Best Country Vocal Performance for "All I Can Do." The multi-hyphenate arrived on the red carpet with big, country curls, half-up in a pink scrunchie with bouffant bangs, pink rosy cheeks, and not-so-subtle spidery lashes. In 1994, the late Selena Quintanilla-Pérez was a prime example of why decades later, M.A.C. made a makeup collection in her name; and in 2017, Solange made something of a sculpture out of her natural curls.
Ahead of the 62nd Grammy Awards, airing on Sunday, Jan. 26, take a look back at some of the ceremony's most memorable beauty looks of all time, below.
Cher, 1974
"Groovy" is actually the perfect word to describe Cher's giant butterfly clip, fanned-out lashes, and glitzy pastel eyeshadow, don't you think?
Dolly Parton, 1977
The country legend served up an extremely debutant glam look, with her classic high hair in a half-up bouffant and spidery lashes, and not-so-subtle rosy blush on her cheeks.
Grace Jones, 1983
If Grace Jones had arrived to the Grammys in just this outfit and a bare face, it'd still be iconic — but the sleek, colorful editorial makeup takes it to the next level.
Cyndi Lauper, 1984
While this look is admittedly outrageous, how many people do you know that can make firey red hair wrapped in green chiffon, face paint, and gilded gold lipstick work on the red carpet? Nobody but Cyndi Lauper, that's who.
Mariah Carey, 1991
Mariah took the red carpet with her long, naturally curly hair — subtle bangs included — and soft glam for her first-ever Grammys appearance in 1991, where she went on to win the Best New Artist award, as well as Best Female Pop Vocal Performance for "Visions Of Love."
Selena Quintanilla-Pérez, 1994
See: The reason M.A.C. released a Selena makeup collection back in 2016. The Mexican-American artist went for a classic Old Hollywood glam look for the 1994 Grammys, complete with a bright red lip, bold, arched brows, and a voluminous curled up-do.
Jada Pinkett Smith, 1998
Jada Pinkett Smith demonstrating that less is more with her sleek, blonde-dyed cut and a simple lip.
Lauryn Hill, 1999
Lauryn's natural dreads and her-lips-but-better lipstick worked perfectly with the glow from her four (!) Grammy awards in '99.
Jennifer Lopez, 2000
Yes, this is the dress, but it wasn't the only great thing about J.Lo's '00 Grammys look. The multi-hyphenate went for matching green eyeshadow, a half-up, half-down wavy hairdo, and a classic french tip manicure.
Missy Elliot, 2000
Queen Missy Elliot color-coordinating her purple eyeshadow to her full-embellished suit.
Paris Hilton, 2009
A true 2009 look: icy lip gloss, gray smokey eye, and an exaggerated side bang to top off Miss Hilton's iconic platinum blonde bob.
Adele, 2012
Adele is known for her simple and regal old Hollywood glam, and her 2012 Grammys look encompassed just that. After walking the carpet, she went on to win all six awards she was nominated for — including Album Of The Year, Record Of The Year, and Song Of The Year.
Rihanna, 2015
All of Rihanna's Grammy looks have been history book-worthy, but this soft, dainty glam — of nude lips, light pink blush, and brushed brows — saw the business mogul more dialed back than ever.
Jennifer Hudson, 2015
Jennifer Hudson attempted to make a bold lip work simultaneously with a bold eye look — and it worked.
Taylor Swift, 2016
The year Taylor Swift debuted her bob and bangs, she also swept the Grammys, winning three out of her six nominations including Album Of The Year for 1989.
Zendaya, 2016
Zendaya might have predicted 2020's mullet comeback four years ago — one of the many times the Euphoria star pushed the boundaries of her red carpet glam.
Lady Gaga, 2017
As is tradition, there was a lot going on with Lady Gaga's 2017 Grammys look — from the dark pink lip to the multi-colored glitter smokey eye and pink streaked hair (and the boobs!) — but she completely pulled it off.
Solange, 2017
With a sculptural natural up-do and bare-faced makeup — aside from the simple-cool geometric lines of liner on the lids — Solange's 2017 Grammys look was museum-worthy.
Lana Del Rey, 2018
Leave it to Lana Del Rey to master a completely extra look that still somehow feels simple. The Norman F***ing Rockwell singer wore her dark, ombre hair in a flipped lob, with clean porcelain skin, and exaggerated swipe cat eye, and a starry bejeweled headpiece.
Tyler The Creator, 2018
Somehow this leopard-print dye job managed to lean way more clean and cool than tacky and Myspace, to which deserves applause. The two-toned grill caps were an added bonus.
Cardi B, 2019
Cardi B did not (!) come to play for her first-ever Grammys Award show, wearing a dress that was meant to look like an oyster, with her as the pearl, from Thierry Mugler's 1995 couture collection. She brought the look together with a pearl-encrusted up-do, and a serious set of lashes.