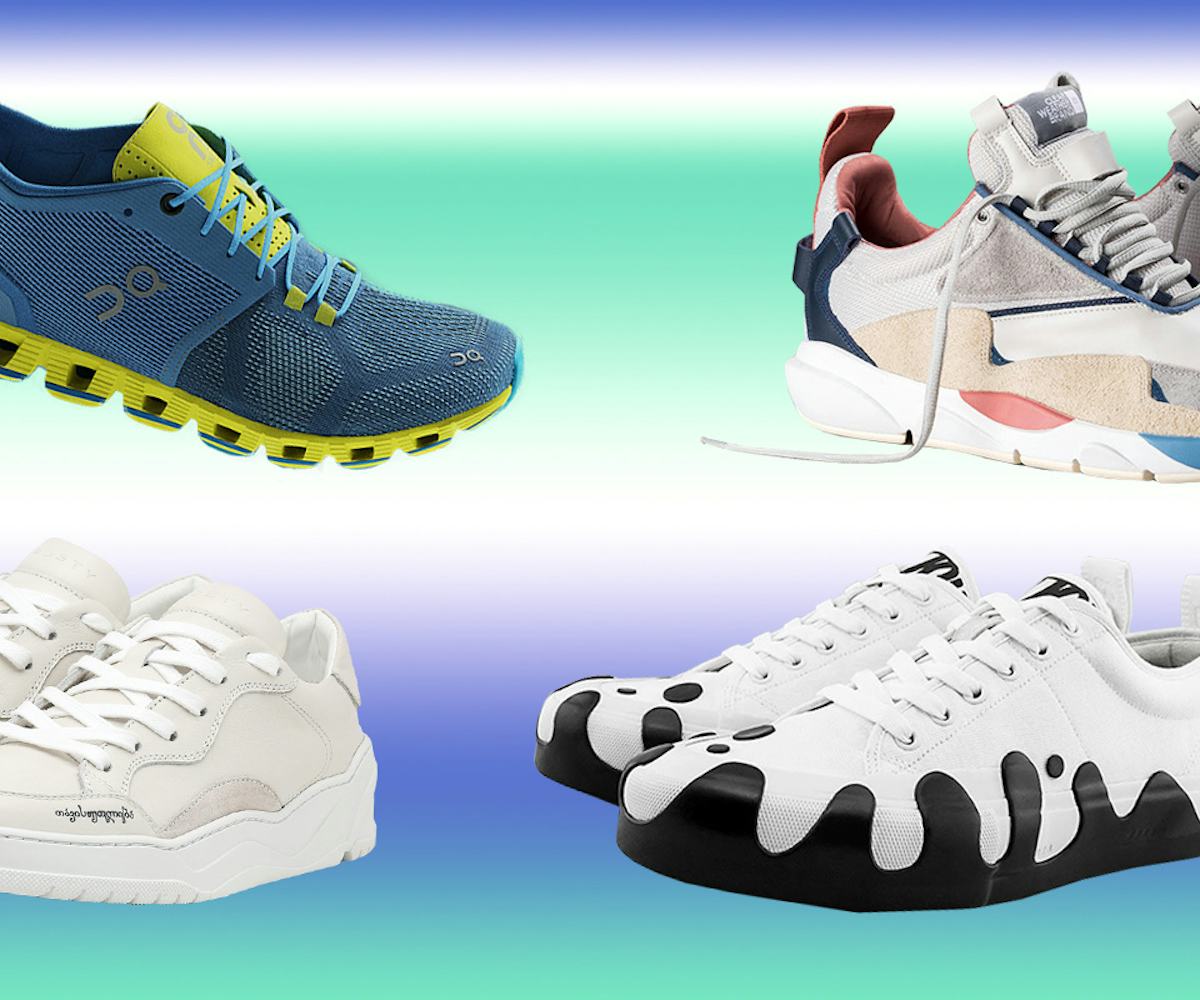 Meet 11 Indie Sneaker Labels Changing The Game
Go beyond Nikes and Adidas
Nike and Adidas are the Coke and Pepsi of the global footwear market. They dominate it so thoroughly, and in so many places, that not even other massive, world-spanning brands can keep up. Last year Nike sold over $22 billion in footwear. Adidas sold $14.6 billion. Asics and Puma, their next largest competitors, each earned about a tenth of what Nike did. The big luxury fashion brands whose next-generation dad shoes have made such a splash recently? It's really just a drop in the bucket.
And like the Coke and Pepsi's cola duopoly, most people are just fine with the status quo in the sneaker world. As long as Nike and Adidas keep dropping new kicks every weekend—keeping not only the market saturated, but our attention spans, too—their fans will happily keep lining up for them. The Big Two control all the resources, attract all the best talent, have supply chains bigger than a lot of countries' economies, and there doesn't seem to be much of a demand at all to change things.
But that doesn't mean things won't change.
Aided by the internet, increasingly easy access to manufacturers, and technological innovations made by the Big Two themselves, independent sneaker brands are flourishing, bringing with them some much needed diversity in not only design but also in philosophy; new approaches to the very idea of running a shoe company, with all the aesthetic and social issues that come with it. Indie sneaker brands are rethinking how their products are made, what kind of message they want them to send to the world, and what kind of forms sneaker obsession can take.
Launching a new sneaker brand from scratch is a challenge, especially since so many people doing it are coming from outside the fashion system, and determined to avoid the status quo. When Sebastian Kopp and Ghislain Morillion launched VEJA in 2005 they were determined to use organic, fair trade, sustainable cotton from Brazil.
"As we spoke very little Portuguese," Morillion writes in an email, "and didn't know anything about the fashion industry at the time, let alone agriculture or how to launch a brand, this proved challenging."
But the benefits can be huge: Three million pairs later, VEJAs are everywhere (thanks in part to some prominent placement in Madewell), and in the process have helped to save over 120,000 hectares of the Amazon forest.
From VEJA to office-casual disruptors Allbirds to classic brands like Buffalo, there are plenty of indie sneaker brands that have established themselves in the market, thriving in the shadows of the bigger global brands. Here are a few more on the rise that are worth looking out for.
Belgian designer Mats Rombaut is a solution-oriented thinker. "I see a problem, I want to fix it," he says. So when he found himself frustrated by the lack of vegan footwear on the market that could match his fashion-forward tastes, he decided to make his own.
In the past, vegan footwear brands have gotten by more on good intentions than good looks, but Rombaut more than makes up for his predecessors' faux-leather Doc Martens knockoffs with designs that mix cleanly efficient European design with a whimsical sensibility that frequently crosses over into the surreal. From bondage-inspired dad shoes to spike-covered racers to slides shaped like lettuce leaves, Rombaut has made shopping vegan fun, and made fans out of everyone from Bella Hadid to Paz De La Huerta.
"The brand is about freedom, hedonism, pleasure in a world of gloom," Rombaut says. "I wanted to show that veganism doesn't need to be boring. That you should do whatever makes you happy but without harming others."
George and Shota Mikaia grew up in the former Soviet state of Georgia, where, despite living thousands of miles away from any of the world's sneaker culture capitals, they still managed to contract an obsession with kicks. In 2015 they decided to launch the country's first homegrown sneaker brand.
"The first prototype batch was a disaster," George says, so he traveled to Civitanova, Italy, a city with a history of quality shoe manufacturing. A chance run-in with luxury shoe icon Jon Buscemi have the Mikaias the knowledge and inspiration they needed to push forward and create a Georgian-made shoe on the same level.
"My main inspiration and personal value is freedom and everything connected with it," George explains, so every luxurious unisex shoe they produced comes with the Georgian word for "freedom" emblazoned in the country's beautiful native script. "I believe that every shoe has a sole," he continues. "Every soul has a story."
Filling Pieces founder Guillaume Philibert was 16 when he first encountered high end footwear during a visit Barney's while on vacation with his family in New York City in the mid-aughts. Back home in the Netherlands, Philibert channeled his obsession with the high end streetwear revolution Kanye and Pharrell were in the process of kicking off, and after three years of tinkering in his family's garage he launched his first shoe.
Since then, Filling Pieces has worked to fill the space between luxury goods and street-level consumers, the gap that Philibert felt stuck in after spending his New York shopping trip eyeballing things he couldn't afford. That gap's a lot more crowded now than it was then, but Filling Pieces has stayed ahead of an increasingly competitive field by staying flexible, offering everything from dressy minimalism to their retro-futuristic Ziro Haze runner, whose silver mesh upper and hot purple highlights look like an '80s arcade designer's idea of a 21st century sneaker.
The brand's also been ahead of the curve on its social consciousness, an aspect that Philibert credits in part to his Surinamese heritage. Among the values he's built into his company, he says, are "diversity, transparency, and giving back to our community and the universe as a whole."
A lot of the better footwear brands in the world—including a few on this list—have their shoes manufactured in Portugal. So wouldn't it make sense to start a luxury sneaker brand in Portugal?
That's the general idea behind WAYZ, a brand launching in the city of Porto, where they've been able to put together a supply chain of partners who can guarantee ethical materials and workplaces, all located within a 70km radius. "Being close to our producers and suppliers is a big advantage," says cofounder Pedro Maçana. "We can visit them often and build lasting relationships, work hand-in-hand, test new designs, materials and improve the quality of our sneakers." In a globalized world, it's the sneaker equivalent of a farm-to-table meal.
Joe Cherry was a fixture in the Virginia Beach streetwear scene as co-owner of the store Cream before, as he puts it, "I got into some trouble and I went to the feds." After his release, Cherry published a zine of poetry that he'd written while he was locked up and called it "Joe's Tortured Soul." A streetwear entrepreneur to the core, he released a T-shirt to go with it, which ended up on Jay-Z, which helped inspire Cherry to push the brand forward. But instead of sticking to printing T-shirts, Cherry jumped straight into making his own sneaker. "I just put it out on my own," he says. "And here we are."
The Greylude is a futuristic tribute to some of Cherry's favorite kicks, but also a tribute to how with a little technology and a lot of determination (plus some Chinese manufacturing know-how) someone who's never designed a shoe before can make a sneaker that can compete head to head in style with anything the big brands are putting out. "There's definitely more to it than screening a T-shirt," he laughs.
Arnaud Delecolle and Dave Cory had amassed a few decades in the footwear industry—Delecolle as founder of the pioneering streetwear brand Alife, and Cory as former director of product for Converse—when they decided to collaborate on a new venture. "We'd done a bunch of stuff," Delecolle says, "and never really had the opportunity to do it right, in terms of the things that matter to us."
OBRA takes its name for the Portuguese word for work—either a laborer's or an artist's—and Delecolle and Cory's respect for labor of all kinds is infused into every aspect of the shoes they make. The canvas and rubber kicks are assembled in a family-held factory in Brazil where employees are given benefits like continuing education programs, on-site daycare and medical facilities, and ten dollars from every pair sold goes to nonprofits working to promote art or civil liberties. Even the shoe's designs—three simple silhouettes in a few basic colorways—aim for utilitarian efficiency over flash. They're turning out to be a perfect canvas for their collaborations with visual artists like KATSU.
In the '90s, ravers and alt-rock stars flocked to London's SWEAR boutiques to buy the biggest, most alien-looking platform sneakers on the planet. In the '00s, skinny-jeans rockers turned their pointy-toed Dean into a million seller. Now, in the Instagram age, tastes have brought SWEAR's mutant platforms back into style, but the brand's still pushing forward. "It was very much of the time and of the spirit," CEO Ben Demiri says of their iconic '90s designs. But in a digital world, he explains, "We should be native to something digital."
To that end, SWEAR's revived some of their most sought after classic designs, but they're manufacturing them in a way that would have been practically impossible even just a few years ago: on demand, custom-made to order for each buyer in an ethically operated factory in Portugal, turned around in just five days. Right now they're producing half their orders this way, but Demiri says they'll eventually do away with inventory altogether. "As a cutting edge brand we wanted to do something revolutionary," he explains. "Doing a classic wholesale business was no longer of the times."
David Raysse got his start at Fila in their '90s heyday before becoming director of Adidas Basketball, then moving on to an executive position at Skechers, so he knows exactly how the big brands operate. Brandblack, the line that he launched in 2014, was his way of trying to do better.
"It was always our dream," he says of himself and creative director Billy Dill, "to build a brand and make the kind of product that we'd always hoped we could build, but was always put on the back shelf for one reason or another."
With support from Skechers, Raysse and Dill set out to make kicks that combined edgy looks with high-performance materials worthy of going head to head against the Big Two on NBA courts, and making fans of Jamal Crawford and Lonzo Ball alongside big-shoe-loving fashion world sneaker heads. Recently they split from their backers to go fully indie, but they're still gunning to get ahead of Nike and Adidas on the engineering curve–this time without the "gaggles" of engineers supporting them. " It's the difference between being a decorator," Dill says, "and an architect."
Designer David Tourniaire-Beauciel is one of the most influential people in modern footwear, thanks to his work alongside superstar designers like Jean-Paul Gaultier, Ricardo Tisci, Martin Margiela, and Demna Gvasalia, with whom he co-created the instantly iconic Balenciaga Triple S that set off the "ugly sneaker" trend, turning the shoe world on its head in the process. For his latest project, Tourniaire-Beauciel's gone solo, with the goal of bringing to life an idea for a sneaker that he's been carrying around in his head since his days in the Nineties working at a shoe factory in Spain making super-chunky platforms for raver-approved cult brand Buffalo.
Twenty years after first dreaming it up, Tourniaire-Beauciel's vision has come to life in the form of the Bump-Air, the debut release from his new label SHOES 53045. The Bump'Air floats a retro-stylish running upper on an almost comically oversized bubble sole for maximum comfort. "It's a shoe dedicated to movement," Tourniaire-Beauciel says of the design. "You can dance with it, you can walk, you can move, you can play." He plans to use the Bump'Air's "hamburger sole" as a platform for other styles in the future, but the original flavor's already taken off with everyone from Gigi Hadid to Kim Petras.
Clear Weather co-founders Josh and Brandon Brubaker have been skate rats since a young age. "I started skateboarding in 5th grade," Josh says, "and that was the first thing that changed the way I looked at things." After putting in time designing for big skate and surf brands, the brothers decided to team up on a sneaker brand that combines their lifelong love of skate and athletic shoes with a more mature appreciation for high-end design. Their fashion forward main line shares its colorful mixed-materials palette and affinity for asymmetry with high-end brands like Acne and Versace (at a fraction of the price), but with silhouettes that recall the era when DC skate sneakers ruled the world. For those who need something more functional, the brothers make actual skate shoes too.
In less than a decade since its founding by a group of Swiss running enthusiasts, On has become one of the most recognizable running shoe brands in the world, with over 3 million pairs sold in 50 countries. But it remains steadfastly independent, reflecting the founders' frustrations with the major running brands, which co-founder David Allemann calls "slow paced" and "overmarketed."
The group's DIY, ground-up approach to re-engineering the running shoe led them to chop up garden hose to use as an outsole, which resulted in the brand's most distinctive feature: the tubular CloudTec sole, whose cushiony comfort has made it a favorite of marathoners and Olympic medalists while its psychedelic normcore looks have won it a devoted downtown following. Compared with other performance sneakers on the market, Allemann says, Ons are, "Not the usual muscle car, but a sleek jet."