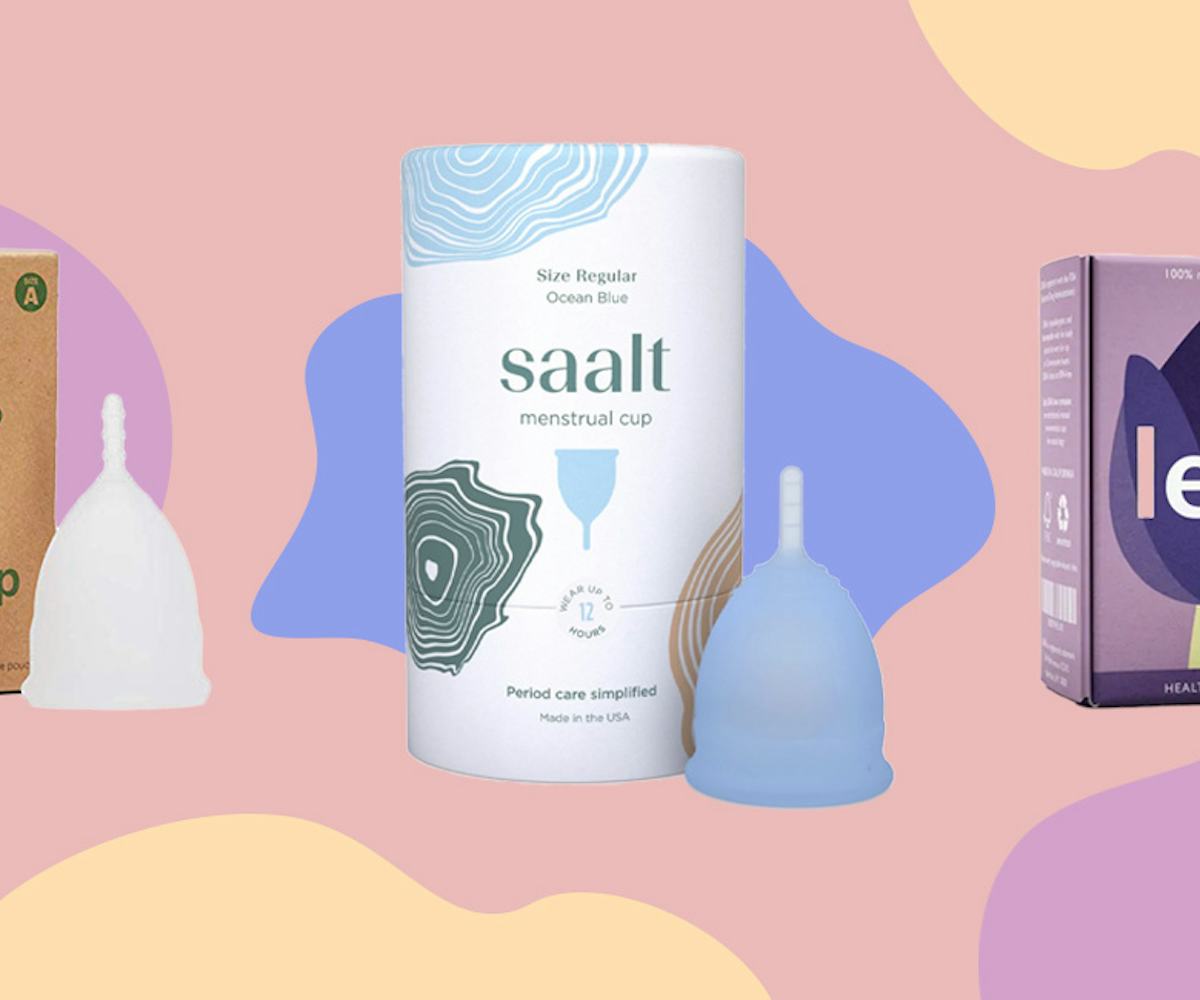 The Best Menstrual Cups For A Heavy Flow And A Wide-Set Vagina
From one big bleeder to another
I've always had a heavy flow—and by "heavy," I mean overnight pads during the day and changing every two hours when I'm out and about. And it's not just blood, of course. My endometrial lining sheds with fervor too, causing me to question (often) if I'm being punished in this life for inexplicable evils I've committed in previous ones. It's been this way since I got my period and the accompanying back-breaking cramps in the bathroom of my judo gym the summer before seventh grade. Out of necessity, I quickly got my period routine down to a science, and found comfort in diaper-thick pads that would last me three hours, maybe four. Tampons were elusive—they never seemed as effective as they claimed—and even if I used one designed for heavy flows, I still had to wear a pad to make sure I didn't bleed through.
Fast-forward a decade, and menstrual cups became a buzzy option that promised all-day wear; though I quickly dismissed them as another way for people without life-disrupting cycles to continue going about their day. I just knew I was producing so much blood that no cup, no matter how big, would do anything but complicate my already-stressful period. But then I tried one. And it worked.
And as much as I hate calling anything life-changing, the menstrual cup really did alter the way I approach my cycle. It helps me to feel at home in my body during a time when I feel like everyone can see my discomfort, no matter how many Advil I pop or calming breaths I try to take. Even though I still have to empty it twice or so throughout the day, it's much better than swapping out pads every time I get the urge to cough, pee, or sneeze. I still pair it with a pad just in case, but that's for peace of mind more than anything else—old habits tend to die hard.
I've rounded up the best menstrual cups ahead—all of which keep heavy, clotty flows in mind.
My Holy Grail Cup
With a three-to-four-tampon capacity (I like to think of this as the number of hours I have before I need to change it), Saalt is my "Goldilocks" cup. The stiff, yet flexible silicone makes it easy for me to insert, and it easily pops into place. I've never had any issues with it slipping, or worse, getting stuck, and I forget I'm even wearing it most of the time.
Saalt, Regular Cup, $29, available at Saalt.
The Comfortable One
Loved by reviewers for its length (this comes in handy if you have a high cervix) and easy insertion, Pixie Cup is one of the more affordable cups on the market and is available in large and extra-large for heavier flows. The larger cups have a six- and seven-tampon capacity respectively, reducing the likelihood of leaks and overflow.
Pixie, Menstrual Cup, $15.95, available at Amazon.
The One For First-Timers
A good option for beginners, the Lena (like Saalt) is available in two firmness options—regular, and sensitive. This is ideal for anyone who finds firm cups painful and wants something a little softer. If it's your first time inserting a cup, stick with the firmer option (they tend to be easier to insert) and swap for a softer material if it feels unusually uncomfortable or you experience additional cramping.
Lena, Menstrual Cup, $24.90, available at Amazon.
The Cheap, Yet Effective Option
Ideal for anyone who wants a cup that falls somewhere between soft and firm, the Blossom Cup is affordable and comes in a range of fun, bright hues.
Blossom, Menstrual Cup, $16.95, available at Amazon.
The Allergy-Free Pick
The OrganiCup is made from medical-grade silicone derived from quartz and has no artificial coloring—so if you're concerned about that, then this is a good option. The brand also partners with NGOs like Womena and Freedom4Girls to help destigmatize menstruation around the world.
OrganiCup, Menstrual Cup, $20.96, available at Amazon.
The One With The Best Color Selection
If color selection your priority, then Lunette is a must for your period needs. The brand offers lots of fun hues—there's even a violet one that feels particularly on-trend—and a slightly firm silicone for easy use.
Lunette, Menstrual Cup, $39.99, available at Lunette.
NYLON uses affiliate links and may earn a commission if you purchase something through those links, but every product chosen is selected independently.