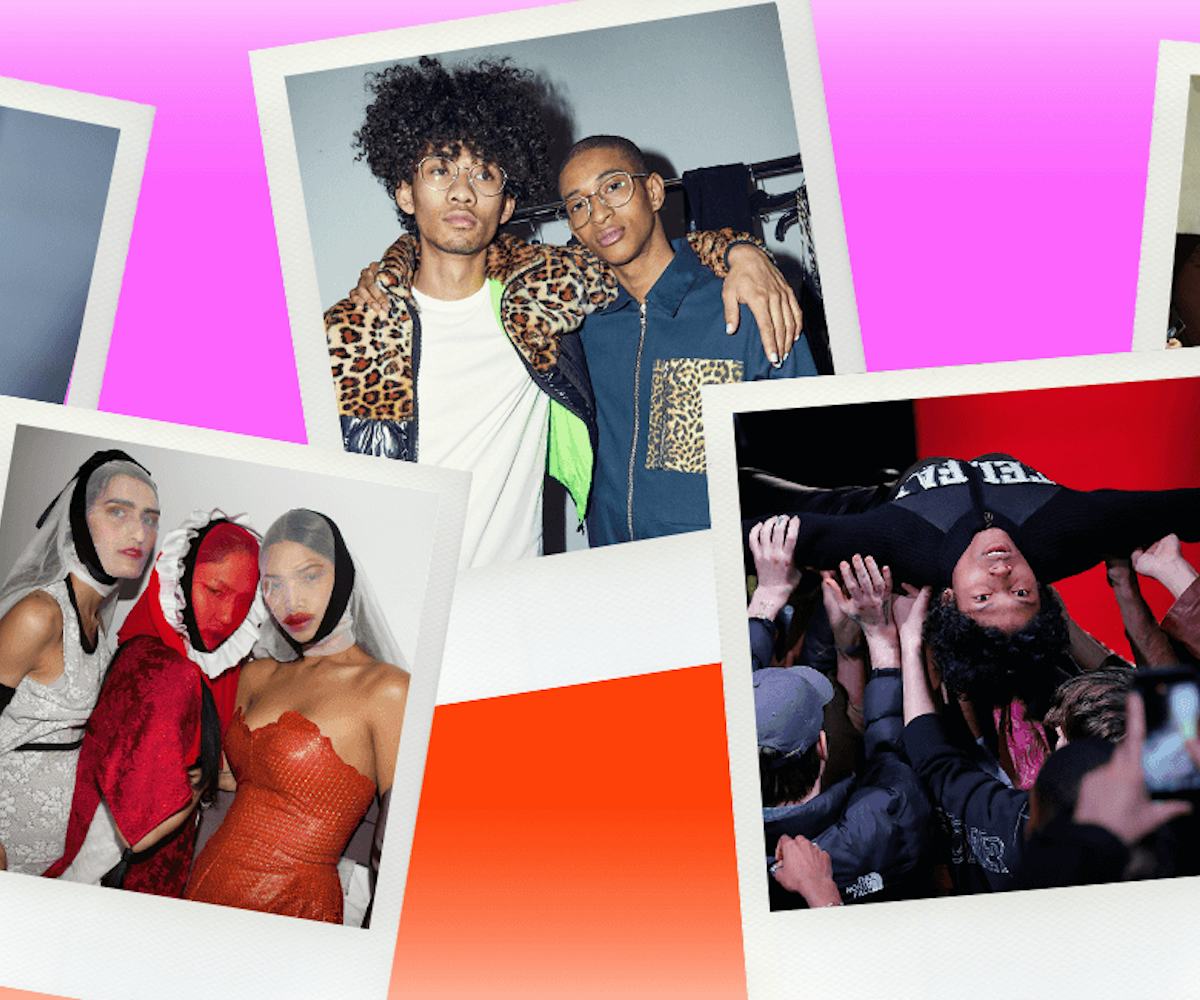 The Buzziest Moments From Fall 2019 New York Fashion Week
From dog shows to mosh pits
And just like that, New York Fashion Week has come to a close. Well, it'll be over tonight, that is. Whether you've paid close attention to the shows via social media or you've waited until the end for a proper recap, we've got all of the buzziest moments rounded up right here for you to peruse. Check them all out, below.
The Fashion Mosh Pit At Telfar
Telfar Clemens of Telfar has been known to merge the runway with stunning audio-visual experiences and quite the party, and this season's evening at Irving Plaza was no different. The show kicked off with a politically charged message from playwright and actor Jeremy O. Harris, as models were "carried" down the runway, to look as if they were stage diving. Soon to follow were performances by British-Nigerian singer Oyinda, and then punk-band Ho99o9. Ho99o9's performance is what got the crowd really going—as soon as they began their set, a full-on mosh pit formed. From there, various fashion folk (those who probably wouldn't typically be found moshing on their Thursday nights) began fleeing in all directions away from the crowd, which was entertainment in itself.
Launching Menswear Is The New Black
It seems that every season, more and more designers are turning to menswear for their next endeavor. This season, two cult-favorite brands—Nanushka and Sandy Liang—expanded their collections in this direction. In Sandy Liang's case, the designer launched a unisex capsule of outerwear, modeled by both male and female models. Nanushka, on the other hand, launched a full-on menswear collection, featuring everything from denim and shirting to outerwear (including an instantly iconic vegan leather puffer).
3.1 Phillip Lim Went Fur Free
Another major fashion label has decided to go fur-free. 3.1 Phillip Lim will be joining the ranks of Gucci and Versace, debuting its first fur-free collection for Fall 2019. According to a press release from the brand, "Effective immediately, the brand will ban fur and exotic skins in RTW and accessories," which includes fox, mink, lynx, chinchilla, and astrakhan/karakui lamb, and exotic skins, such as python, alligator, crocodile, and lizard. While the brand will still employ leather and shearling in its collections, it is only using materials from sources that are "understood to be a by-product of the meat trade."
Lela Rose's Dog Show
Now, we're all for unconventional fashion show formats, especially after running from show to show has started to feel mundane. This is why it was fun to see that Lela Rose showcased her Fall 2019 collection as her own version of the Westminster Dog Show, Roseminster. Models were cast along with a series of pups­­—some even Instagram-famous­—as hosts Jenna Bush Hager and Robert Verdi served as commentators. Even more exciting is that the brand will be donating a portion of online and the Dallas flagship proceeds from the Fall 2019 collection to the ASPCA.
Gogo Graham's All-Trans Runway
Gogo Graham first launched her label in 2014, being the first to feature only trans models and to be designed and produced solely by a trans woman. And once she started showing during NYFW shortly after, she was bringing powerful displays of inclusivity to the lacking runways. This season was no different, though her collection took a much softer, feminine turn. Veiled models donned what looked like wedding dresses, but were actually considered "ceremonial" garments that can be worn to be married or buried—and it was eerily breathtaking.
Tomo Koizumi's Star-Studded Runway Debut
Sure, there were plenty of first-timers to hit the runways this season, but arguably the most talked about amongst fashion insiders was Tomo Koizumi. The Japanese designer, with the help of stylist and creative director Katie Grand, showcased his rainbow array of ruffled masterpieces on the likes of Bella Hadid, Rowan Blanchard, and Gwendoline Christie for a truly breathtaking NYFW debut.
Collina Strada's Plea To The Industry To Be More Environmentally Conscious
By now, it's pretty much common knowledge that the fashion industry is the second most polluting industry on the planet. But when it comes to Fashion Week, it seems that this knowledge is essentially tossed aside for luxurious and extravagant (and thus wasteful) runway shows, presentations, and parties. And that's exactly the point that Collina Strada designer Hillary Taymour wanted to make at her Fall 2019 runway show, and by starting with her own brand.
Aside from her show notes stating how she would be moving Collina Strada, and her own practices, into a more sustainable direction, the show itself featured a spoken poem by indigenous activist and musician Xiuhtezcatl Martinez which called out the industry for its wasteful tendencies and urged everyone in the audience to treat the earth better.
Lil' Kim Performing During The Blonds Show
When it comes to The Blonds, we can always expect a spectacular event that's much more than just a runway show–but last night may have been the most exciting yet. The surprise guest that came to close out the show? None other than Lil' Kim, decked out in a sparkling, studded gold jumpsuit with a plunging neckline. She performed "The Jump Off," and show attendees, of course, joined in.