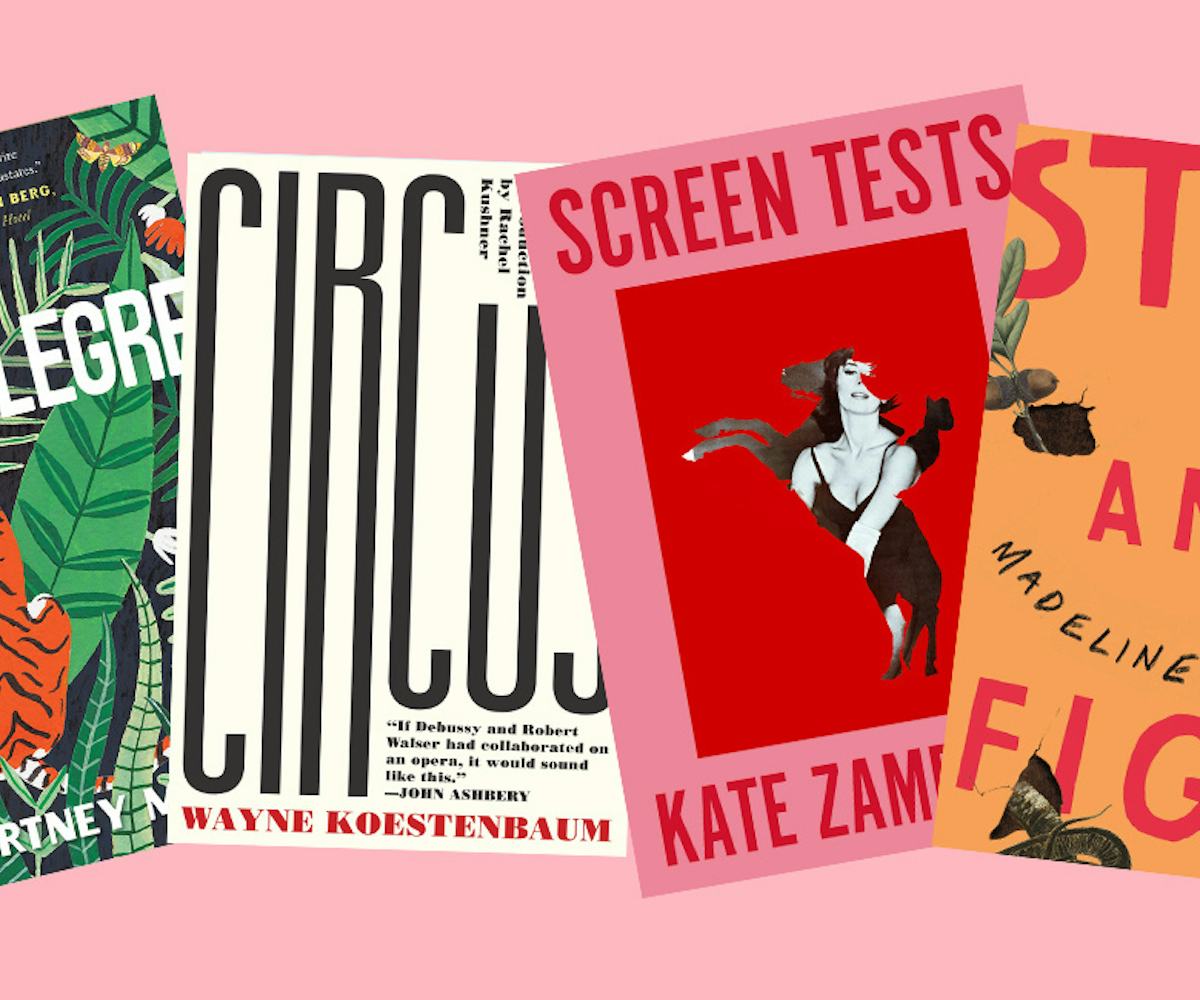 9 Great New Books To Read This July
At least there's good stuff to read
July is, obviously, a prime beach-reading month, but it is also, perhaps less obviously, a prime anywhere-reading month, because it's just as much fun to dive into the following books while laying in your bed, a sputtering ceiling fan twirling overhead, giving off the same effect as having someone standing over you, blowing lightly. (I guess there's more incidental spittle in the latter scenario, but still.)
Anyway! Below are some of the best books July has to offer, read them, and let their words wipe away the image I just put in your head of someone blowing/spitting all over you. Enjoy!
The Lightest Object in the Universe by Kimi Eisele (available July 9)
Can a dystopian novel be both clear-eyed and tender? For anyone inclined to think, no, I urge them to pick up Kimi Eisele's novel, which imagines the end of the world as being more like the end of the world as most Americans know it, and the beginning of something new, something that is not without hope. But first, as dystopian novels tend to do, The Lightest Object in the Universe starts out with a fall: Civilization has collapsed (think: a rampaging virus, exploded oil tankers, an end to the ubiquitous forms of communication and speedy travel upon which we all now rely). Amidst the chaos, Carson and Beatrix, two people on opposite sides of the country, long for each other; as Carson leaves the East Coast for the West on a quest to find her, Beatrix works to rebuild a sense of community with the people around her. Their journeys, both literal and otherwise, offer an enlightening, though never precious perspective on what it means to rebuild something, rather than just wallow in destruction. It's a story of hope, resilience, and being human.
Stay and Fight by Madeline ffitch (available July 9)
We often think of protest novels as being predicated on resistance toward the state, or toward malevolent forces too large to properly comprehend. But most of the ways in which we protest are small; they're petty pushbacks against friends, against family; they're often the most significant protests of all. It's this kind of intimate protest that Madeline ffitch writes about in her debut novel; it takes place in Appalachian America, an historically clannish area, and centers around a motley, makeshift family. There are Lily and Karen, who are married and had lived in an area called the Women's Land Trust, but when they have a son, Perley, they realize they need to find somewhere new to go. Luckily, Helen and her RV come into their lives, and the four of them live together, not really a part of society until Perley gets old enough to want to go to school. It's then that the resistance kicks in, as this close-knit group must figure out how to preserve the things they love, and determine what's worth fighting against and for.
Vincent and Alice and Alice by Shane Jones (available July 9)
"I'm hyperventilating, wondering what's real and what isn't." Meet Vincent, who has his moment of wondering what's real and what isn't as he wanders around a mall, looking for the facsimile of his ex-wife, Alice, that's been created for him by a program that his boss told him about, one that is designed to give Vincent his "ideal" life—which, in this case, means recreating Alice. This would all be reason enough for confusion, ample cause for Vincent to question the reality of everything around him. But to make things even more confusing, the real Alice comes back into Vincent's life. Shane Jones has created a riotous, tender story here, one that pulses with desire and anxiety and speaks to our common need to have someone or something to love, the only thing that will really give us purpose. It's funny and tragic, and speaks volumes about the way that we've allowed our lives to be taken over by a quest for productivity at the expense of our humanity.
Circus by Wayne Koestenbaum (available July 9)
This Soft Skull reissue of Wayne Koestenbaum's 2004 debut novel (now with an introduction by Rachel Kushner!) is the perfect book for summer: It's fever-hot, lurid to the extreme, and filled with the kind of lunatic linguistic acrobatics that leave you gasping for air. Theo Mangrove is a concert pianist who, after suffering a nervous breakdown, has retreated to his family home; he's not alone, of course, there's a steady stream of people (Theo is a true pansexual; who even, sometimes, fucks his wife) to keep him occupied. But, with his sexual needs taken care of, Theo is keen to make a comeback and to recruit the famed opera singer Moira Orfei to be at his side. His obsession with her and his many other petty enthusiasms occupy the novel, which comprises 25 of Theo's notebooks, all filled with the ramblings of the type of person who's preoccupied with creation, despair, genius, failure, and delusion. In other words, an artist.
The Need by Helen Phillips (available July 9)
Becoming a mother is the ultimate generous act; often, it starts by playing host to an alien life form within your own body; then, it necessarily involves the expansion of your life—your home, your mind, your body, your heart—to accommodate this new being. It's disruptive, it's chaotic, it's life-destroying and -affirming all at once. It's a romance and a thriller and definitely very sci-fi. But it's also so common, that it's rarely given its due appreciation. Luckily, The Need, the eerily gorgeous new novel by Helen Phillips, fills the void, offering up the perfect, insightful look into the way motherhood warps the world around you. Molly is a working mother of two young children; while her husband is away on a business trip, and she is left alone with the kids, Molly is overwhelmed and begins to perceive a mysterious threat invading her home. Phillips brilliantly captures the dissonant dualities of being a mother: the ways strength is matched with fragility, tenderness with ferocity, nurturing with palpable, almost riotous need. Phillips' language is beautiful and blistering, it feels raw and mundane in the way of an open wound, or a nipple, chafed from constantly breastfeeding.
A Prayer for Travelers by Ruchika Tomar (available July 9)
Ruchika Tomar's debut novel is a fierce account of the violent cost of being a woman in this world, the fierceness with which women will go to save each other, and the surreal desolation—both literal and psychic—of the American West. The book centers around Cale and Penny, two young women whose paths cross at just the right moment to bond them together. Cale is the sedate one and Penny is the wild one, but when Penny disappears, it's Cale who must go on a quest to find her, and save them both. Tomar writes with blistering precision, her portrayal of the ways in which we're formed by love and trauma is sensitive, yet searing.
Costalegre by Courtney Maum (available July 16)
In 1937, Europe was on the brink of war, and somebody had to think of the artists. That person is heiress and art aficionado Leonora Calaway (loosely based on real-life heiress and art aficionado Peggy Guggenheim), who helps a group of surrealists escape Europe for Costalegre, Calaway's hideaway in Mexico. Also at Costalegre is Calaway's teenage daughter, Lara (based on Guggenheim's teenage daughter, Pegeen), who greets these artists with some skepticism—this is what she was pulled out of school for? Soon enough, though, she starts to appreciate the lush paradise and its possibilities, as she builds a connection with a much older sculptor, in the hopes of finding some of the love she's never gotten from her mother. Maum dazzles with this book, offering up a mesmerizing story of alienation, intimacy, and the elusive powers of art.
The Nickel Boys by Colson Whitehead (available July 16)
Colson Whitehead's follow-up to The Underground Railroad is devastating and powerful, a harrowing novelization on another dark aspect of American history. The titular "Nickel Boys" are the young men who are being held in Florida's Nickel Academy, a Florida reform school that Whitehead modeled after a real institution that ruined the lives of Florida boys for over 100 years. Whitehead tells this story through the experiences of two boys: Elwood, who was on his way to college, winds up at Nickel Academy by a cruel twist of fate, and remains convinced that the world is still a good and fair place; and Turner, who knows better. Never didactic, but always illuminating—even those darkest of places in our collective story—The Nickel Boys is a brilliant, horrifying look into the legacy of Jim Crow, and the ways in which racism and oppression don't exist in defiance to the American Dream, but rather as its fuel.
Screen Tests: Stories and Other Writing by Kate Zambreno (available July 23)
There is a singular twitchiness intrinsic to brilliance, a quickness that's always primed to start sparking. It's difficult to capture this in fiction, because this kind of mercurial motion doesn't really like to be restrained on the page. But, it's vividly present in Kate Zambreno's latest, Screen Tests (not "Scream Tests," but also not not "Scream Tests," maybe). This collection of stories and snippets ranges far and wide within the reaches of Zambreno's mind, touching on topics like nemeses and art and dogs in film; Zambreno also reflects on cultural figures from Peter Hujar and Kathy Acker to Amal Clooney, offering skewed, subversive perspectives that manage to make my own thoughts on the subjects that much more lucid. It's the rare book that's a pure joy to read, but this is one; it delights in petty enthusiasms and grievances, it steals its way into your consciousness like only the most worthwhile things do.
NYLON uses affiliate links and may earn a commission if you purchase something through those links, but every product chosen is selected independently.