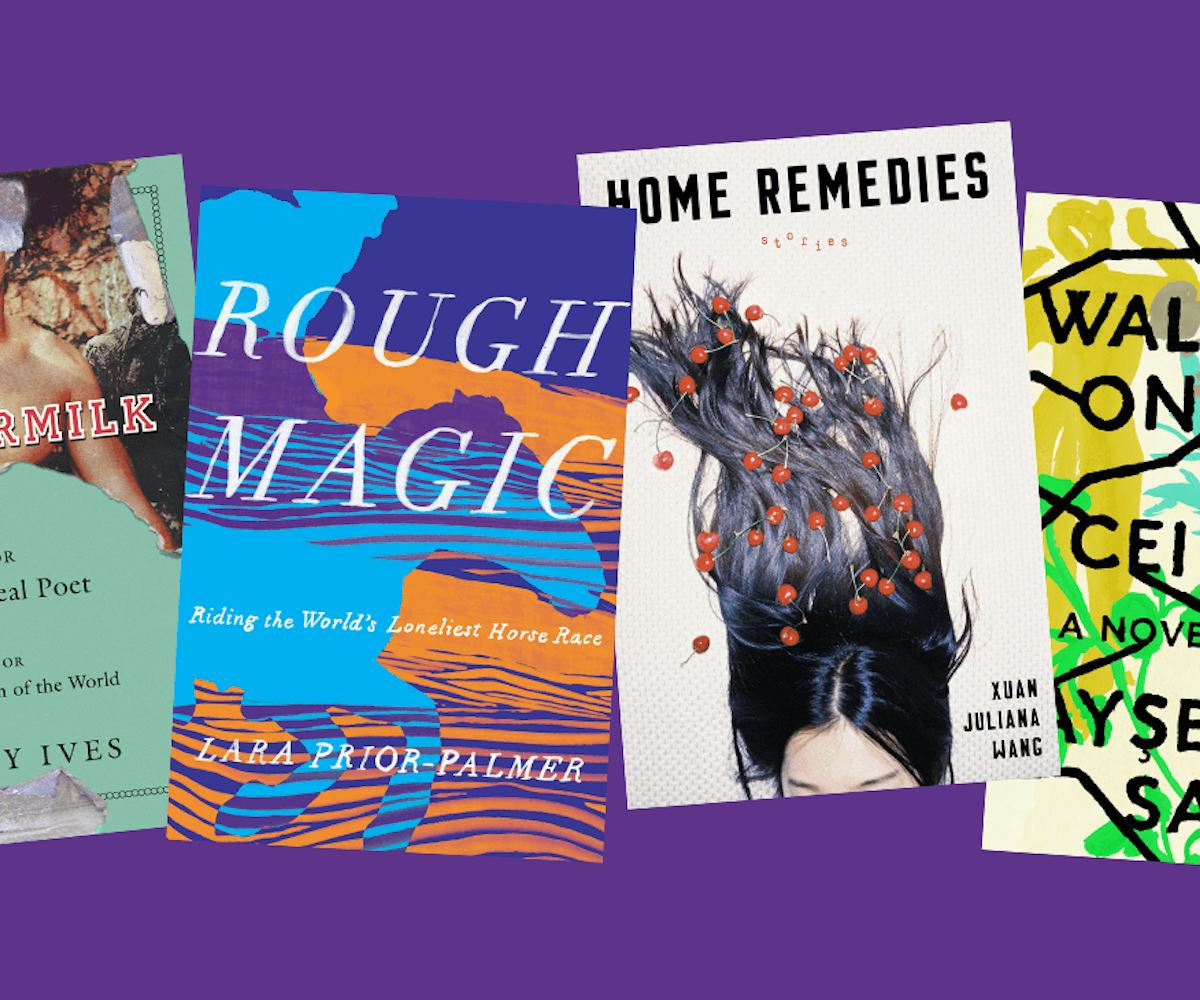 The Best New Books To Read This May
At least there's good stuff to read
Hello, it's May! Here are some books that you should read. Maybe you'll read them on the beach? Or maybe you'll read them on a picnic? Or maybe you'll read them while you cozy up inside your curtain-dimmed bedroom, refusing to be party to the tyranny warm weather attempts to impose on the nesters among us? No matter: Wherever you read these books, just read them. Thank me later.
The Seed: Infertility Is a Feminist Issue by Alexandra Kimball (available now)
In this compelling, provocative book, Kimball, an editor for Toronto Life, uses her own experience with miscarriage and infertility to explore the feminist movement's failure to account for women's desire to have children as being as worthy a goal as their desire for professional or sexual empowerment. Kimball lucidly argues against the notion that women who want to have children are, in effect, only doing so because of patriarchal norms, and calls out the hypocrisy of those who fight for women's reproductive freedoms, while simultaneously deriding women who want the freedom to reproduce in a way that doesn't live up to their stringent standards of what that means. Though tinged with Kimball's personal grief, The Seed is much more than just one individual's story; it makes clear the ways in which a non-inclusive kind of feminism can have devastating effects on all women—on all people.
Walking on the Ceiling by Ayşegül Savaş (available now)
Memory and place intertwine in ways both obvious and inexplicable, and this is perhaps why there is no easier way to lose ourselves than by moving to a new city. Such is the case with the narrator, Nunu, of Savaş' exquisite, dreamy debut novel; Nunu has moved from Istanbul to Paris, in part to escape her complicated family life. But once in Paris, she strikes up a friendship with a writer, M., who is well-known for his novels about Istanbul. The two meander through Paris, and through their separate pasts in a shared place, recount to one another their memories of other times and other people, mythologizing memories in a way that can only be done from a distance both literal and metaphorical. It's the kind of novel that stuns you in a way both quiet and surprising, launching you into reveries of your own.
Juliet the Maniac by Juliet Escoria (available May 7)
Every woman who watched any TV show or movie about female friendship is familiar with The Wild One: the reckless, hard-living friends who make life exciting for the main characters. It's Rayanne Graff, not Angela Chase; or Angelina Jolie in Girl, Interrupted, instead of Winona Ryder. The problem is, stories are rarely told from the point of view of the wild ones, even though they are, undoubtedly, the ones who lead more exciting lives. Well, get ready for Juliet, who is that Wild One, the Bad Friend, the girl whose explosive, crackling personality draws people to her and threatens them all with immolation. In this work of autofiction, Juliet Escoria has created a propulsive, addictive story that takes place in 1990s California and centers around teenage Juliet, whose discovery that she has bipolar disorder leads to her entrance into an outpatient mental health facility for teenagers. Once there, she doesn't just treat her mental illness but, instead, figures out a new way to live. This is a coming-of-age story told with a singular honesty; it can feel brutal—it burns—but it's also illuminating, and a necessary counterpoint to all those teenage stories that marginalize the girl we actually want to read about.
The Seven or Eight Deaths of Stella Fortuna by Juliet Grames (available May 6)
This spectacular debut novel, which traces the life of one Stella Fortuna, from her childhood in Calabria to her senescence in Connecticut, is a vivid, rich portrait of the complications inherent to being an ordinary woman—thanks to all the extraordinary things that are asked of us. Grames loosely based this novel around her own Italian-American family's history, though the tenderness and care she offers her characters does not prevent her from fully exploring the bitterness and pain that accompany a life filled with darkness and isolation. But this is not just a novel of pain and trauma, rather there is humor and love and a will to survive and create that shows the power of women when they are determined to find a path toward their own independence.
Loudermilk: Or, the Real Poet; Or, The Origin of the Worldby Lucy Ives (available May 7)
I don't know about you, but I've desperately been waiting for a great grad school novel. As we find ourselves in the midst of a news cycle greeting us with information about sex cults being run out of campus dorms and parents paying half-a-million dollars to get their children into second-tier colleges, it's important to remember that education scams exist in all forms, and at all levels of education! And there's nothing better to remind us of that than this hilarious, pointed, perfectly executed look at a fictional MFA program called The Seminars, which is taught in the town of Crete, somewhere in the Midwest. (Why, yes, the mascot is a Minotaur.) It is there that we find Troy Augustus Loudermilk (he looks like a water polo player, but that didn't get him into USC, only SUNY Oswego) and his friend Harry Rego (also of SUNY Oswego, but decidedly of a different physique). There are other people on campus too, of course, including Clare, who is pretty sure she is incapable of writing anymore (been there!), and everyone else you'd expect to be populating this particular scene. But, truly, there is little that is expected about this novel. Ives manages to subvert all expectations, and offers up one of the slyest, smartest looks at what it means to be a writer I've read; her every sentence sings, and they're songs I'll return to again and again.
Rough Magic: Riding the World's Loneliest Horse Race by Lara Prior-Palmer (available May 7)
When Lara Prior-Palmer was 19, she was reading the internet and discovered the existence of "the world's longest, toughest horse race," the Mongol Derby, "a course that recreates the horse messenger system developed by Genghis Khan." How many of us, at age 19, discovered similarly unknown things and made a mental note of how expansive the world was and then just... kept on reading the internet? Well, we are not Prior-Palmer, who decided to fly to East Asia and sign up for this notoriously challenging race, which many who enter fail to finish. Prior-Palmer didn't just finish—she won, becoming the first woman ever to be Mongol Derby Champion. Her gorgeous, sensual depiction of this race is a literary marvel; it feels like you are riding alongside her across the desolate steppes; her verbal acuity makes vivid the most elusive of landscapes; her triumph becomes ours.
Light from Other Stars by Erika Swyler (available May 7)
Erica Swyler's follow-up to her beloved The Book of Speculation is a masterful story that hops through time to tell a tale of love and ambition, grief and resilience. Centering around Nedda, who starts the novel as a young girl who wants nothing more than to be an astronaut, Light from Other Stars asks readers to question the ways in which we put blinders on when trying to achieve our goals, and takes us on a journey that collapses time and space, offering insight into the ways we connect with one another; it is full of joy and wonder, a reminder to never stop looking up into the stars and the infinite spaces in between them.
New York Movies by Mark Asch; Vampire Movies by Charles Bramesco, and Wes Anderson by Sophie Monks Kaufman (available May 14, here, here, and here)
Why watch movies when you can read about them? But wait! These pocket-sized books (really, you can put 'em in your pocket and just take them on the subway) are also illustrated, delightfully complementing the cogent, witty explorations of a trio of topics. Honestly, I must recommend you read and buy all of these books, because who could choose between a filmic map of the Big Apple, that takes readers from the Central Park of Rosemary's Baby and Single White Female to the Brooklyn of Do the Right Thing and Saturday Night Fever; and a lusty (blood-lusty, anyway) exploration of vampires from those in The Lost Boys to Let the Right One In? And then don't forget to do a deep dive into not just the work of Wes Anderson, but the work of being Wes Anderson, as the director embodies everything from The Family Man to The Romantic to The Matryoshka to The Mortal. These books are essential for film lovers, but also just for anyone who appreciates a story told well—and with pictures, to boot.
Orange World and Other Stories by Karen Russell (available May 14)
No other writer explores new and alien frontiers better than Karen Russell, and she does so with dark humor, ingenuity, and glittering sentences in her latest story collection, Orange World. The boundaries Russell pushes against take many shapes and forms; there are literal frontiers, as is the case in the book's first story, "The Prospectors," in which two young women find themselves on the hunt for gold in 1930s Oregon (their search leads them to an avalanche-destroyed ski lodge, haunted by the ghosts of its constructors). Then there are those that are more figurative, like the one that exists in that tenuous time just after a woman gives birth, when she isn't sure anymore who she is, or to whom her body belongs. No matter the edge against which Russell prods, she does so with some of the most beautiful writing imaginable, and a diamond-sharp ability to render the emotional places that can be most disorienting—like, love, grief, fear—into something lucid and digestible. To read Russell is to be introduced to alien-seeming worlds, and, through reading about them, better understand the most intimate parts of ourselves.
Home Remedies by Xuan Juliana Wang (available May 14)
This is the debut story collection of Xuan Juliana Wang and it signals a great, explosive talent. Filled with characters who mirror the chaos and anxiety, exhilaration and despair, desire and fear of the world around them, Home Remedies offers searing portraits of millennial Chinese immigrants, whose myriad lives cannot easily be categorized or understood by the placement of a reductive descriptive label. Wang's shimmering words offer proof that even the most mundane of these lives have the potential to become something extraordinary.
Birthday by Meredith Russo (available May 21)
This tender, beautiful YA novel follows lifelong best friends—transgender girl, Morgan, and cisgender boy, Eric—as they grow up in a small Southern town—the kind where everyone is football-obsessed, and where it can feel cripplingly difficult to be who you really are. Russo follows Morgan and Eric from their shared birth days, during a freak September snowstorm, and through the difficulties and joys of their young lives, tracking how their friendship changes into a different kind of love, and showing what it will take for them both to embrace each other, and themselves. It's a sensitive, uplifting narrative, one that feels much-needed in its honest portrayal of a generation that seems like it has more freedom to just be themselves, but that still battles resistance and bigotry as they go on their journeys.
NYLON uses affiliate links and may earn a commission if you purchase something through those links, but every product chosen is selected independently.