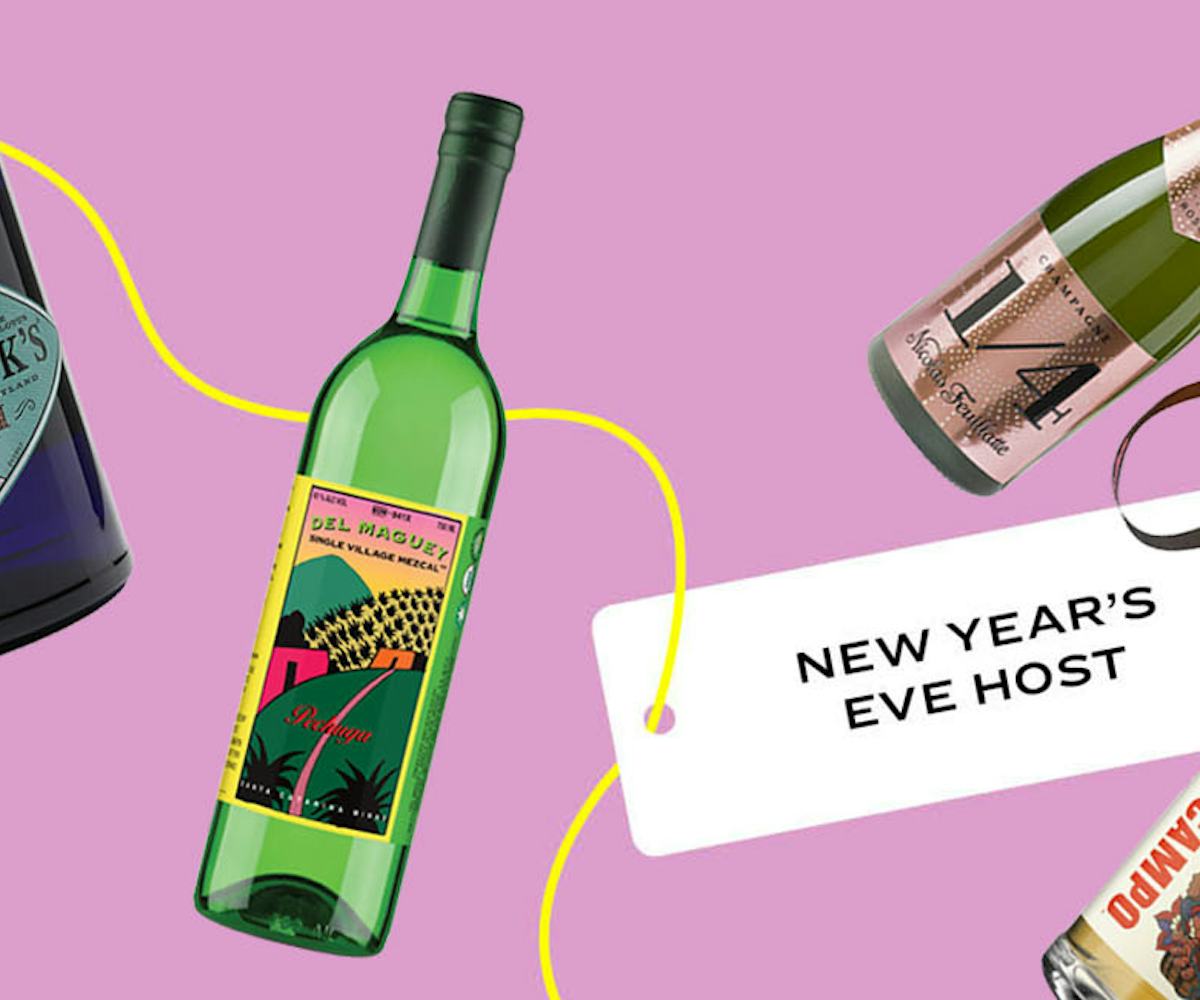 The Coolest Bottles To Get Every New Year's Eve Party Host
From the DIY-obsessed homebody to the pre-gaming party animal
You thought the gift-giving season was over? Not so fast! If you're celebrating New Year's Eve at a house party, you know you shouldn't show up empty-handed (no matter what the host says). With that in mind, below, we've gathered the most design-forward and coolest bottles to get every type of host, whether they're DIY-obsessed and use hand-calligraphed place cards or are known to throw a sound meditation at the strike of midnight.
And, if you're the one hosting the gang, we have a special bonus for you (which you deserve after offering to host in the first place!): the best espresso martini recipe ever that will wow everyone who tastes it and, well, also keep everyone awake.
Made for the host who creates their own place cards, party favors, and party poppers and loves a good photo op, bring a case of these Champagne quarter bottles, available in rosé and brut, to toast with come midnight. Each bottle also has a handy wrist strap attached to it so you don't lose it among other guest's bottles and New Year's commotion.
Nicolas Feuillatte, One Fo(u)r rosé
For the host who doesn't drink alcohol but throws the best parties around—the kind that include a DIY oyster-shucking station and impromptu sound meditation—Seedlip created the first non-alcoholic distilling spirit. It's fair to say we're obsessed with it and the killer mocktails it creates. The newest flavor boasts bitter orange, mandarin, blood orange, lemongrass, sansho peppercorn, ginger, and lemon flavors.
Seedlip, Grove 42
A new Hendrick's gin re-imagining, Orbium, instilled with additional extracts of quinine, wormwood, and lotus blossom essences and created in very small batches (making it limited-edition and, thus, special to gift), is perfect for the host that loves a good gin martini and an aperitif.
Hendrick's, Orbium gin
Our favorite new New York City restaurant, west~bourne's Love Red natural wine—made in collaboration with Broc Cellars, a hip urban winery in Berkeley, California—is perfect for the host who you forgot to get a holiday gift for, and can now pair with a gift card or invite to go the restaurant (and, more importantly, make it seem planned). Design-lovers will also love the artwork on the label created by The Cartorialist.
West~bourne x Broc Cellars, Loved Red wine
This sparkling wine, made in collaboration with BaubleBar, is for the gal in your life who's obsessed with jewelry.
Chandon x BaubleBar, brut
Delight the Sanrio-loving host with one of these Hello Kitty wines.
Hello Kitty Wines, pinot grigio
Give the Holiday Lovers with a capital "L" one last festive gift to make the year-long wait until next season less bittersweet.
OneHope, Naughty California Celebration brut
For those same festive folks—but the ones who don't like bubbly—there's this sequin-covered vodka. Sex and the City-obsessed will also love this.
Absolut, Lime vodka
If you've decided to spend New Year's Eve with family, and are now maybe dreading it, bring this wine "cube" from Target, that, hilariously, holds four bottles of wine but also has snagged a few wine awards. Your Dollar General-loving aunt who misses a good Filene's Basement run will especially approve.
WineCube, chardonnay
Bring a sophisticated, fashion- or design-forward host, whose taste you're not quite familiar with (or scared to get something their discerning taste palate won't enjoy), this liqueur, made this year in collaboration with luxury Italian fashion house Trussardi (last year it was Missoni), that they will be proud to display even if they won't drink it.
DISARONNO, Trussardi, limited-edition
The true whiskey connoisseur will recognize and appreciate the effort you made into getting them this limited-quantity 21-year-aged whiskey.
Glenfiddich, Winter Storm single malt whiskey
My personal favorite to gift people who love a good story or need to be impressed, Monkey 47 features, yes, 47 botanicals and is distilled in the Black Forest in Germany and is the best gin I have ever tasted.
Monkey 47, dry gin
Bring the host who is holding the party to which everyone is invited this magnum bottle of cabernet sauvignon, designed by street artist Faust, whose bottle reads, "Live Dangerously & You Live Right."
Faust, Graffiti Magnum, Napa Valley cabernet sauvignon
Having just launched, MI CAMPO tequilas would be apt for the most in-the-know person you know. We love the quirky label artwork created by Mexico City artist Raul Urias who has collaborated with big-name brands like Nike, Sony Music, and Converse.
MI CAMPO, Reposado tequila
For the classiest friends in your life, there is this stunning clear box that holds a bottle of gorgeously designed Perrier-Jouët Belle Epoque bubbly and a layer of Venus et Fleur's Eternity Roses.
Perrier-Jouët, Venus et Fleur Lé Clair Dix-Huet
While the name, Downhill From Here, can describe the start of any New Year's Eve rager, it's actually a clever nod at Napa's coolest tasting room, housed inside a former gas station, Tank Garage's most recent collaborator: HUF, an iconic skateboarding brand. Which makes this bottle perfect for streetwear- or wordplay-loving hosts.
Tank Garage Winery x HUF Worldwide, Downhill From Here red blend
If your host likes everything they consume and wear to be artisanal and independent, get them this tequila from the small-batch producer from San Miguel de Allende, Mexico. It's also great for the minimalist who likes their designs simple.
Casa Dragones, Blanco tequila
For the most fashion-forward and luxe people in your life, comes this sparkling rosé made by Moët & Chandon in collaboration with Off-White and Louis Vuitton's Virgil Abloh.
Moët & Chandon x Virgil Abloh, Nectar Impérial rosé
For the host who color-codes their books, get a few of Del Maguey's mezcal bottles that come in the same shade of emerald green with complementary labels to signify the specific village in which the mezcal is made and that gives each creation its unique flavor.
Del Maguey, Single Village mezcal
This Champagne brand has tapped DJ Tiësto as its new global creative director, which makes it an apt one for the host who's offering their house as a pre-party meeting spot before hitting the club.
Beau Joie, Sugar King cuvee demi-sec Champagne