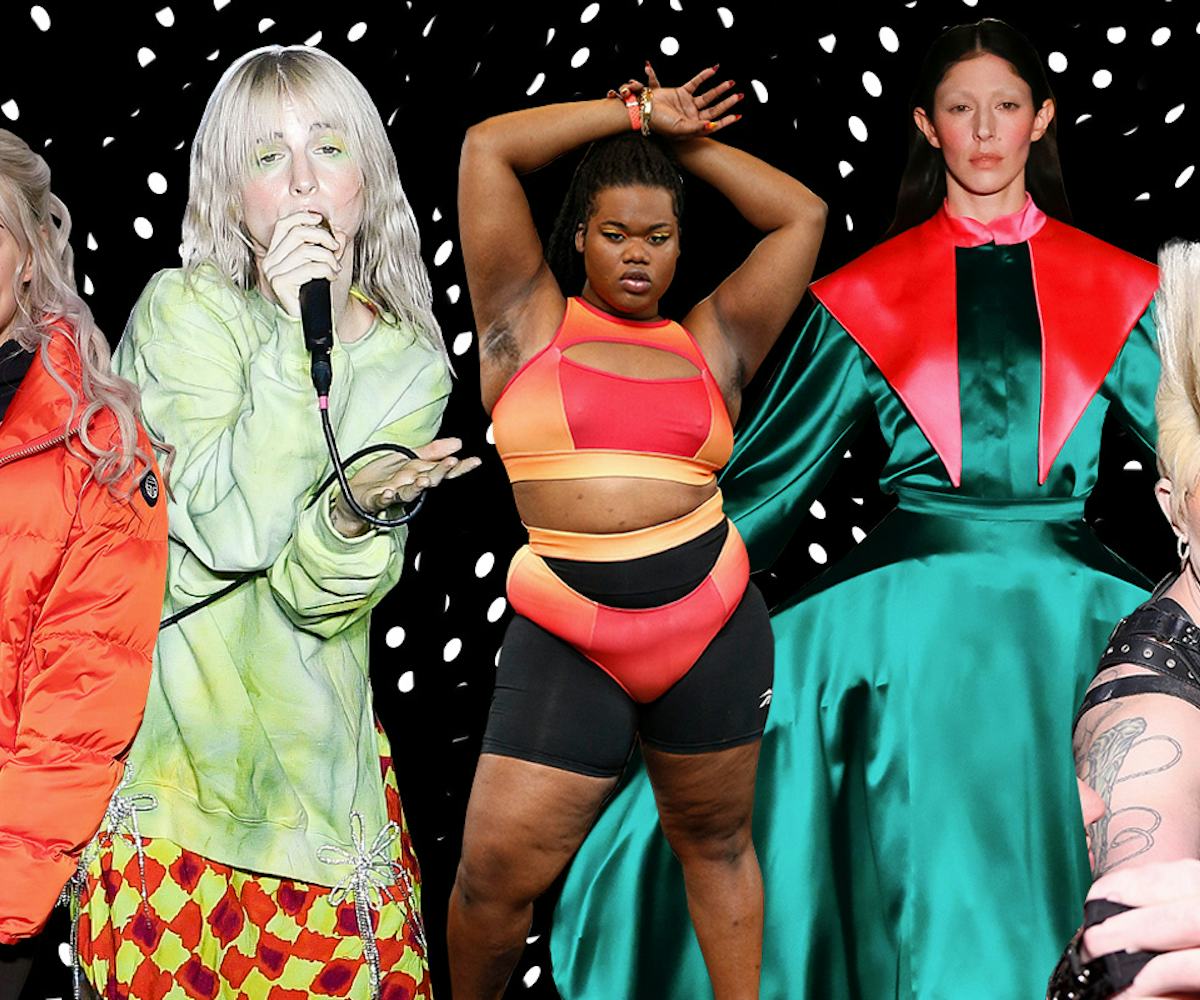 Photos: Getty Images & Courtesy of Puppets and Puppets
Everything You Missed From New York Fashion Week Fall 2020
Rihanna's Fenty party! Navarro Cheerleaders! A Chihuahua on the runway!
Ahead of the official start of women's fashion month, there was thinkpiece after op-ed after hot take on the state of New York Fashion Week, as marquee designers decided to leave the calendar and emerging designers either lack the resources to produce a show or ultimately go rogue to cater to their tight-knit communities. While the start of the week was met with skepticism and a bit of gloom, New York Fashion Week Fall 2020 still had plenty of exciting moments, coming from both established and up-and-coming brands.
For starters, there was Nike, which held its very own fashion show (along with a celebrity-packed front row) to kick off the week, and Kim Kardashian West got in on the action, too, with a special Skims presentation at Nordstrom to celebrate her "solutionwear" line dropping at the major retailer. Speaking of celebrity brands and department stores, Rihanna had a party at Bergdorf Goodman where her Fenty line currently has a pop-up shop.
There was also a musical, a model chihuahua, some surprise live music performances, Navarro cheerleaders, and even a Miley Cyrus cameo on the runway to finish off the week. And that's about half of what we witnessed. Below, read up on everything you missed from the New York Fashion Week Fall 2020, and we'll catch you back here to do it all over again in September.
Nike Had Its Very Own Fashion Show
Nike pulled out all of the stops for its first-ever fashion show ahead of New York Fashion Week. The global sports company presented its 2020 Olympics kits, upcoming designer collaborations, and honored the late Kobe Bryant with a special tribute. The event also attracted an impressive list of Nike-adjacent celebrities and designers, including Drake, Travis Scott, Rosalía, Kendrick Lamar, Yoon Ambush, Virgil Abloh, and more.
Rihanna Threw A Fenty Party
Following a partnership with Bergdorf Goodman for her Puma Fenty collaboration, Rihanna returned to the famous department store with a Fenty pop-up shop, featuring her fashion line's latest collection and a curated selection from some of her favorite designers. The singer-turned-entrepreneur celebrated with a party, of course.
Kim Kardashian West Had A Skims Show
To highlight the launch of Skims at Nordstrom, the first outside retailer to offer the brand, Kim Kardashian West took over its New York City flagship to host a presentation showcasing her "solutionwear" line and featuring a diverse cast of 40 models.
In Los Angeles, Celebrities Showed Up For Tom Ford
Tom Ford decided to showcase his Fall 2020 collection in Los Angeles, conveniently timed ahead of the Oscars and located near his loyal crew of A-List celebrities. The show's front row, which boasted Jennifer Lopez, Miley Cyrus, Lil Nas X, Renee Zellweger, Demi Moore, and Kris Jenner, was far better than any of the star-studded audiences during New York Fashion Week.
Susan Alexandra Presented A Musical
Susan Alexandra, known for her brightly beaded handbags, has been throwing some of the most memorable events since she joined New York Fashion Week in 2019. Following a presentation in a bagel shop and a Bat Mitzvah party, designer Susan Korn created an original 20-minute musical inspired by her own experience in fashion to debut her Fall 2020 collection, along with a stellar cast of Broadway performers, fashion people, and comedians.
Christopher John Rogers Twirled Down The Runway
Following a runway debut that resulted in a standing ovation, award-winning designer Christopher John Rogers' second show met attendees' expectations and much more. After delivering one of the most exciting collections of the week, Rogers celebrated his work with a bow, twirl, and sashay down the runway.
A Chihuahua Was The True Star At Sandy Liang
Sandy Liang took over her alma mater Stuyvesant High School to host a runway show for her newest collection, a more elevated version of her signature separates, pop culture-inspired designs, and cozy outerwear. But the real star of the show was her tiny chihuahua Luna, who was toted around on the runway by one of the models.
Vaquera Had A Surprise Show At Dover Street Market
Though Vaquera was missing from this season's official schedule, the fashion collective managed to put together a last-minute, surprise runway show at Dover Street Market. The Fall 2020 presentation followed the format of back-in-the-day couture shows, and included the usual avant-garde designs and tongue-in-cheek garments, like a graphic of the brand's name crossed out.
Chromat Hosted A Dance Cardio Class
Dubbed "Chromat 2020 Olympic Team Training Session," Chromat's Fall 2020 presentation was Becca McCharen-Tran's reimagining of the Olympics (and its uniforms) as a gender-inclusive space. The show featured models training in a gym, as well a cardio dance class led by fitness instructor Basit.
Navarro Cheerleaders Were Spotted In The Front Row
While Tom Ford had A-List celebrities in Los Angeles, New York had America's sweethearts Gabi Butler and Lexi Brumback of the hit Netflix show Cheer. The two were spotted front row at Tory Burch (wearing the brand's athleisure line, of course) and Brandon Maxwell, where the two cheerleaders "mat talked" the models during the entire show. Bring Jerry next season!
Caroline Polachek Closed The Puppets And Puppets Show
You might consider Caroline Polacheck a fashion darling now. The "So Hot You're Hurting My Feelings" singer made her New York Fashion Week debut by closing the Puppets and Puppets runway show. She wore a sculptural dress in green and pink, inspired by the French cartoonist Jean Giraud's work.
Eckhaus Latta Dressed Its Models In Secondhand Footwear
Teaming up with The RealReal, Eckhaus Latta styled its runway models with designer footwear from the online resale site. "We focused heavily on the clothing for this collection and saw an opportunity to reuse existing footwear in place of footwear that is produced largely for the purpose of a 15-minute runway show," said Zoe Latta in an interview with Vogue. The secondhand selections, including Gucci, Chanel, Prada, Fendi, and more, are currently available for purchase, too.
Rodarte Took Over A Church For Its Fall 2020 Collection
Designers Kate and Laura Mulleavy picked the perfect venue to showcase their dreamy, ethereal Rodarte collection: St. Bartholomew's Church, which was built in 1835 and considered a national historic landmark. The gothic location was a prime spot for Rodarte's inspiration for Fall 2020: Francis Ford Coppola's 1992 adaptation of Bram Stoker's 1897 novel Dracula.
Live Performances Were A Trend On The Runway
Live music performances were a common theme on the runway this season. These surprise shows took on different forms, depending on the designer. Models let loose to Hayley Williams at Collina Strada, while Debbie Harry closed out the Coach show by singing a Blondie song with The Coathangers. Plus, Orville Peck crooned some country music at Michael Kors.
Miley Cyrus Walked For Marc Jacobs' Runway Show
Ahead of the Marc Jacobs show, which officially marks the end of New York Fashion Week, Miley Cyrus stans were excitedly sharing across social media that the singer would be attending as a front-row guest. Her appearance was much more than that, though, as she surprised showgoers as one of the runway models, wearing an all-black look.