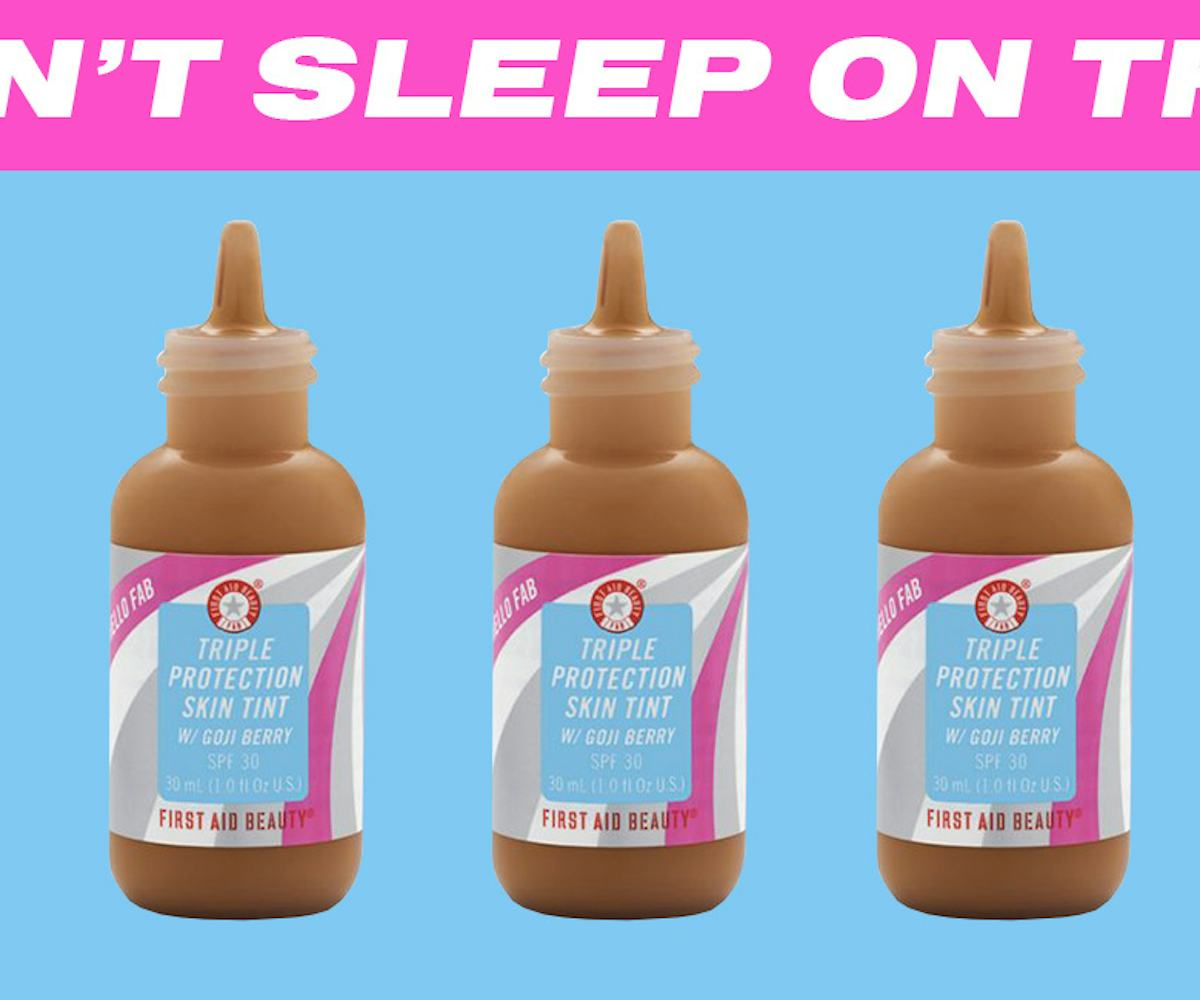 Photo courtesy of First Aid Beauty
We Found The Best Skin Tint For Layering
Friends don't let friends miss out on all the cool, under-the-radar things they know about, like which little-known beauty brand is low-key making the best highlighter around. And because we consider our readers to be like friends, we gather together all our best finds in our Don't Sleep On This series. Check in every week to see what things we can't wait to share with you.
I'm a super-indecisive person: There are people I went to high school with who are getting married—meanwhile, I can't settle on one music streaming platform (I've jumped between Apple Music, Spotify, and Amazon Music more times than I can count). I've gone through tons of phases in my life; you can easily tell how old I am in photos based on whether I was in my emo phase, or my country phase, or the phase where I only wore athleisure. But there's one thing I've stayed loyal to in my life: First Aid Beauty's Triple Protection Skin Tint.
This doesn't mean that I haven't changed my mind about what kind of foundation I like, switching back-and-forth between full or sheer coverage. It just means that I can explore both those options—and everything in between—with only this one product.
With First Aid Beauty's Triple Protection Skin Tint, a couple dots of product give your face a sheer amount of coverage, and a few more will make you look airbrushed. And, unlike some other foundations that I've used, this doesn't get cakey, or flaky, or heavy if you add more layers of product. Instead, its buildable formula effortlessly goes from a little coverage to a lot of coverage, without making it feel like your skin can't breathe. No matter how much you put on, it feels like an all-day moisturizer, the only difference being that you have to remove this one before you go to bed.
I haven't even touched on the ingredients list, either. Not only is it vegan and cruelty-free (which is super-important to me), it also protects your face from the sun and from "environmental aggressors." As someone who lives in the pollution bubble that is New York City, I need that protection. This formula also has SPF 30 mixed in and uses goji berry, astaxanthin, and vitamin C to shield you from other environmental effects. And it has zinc oxide to filter out UVA and UVB light. Basically, it keeps all the nasties away from your face.
Nowadays, I usually opt for a few drops' worth of coverage, which evens out my skin tone and hides the bumps I pretend not to care about (but still do, sometimes). But, when there's somewhere I have to be after work, I find myself throwing this in my bag so I can add a couple of layers on before I head out the door. A little more coverage automatically makes me feel more put together, which is what I need after a full workday. And even on days when I don't feel like wearing anything, I still dab a little on to keep my skin protected.
First Aid Beauty, Triple Protection Skin Tint, $34, available at Sephora.
NYLON uses affiliate links and may earn a commission if you purchase something through those links, but every product chosen is selected independently.