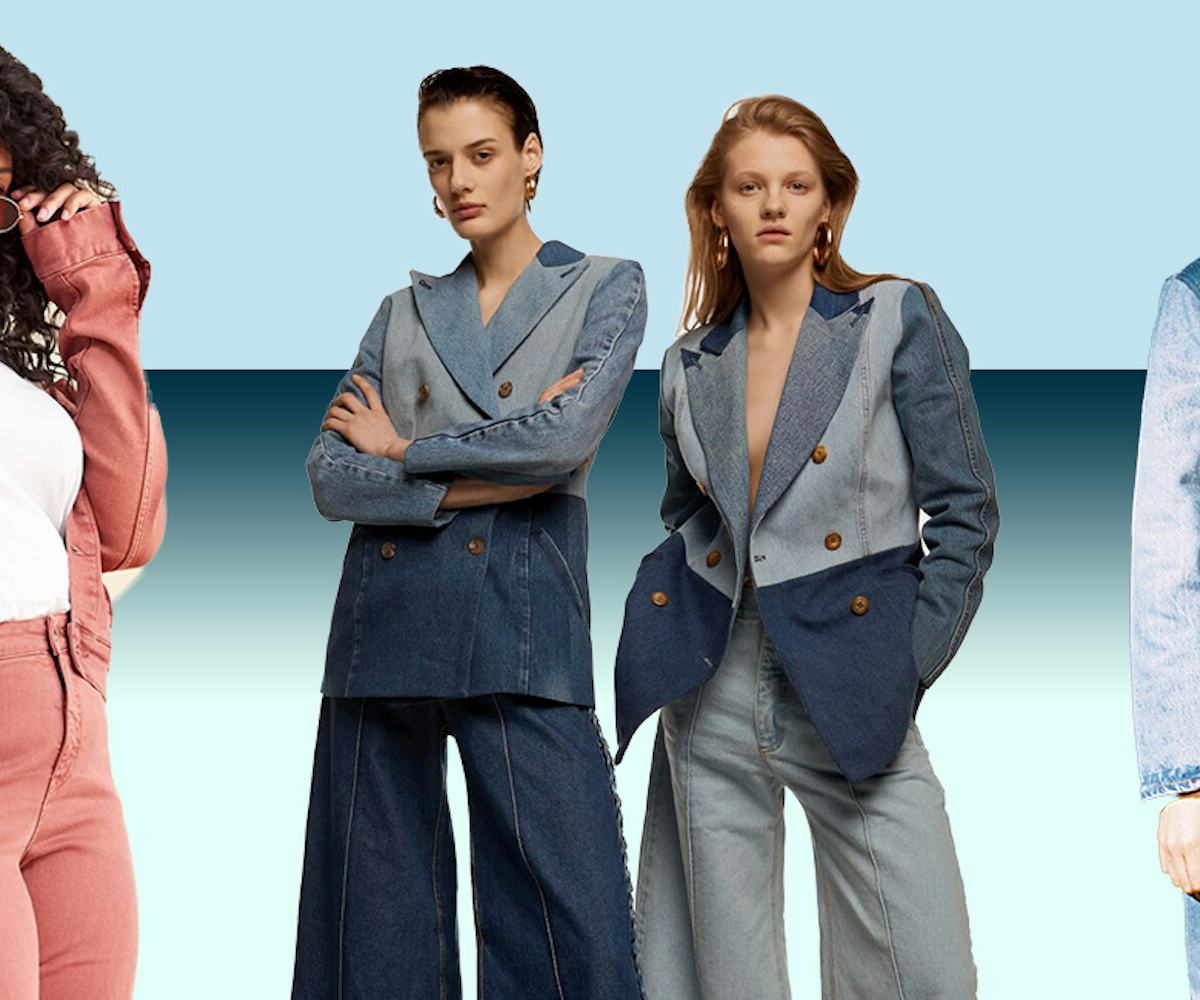 7 Sustainable Denim Brands You'll Want To Shop
More than just your classic blue jeans
The unfortunate truth behind your favorite pair of jeans? They're absolutely terrible for our planet.
While it's a well-known fact that fashion is one of the most polluting industries on the planet—coming in second to big oil—it's not as well known that denim production is one of the biggest culprits of all. It can take an average of 1,800 gallons of water to grow enough cotton to produce just one pair of jeans. An alarming amount of rivers and lakes in China, Bangladesh, and India are contaminated by the waste from the toxic chemicals used to dye denim. Not to mention, many of the workers in overseas factories producing denim are subject to these toxic chemicals and other unsafe working conditions.
With that said, if we're going to continue to shop for denim, as consumers, we need to be shopping smart and support the brands that are working to shake things up. Whether they're producing low-impact denim—created at ethical mills with minimal water and power usage—or creating new garments from deconstructed and reconstructed vintage and deadstock denim, we rounded up seven sustainable denim brands to get to know.
Cool and contemporary designs that are good for the planet? How could we resist?
Ksenia Schnaider
Even if you're not familiar with Ukranian designer Ksenia Schnaider, chances are you're familiar with her work—particularly, the viral pant-short hybrids, called "demi-denims," that were seen on the likes of Bella Hadid back in 2017.
The whole idea behind the label, run by Ksenia and her husband Anton, is to create something new out of old denim—deconstructing old denim pieces, washing, re-working, and reconstructing into demi-denims, denim "fur" coats, and more. While sustainable fashion isn't booming in Eastern Europe like it is in the U.S., Schnaider hopes to change this by bringing awareness to her customers.
To further the brand's sustainability efforts, the design duo turned its Kyiv-based studio into a denim "laboratory," where they do all of the washing and redesigning in one place, minimizing waste, water, and energy footprints.
Boyish
L.A.-based denim label Boyish knows how bad jeans are for the environment, and that's why it aims for just about every aspect of the brand to be ethical and sustainable.
The brand uses eco-friendly practices during the developmental and manufacturing processes, using only one-third of the amount of water typically needed to create a pair of jeans. All cutting waste and water are recycled, and about 20 percent of the fabrics it uses are dead stock. The brand also only works with factories with fair and safe working conditions and sustainable and transparent suppliers—making sure that all are located close by, in order to cut carbon emissions.
CIE Denim
NYC-based Cie Denim is the brainchild of designer Kelcie Schofield, a stylist who turned her love for vintage shopping into her very own sustainable denim brand. Each one-of-a-kind pair of jeans is created from a vintage pair that Schofield handpicks from various New York vintage shops, deconstructs, and then reconstructs into something new and unique.
While the brand is most known for its upside down jeans design, you'll also find an assortment of paneled acid wash tie-dyed styles and upside down shorts. While its current offering may be on the smaller side, Schofield plans to one day expand Cie Denim into a full lifestyle brand—one that sticks to its sustainable roots.
Warp+Weft
As stated earlier, it can take up to 1,800 gallons of water to create just one pair of jeans, which is a pretty scary fact. That's where inclusive denim brand Warp+Weft comes in, creating a truly low-impact system for producing jeans at its family-owned ethical mill—keeping it under 10 gallons per jean, and then recycling 98 percent of it back.
The best part of all? Every pair is under $100, which proves you don't have to break the bank for a truly sustainable pair of jeans.
AndAgain
AndAgain is a NYC-based sustainable denim brand founded by Morgan Young and Greg Harder. Every single one of the brand's made-to-order pieces is created from recycled post-consumer denim, which results in almost no water usage during production.
While you'll find a variety of reconstructed jeans and patchwork denim outerwear, the brand also focuses on a variety of artist collaborations, offering pieces such as hand-embroidered denim tops and digitally-embroidered denim bomber jackets. It's also begun expanding beyond denim, introducing sustainable French terry and organic cotton into the mix.
Re/Done
If you're a fan of vintage Levi's, then you'll love sustainable denim brand Re/Done. Each pair is made from a pair of vintage Levi's sourced from rag houses all across the country.
While each deconstructed and then reconstructed jean is washed twice, the brand has gotten its process down to just about 50 gallons of water, which is about the same amount as if you washed your jeans at home.
Blanche
Copenhagen-based contemporary denim brand Blanche feels that corporate social responsibility in today's world—especially within the fashion industry—is a necessity, which is why it aims to be as sustainable and ethical as possible on all levels.
Not only does the brand focus on working with sustainable materials, such as deadstock fabrics and Global Organic Textile Standard-approved materials, but it also follows a number of other measures to ensure it's as safe for the environment, and for workers, as possible. It ensures that each of its suppliers follows its manual of guidelines for reducing energy and water usage, carbon footprint, and more, while also staying as "close to home" as possible to reduce transportation and allow for easy factory auditing. The brand has even created a consumer impact page for its customers on how to reduce a garment's environmental footprint, including washing and recycling tips.