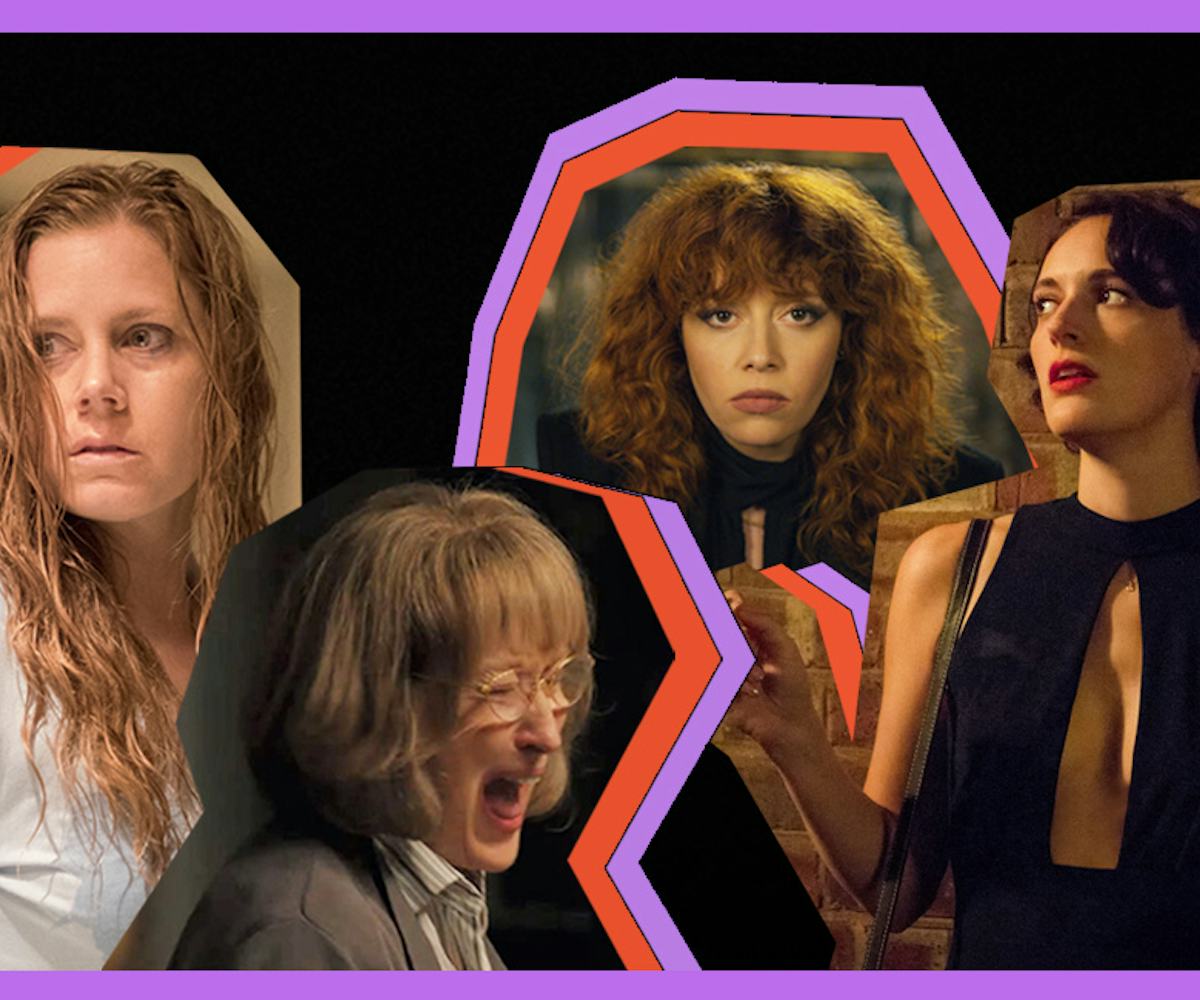 Left to Right: Photo by Marie Fox, HBO, Netflix, Steven Schofield
Are We Finally Comfortable Talking About Grief?
A new wave of TV shows are addressing death and loss in new and important ways
Far too often, grief is glossed over in television and film; loss is resolved by having the mourning character "move on." Or—even worse—it's used as a motivator for personal betterment. In Spider-Man, Batman, countless Disney and Marvel movies, the hero is inspired by loss; this is one of the oldest tropes in the book, and one that offers a neat kind of resolution, too. But by suggesting that bereavement has to end in a success story—let alone end at all—we leave no room for the reality that some of life's hardships come without meaning or expiration dates. Attempts to mitigate the audience having to sit with the discomforting ambiguity that comes with loss can instead leave mourning viewers feeling inadequate and alone in their grief.
The second season of Big Little Lies cracked a window into the profoundly devastating experience of grief when Mary Louise Wright, played by Meryl Streep, released a spine-chilling scream at the dinner table to express the depth of her mourning over the loss of her son, leaving me as wide-eyed as her grandsons and their mother, Celeste (Nicole Kidman). Its shock-value made it one of the most tweetable, meme-able moments of the season. It was perhaps even more shocking than the flashbacks of her dead son lying at the bottom of the stairs down which he was pushed.
The uncomfortable truth in this is that we've become increasingly desensitized to seeing death, yet are unable to witness the discomfort of loss, despite the fact that most people will lose someone in their lifetime. But as we see more of Hollywood embracing vulnerability, trading in portrayals of the aspirational life for the relatable one, grief appears to finally be receiving the airtime it deserves.
Rather than serve as a plot point, and paid service with a single episode—likely featuring a sobbing protagonist bed-ridden in a sea of Kleenex—bereavement has become the central theme of entire series. Stripped of its melodramatic tone, grief plays out more realistically as part of the mundane every day in shows such as After Life, created by and starring comedian Ricky Gervais. Grief bears heavily on his daily routine, yet we receive ample doses of comic relief, even moments of beauty, amidst all the darkness. Rather than fall victim to the common narrative arch of the mourning character triumphantly overcoming his sadness, Tony's heroic moment is instead a gentle shift in perspective, when he decides he doesn't want to end his life.
It is this candid, sardonic depiction of bereavement that also makes Phoebe Waller-Bridge's Fleabag so addictive. We see Waller-Bridge, as the titular Fleabag, respond to the death of her mother and best friend by becoming obsessed with casual sex. Yet as her desire to be witnessed—not only by sexual partners, but by us, as she directs her thoughts to the camera—becomes more desperate, her avoidance of pain becomes more apparent, and more relatable.
While dark comedies like After Life and Fleabag offer more realistic depictions of grief, so too does the "traumedy" genre, exemplified by the Netflix hit Dead To Me. On the show's "traumedy" label, Christina Applegate toldThe New York Times, "It's what life feels like—dark and twisty and funny." Applegate's Jen finds catharsis in blasting screamo in her car, while her accidental partner in grieving, Judy (Linda Cardellini), hides behind a veneer of bubbly cheerfulness. We see not only that grief can involve moments of both joy and suffering, but that everyone mourns differently.
This Is Us and Big Little Lies also portray a diversity of responses to loss. In the former, grief manifests in addictions—Kate to food, Randall to perfectionism, and Kevin to alcohol, while in the latter, each of the "Monterey Five" could easily become the poster child for one of Kübler-Ross' "five stages of grief" (denial, anger, bargaining, depression, and acceptance). Bonnie (Zoe Kravitz) withdraws into her depression, opting for long walks over social engagement, while Jane (Shailene Woodley) finds acceptance dancing to Sufjan Stevens on the beach. Both series tend towards the overdramatic in their representations of grief, but they excel in highlighting its complexity and unpredictability.
Even more encouraging are shows that take an immersive approach to expressing the rollercoaster of emotions that follow the death of a loved one. While flashbacks in Big Little Lies are straightforward, used primarily as a plot device, in Sharp Objects, they're visually choppy and confusing, taking us into Camille's (Amy Adams) experience of trauma and grief on a sensory level. I don't understand them any better than she does: Are they memories or hallucinations? This is taken to the extreme in Russian Doll, where Nadia's (Natasha Lyonne's) refusal to face the loss of her mother traps her in a vicious loop of history repeating itself. In both shows, the anxiety induced by the blurring of past and present sheds light on the emotional exertion that facing a loss demands.
Despite being rooted in death, these shows are a breath of fresh air, not only because they allow grief to take center stage, but because they honor its messiness. As Jonathan Van Ness says to a mourning father in Season 2 of Queer Eye for the Straight Guy, "We want to put things in boxes and wrap it up with a nice bow, but unfortunately with losing people, there is no box, and there is no bow." For most of my life, I've been that viewer that parceled problems in pretty boxes. I responded to a loss of my own in 2015 by attempting to transform my pain into a success story: I quit my job, went solo backpacking in India and South Africa, and moved to New York. What doesn't kill you makes you stronger right? Not quite. It was only when I started to see the reality of grief on-screen that I realized: Real strength comes in facing your loss.
It's difficult to make space for bereavement when we live in a happiness-addicted, pain-avoidant society. But as Mr. Pickles (Jim Carrey) says in the pilot episode of Kidding, after his proposal to discuss death on his children's show is rejected, "The longer we wait to deal with this [death], the more we're telling every child in America that when something catastrophic happens to them, they should just pretend it didn't." Just as television reflects society, culture is shaped by what we watch—the more we see bereavement normalized on-screen, the less afraid we'll feel to talk about it.
While these shows are reason to be optimistic, so, too, are conversations off-screen. This July, Ariana Grande opened up toVogue about the loss of her friend and ex-boyfriend Mac Miller. Earlier this year, Beanie Feldstein referred to grief as "just impossible" in her personal essay forInStyle, while both Keanu Reeves and Christina Applegate similarly discussed grief's enduring nature. Most recently, Stephen Colbert spoke candidly on his experiences of loss with Anderson Cooper, who recently lost his own mother. Throughout the conversation, they both mention the importance of acknowledging grief, "What do you get from loss? You get awareness of other people's loss. Which allows you to connect... to love more deeply and understand what it's like to be a human being," said Colbert.
It looks like Colbert isn't the only one to recognize the potential for connection that the shared experience of loss offers, communities of bereaved millennials helping each other navigate grief in the modern age are booming.The Dinner Party, a casual potluck dinner for grieving 20- and 30-somethings, has expanded to nearly 100 cities and will host their first grief camp in September. That's right, that "Friends of Heaven Grief Retreat" in Dead To Me isn't completely far-fetched (although those margarita-fueled hook-ups and "Carry On-Oke" looks more like yoga and writing sessions).Modern Loss, a community promoting candid conversations about grief, hosted their second annual retreat in July. On the power of uniting over the profound experience of loss, co-founder Rebecca Soffer told me, "Disconnecting from our phones to physically share space was grounding and ironically, to some participants, deeply connected us all."
I like to think Gen-Zers' and millennials' affinity for emotional catharsis and building community will continue to chip away at the shell of taboo-ness in which grief has been entombed for too long. As we see more nuanced portrayals of bereavement on-screen, hopefully, loss will increasingly serve as a catalyst for connection, rather than isolation, and we'll all become a little more okay with not being okay.