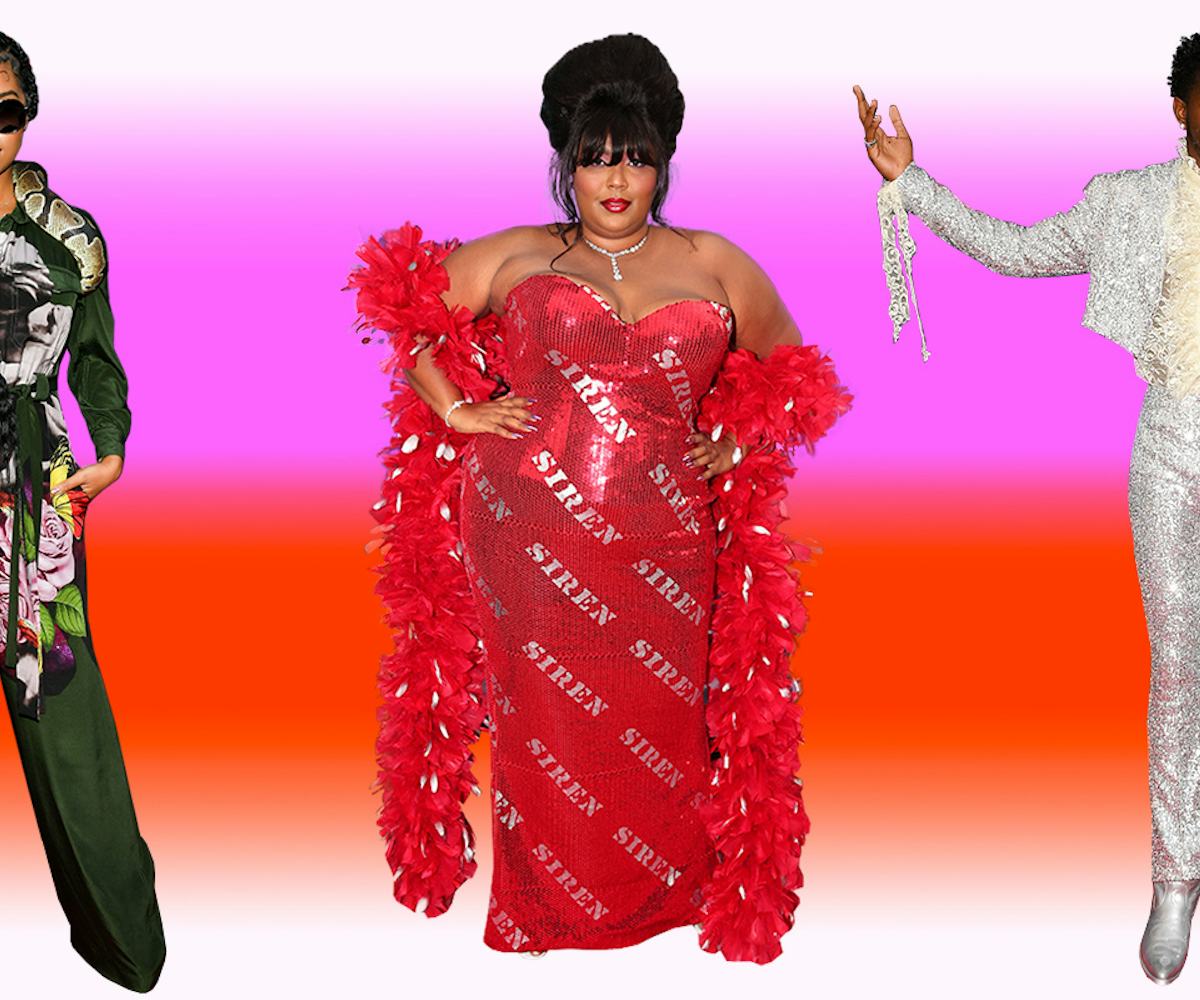 Photos from Shutterstock
The Best Looks At Tonight's VMAs Were All About Excess
The glitz, the glamour, the yeehaws, and… the snakes?
When it comes to red carpet events, we always look forward to the MTV Video Music Awards because, simply put, they're one of the more exciting carpets to watch. Typically less prim and proper than the other major awards show ceremonies (usually with fashion that's much more in-your-face), we always look forward to seeing what looks the stars will pull off each year.
Tonight was no different, as some of the best looks of the evening were all about excess. There was plenty of glitz and glamour, with sequin and crystal-embellished everything making appearances across the boards. However, tonight was really all about the accessories. We saw everything from feather boas to literal boa constrictors, and even a clunky, golden '90s era cell phone.
And, in true Hot Girl Summer fashion, not wearing any pants was also a key trend—just ask Megan Thee Stallion herself, along with Taylor Swift and Halsey.
Below, check out our favorite looks of the evening.
Ring the alarm! Lizzo was on fire in this Moschino "siren"-printed, sequined gown, complete with a feathery red boa.
Taylor Swift went for an '80s vibe with this colorful, embellished Versace blazer-and-corset look.
Lil Nas X may have just won best dressed in this jazzy Christian Cowanlook: a head-to-toe sparkling silver suit, complete with matching silver boots and a Victorian-style ruffled lace blouse.
Hold the phone! Did you catch Keke Palmer's sleek sequined getup by Yousef Aljasmi? We, too, wish to accessorize with a golden '90s-era cell phone.
We're swooning over Zara Larsson's cascading ruffle masterpiece by Giambattista Valli.
Megan Thee Stallion served us a true Hot Girl Summer in this glitzy bra and blazer.
Normani also got the sparkly memo, donning this mermaid-esque, crystal-covered Nicolas Jebran look.
Halsey was a literal goddess in this breathtaking, corseted tulle gown by Peter Dundas.
In case you were wondering, our yees have very much been hawed by Diplo's custom suit moment.
H.E.R. opted for this chic tropical Valentino suit and accessorized it with… her pet boa constrictor! (We liked this look way better than Tana Mongeau's attempt to channel Britney Spears, TBH.)
Hailee Steinfeld went for an ethereal look with this dreamy tulle gown featuring a whole lotta leg.