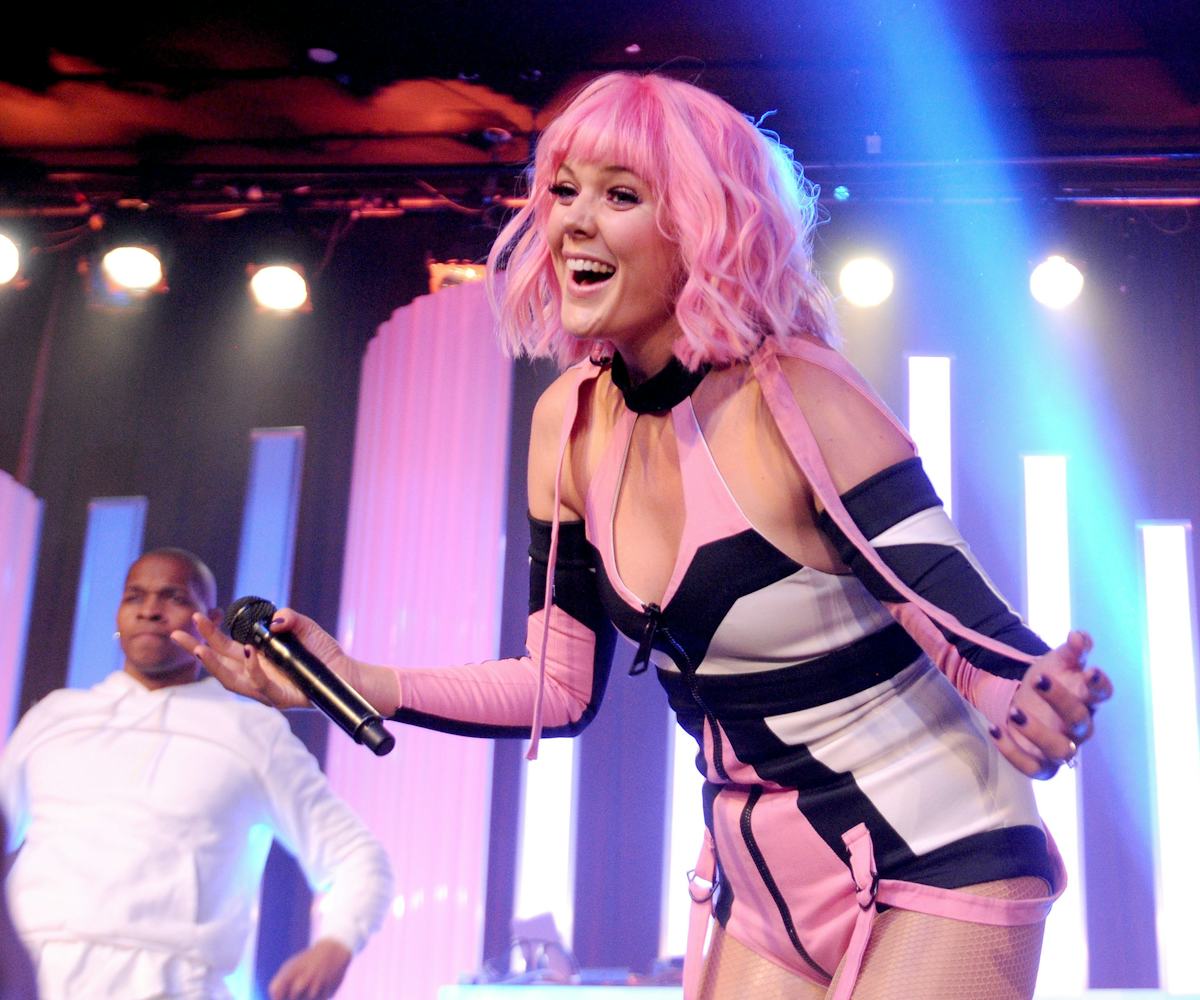 Photo by Vivien Killilea/Getty Images for GLAAD
Betty Who Just Wants To Make "Fucking Bops"
And that's exactly what's on her latest album 'Betty'
If Betty Who could describe her new project in one word, it would, she says, be: "re-energizing." The Australian-born singer, who transitioned smoothly from her debut single "Somebody Loves You" in 2012 to two highly successful albums Take Me When You Go and Valley, has just released her first independent album Betty after splitting with RCA Records. And the eponymous project is her most fully realized work to date, one in which she was able to spring free from boardroom decisions to find her own voice.
After a year of touring after the 2017 release of Valley, the singer was ready to produce work that was unapologetically her. For the electro-pop singer, that meant songs to rock out to in your underwear with your blinds drawn, and scream along with at the top of your lungs to while going on a long drive by yourself just because you can.
Betty is a reimagining of what it means to be cool, totally rejecting the idea that being cool is not giving a shit. To the singer, there's nothing cooler than showing off her unadulterated emotions and, more specifically, broadcasting how much she cares about the work she creates. And she certainly does care—a lot. And with so much negativity in the world, Who says that the only message she wants her listeners to take away from Betty is the happiness each song evokes.
While the songs on this record are an extension of Who herself, they're also an ode to her fans. She takes into careful consideration what her fans want, taking pride in how well she knows them. She can always predict which songs will enliven the crowd during a concert and which pieces her fans will resonate with most. That's probably why her music hasn't deviated much from the synth-heavy pop beats of her debut single. Rather than an evolution, her sonic journey can be better described as an enhancement, with each album becoming even more joyful than the last.
NYLON talked to Who about working on her first independent album, touring with Panic! At the Disco, and how she just wants to make "fucking bops." Read our interview with the singer, below.
This is your first album as an independent artist. How was the process of making this album different than with Take Me When You Go and Valley, when you were with RCA?
Everything is different, and it feels really, really exciting, but it's much more stressful because there's so much riding on it. I feel like, when you become an independent artist, you're really investing in yourself. You're taking a huge risk because, if it doesn't work, then there's no one to blame except for yourself and, also, you have to put so much of your time, energy, money, and resources into making your dream happen. So, I definitely feel the pressure of that much more than I thought I was going to.
At the same time, there's a huge relief and exhilarating joy and gratitude that I have to be able to put out the record I've always wanted to put out on my time and with no other [outside] influence. I really got to take the reigns on this one, and I personally think it is some of my best work. I'm so proud of it and am really, really excited to share it.
How do you think producing it independently affected the music?
I think it's more pop, and I think there's a lot of aggressive confidence on this record. I'm pretty clear about the kind of music I want to make on this record. From start to finish, it's pretty high-intensity and high-energy—it even took me aback the first time I listened to it. I was like, Wow, you're really going for it. This is a confident album, so I think that's one of the biggest sonic differences and what stands out about it. I just want to show everybody what I can do. I really want to dig into myself and walk the walk. I've been talking the talk for years about what I could do if I were given the opportunity so I really wanted to make the most of that.
Your songs have always been so joyful and upbeat, which is something I really appreciate. Especially in times like these, where there is a lot of pessimism and disheartening headlines, what do you feel is so important about putting out music like this?
All I want to do is make people happy! Things are so dark all the time; I just want to be a ray of light. I was just talking about this recently. The traditionally cool kids have always been these tragically cool kids who don't think it's cool to think things are awesome, or that it's way cooler to not be into stuff and to be more aloof. And I literally care so much.
I was just on the Panic! At the Disco tour, and every single night on that tour I was standing side-stage rocking out and dancing like a crazy person. I was screaming all the words. Literally, at one of the shows I was like, I'm going to lose my voice, and I need to sing on stage tomorrow again for this tour, like, I have to be cool. I was just so excited, and that to me is cool—to be excited and into stuff is really cool. And I think that that is a part of what made this record what it is. I wanted to care. I didn't want people to listen to it and then be like, Yeah, man it's a vibe. Like, no, I want to make you so happy. Dance with your girlfriends before you go out for the night. I want it to be an uplifting, confidence-boosting soundtrack to everybody's lives.
Is there any type of genre or musical experimentation you're interested in delving into a bit more or adding to your sonic resume?
I have so many ideas of what I'd love to do. I've always wanted to do a stint on Broadway. There are things outside of what I'm doing now that I really want to get into, but musically, I just want to keep exploring. I always think I know what I'm going to do on a record until I start writing, and then it turns out to be completely not what I thought it was going to be. So, I'm leaving a lot of space to figure out what's supposed to happen, as opposed to what I think would happen. But something I would definitely like to do is play cello on my records more. I grew up playing it, and it was something that I spent 14 years doing every day all the time. It was a huge, huge part of my life and I would love to incorporate that a bit more into my music.
What would you say is the main message of and inspiration behind the songs on this album?
I want there to be something for everyone. It's not a heartbreak record, it's not a love record. I think there's a little bit of everything on it. But a theme for me, personally, that I think bled into the music a lot was the resurgence—the energizing feeling I had once I was making this album—that I knew I had this total creative control and freedom. That really changed things for me.
You know, when you get out of a relationship that you didn't really know was that abusive, and you look back at it, and you're like, Oh my god, that was so horrible. I knew it was bad, but I never knew how bad it was. I think I had one of those where once I was out of that toxic environment. I woke up one day, and I was like, Holy shit, I had no idea how much it really did affect me. I was really, really unhappy and I was so heartbroken because I spent my whole life waiting to do this thing, and then live my childhood dream. And then to have it be nailed with and messed with by people who really don't care, at the end of the day, whether it's successful or not. It's not really personal to them, it's work. And that's the problem. So once I was out of it, I realized how hard it had actually been. And I think the freedom of not having to do that anymore, and feeling so excited, I think that really bled into the music.
What do you think or hope fans will be surprised by on this album?
I don't know if it's necessarily surprising. Hopefully, in my wildest dreams, the thing that I would love my fans to take away from this album is how grateful I am for this. The record is literally my ode to them. I try to listen so much to what my fans tell me, what songs they love. I think I have a really good gauge of what fans are going to like. I write a song, and I'll be like, This is going to be the song that everybody loves. And people are like, No, this one. And then I get on stage and the reactions to the songs that I said were going to be huge, get huge. And I'm like, I knew it, I know these people. I know what they want and what I want to give them, so I thought a lot about that when I was making the album. I just wanted to make my fans really happy because they make me so happy. I just wanted to make fucking bops that they could be really proud of and could spend time with.