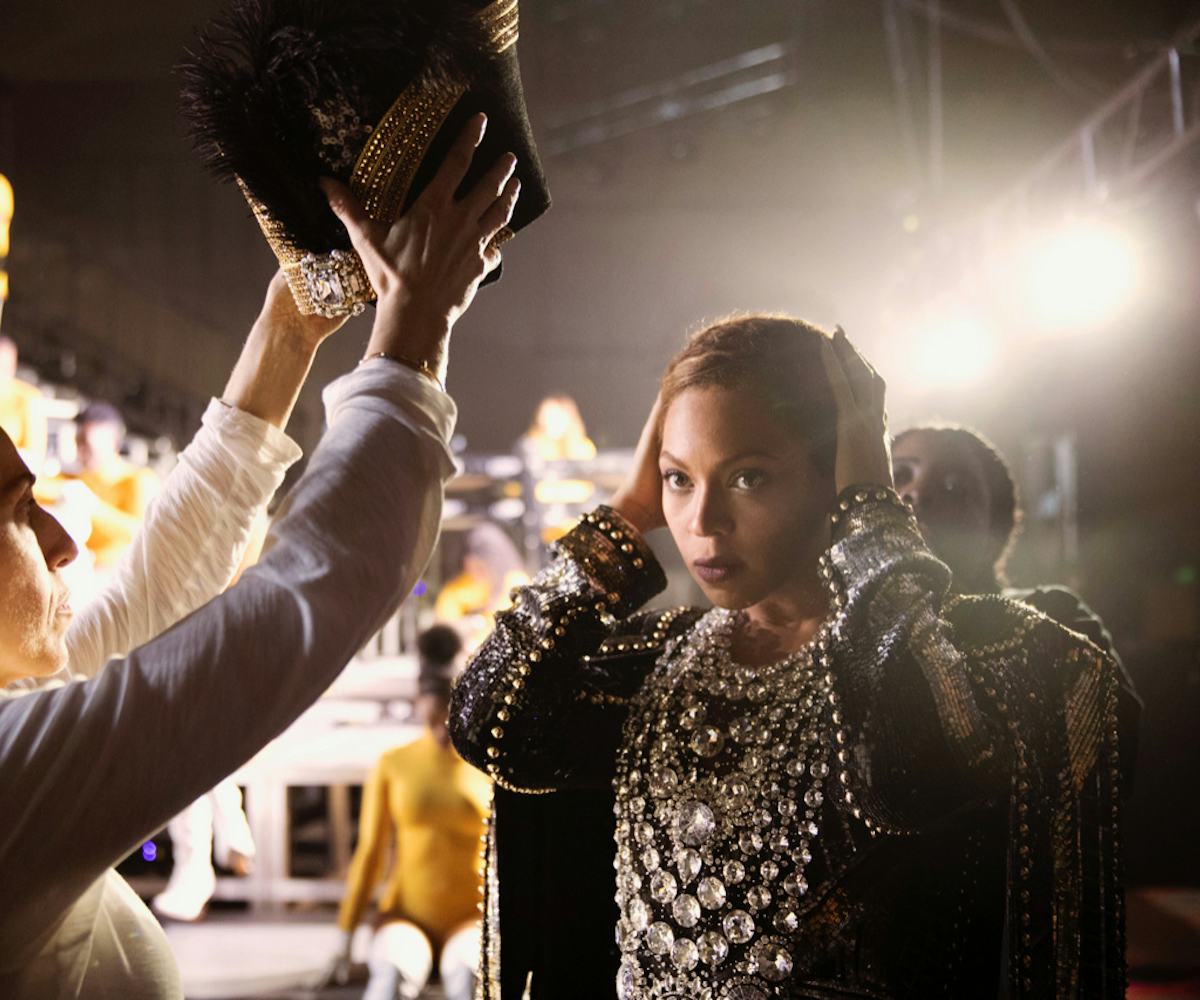 Photo courtesy of Parkwood Entertainment / Netflix.
In 'Homecoming,' Beyoncé Finally Lets Us See Her Imperfections
And reveals the ways she struggles as a working mother
If anyone you know is running late or looking a little tired this morning, cut them some slack. They're probably in the Beyhive, and they either stayed up really late or woke up really early to watch Homecoming after it dropped on Netflix. Homecoming allows Beyoncé to walk viewers through the process of putting together her historic 2018 Coachella set, and intersperses interviews with Beyoncé and behind-the-scenes footage with long clips from her set.
As anyone who saw Beyoncé's performance knows, it was a magical two hours of Black excellence; but for Beyoncé, the road to get there was a journey that got a little bumpy thanks to the recent birth of her twins, a longing to experience the young adulthood she didn't have, an extreme fitness routine, and an onstage fall with her sister. In Homecoming, we learn that Beychella wasn't perfect, yet it still managed to be one of the most important and best executed live performances in recent memory.
We all know the Beychella origin story by heart, right? Beyoncé was all set to headline Coachella in 2017, and then, on February 1 of that year, she posted a picture on Instagram that changed everything. In its caption, she announced to the world that she was expecting twins; a couple of months later, she announced she'd be postponing her headlining gig at Coachella on doctor's orders.
And now, with Homecoming, Beyoncé takes us further into her experience with that, and details just how much her body changed during that pregnancy. As a reminder that even those women we consider to be goddesses on earth grapple with childbirth complications, Beyoncé reveals that, while pregnant with the twins, she experienced high blood pressure, preeclampsia, and eventually had to have an emergency C-section when one twin's heart stopped beating. This would be a lot for anyone to bear, but further complicating this situation was Beyoncé's desire to headline at Coachella in 2018. Not even the Queen simply bounces back from having her abdomen cut open, and as Beyoncé trained for her future show, the effects of her pregnancy caught up with her. This is all made clear in Homecoming, where we see behind-the-scenes footage showing Beyoncé breathing through muscle spasms and severe pain as she began to train and rehearse for her set.
Regaining her stamina and mastering her choreography was a struggle, but Bey worked her ass off. Commenting on her awkward performance during practice, she dropped this gem: "That's why people don't like to rehearse. Because it humbles you." Training like an actual athlete, she eliminated carbs, sugar, and alcohol from her diet, all in an effort to whittle away at the 218 pounds she weighed when she gave birth. Bey also dealt with the reality that so many working mothers face, finding it frustrating to balance her instinctive desire to be with her newborns with the 15-hour rehearsals she knew she needed to pull of Beychella.
Homecoming isn't all about struggle, though: In it, we see Queen Bey keep it real about her physical challenges, but also reveal some of her fondest memories of the time, including the inspiration for her set: Historically Black Colleges and Universities. The Houston native was inspired to pay tribute to the unique culture of HBCUs because of the time she spent attending Battle of Bands at a Texas HBCU, Prairie View A&M. She says she dreamed of attending an HBCU, but that Destiny's Child was her college, and she had to learn from life instead. It's a poignant moment, one that reminds us how much sacrifice it takes to become an icon.
But what Homecoming does best is remind us that this particular icon, no matter how perfect she seems, and how controlled a version of herself she presents the world, deals with the same difficulties as other people. Although one could argue that Beyoncé really began to break down her perfect image when she released Lemonade in 2016 and let the world in her on her personal heartbreaks, she offers a more transparent version of herself with Homecoming, not least because this isn't an artistic rendering of her suffering, but is rather an intimate portrait of it. It is new territory for the woman who usually runs her business, brand, and concerts like she's half-woman, half-machine (or just total goddess). But revealing these imperfections is what makes Beychella ultimately flawless. All hail the Queen.