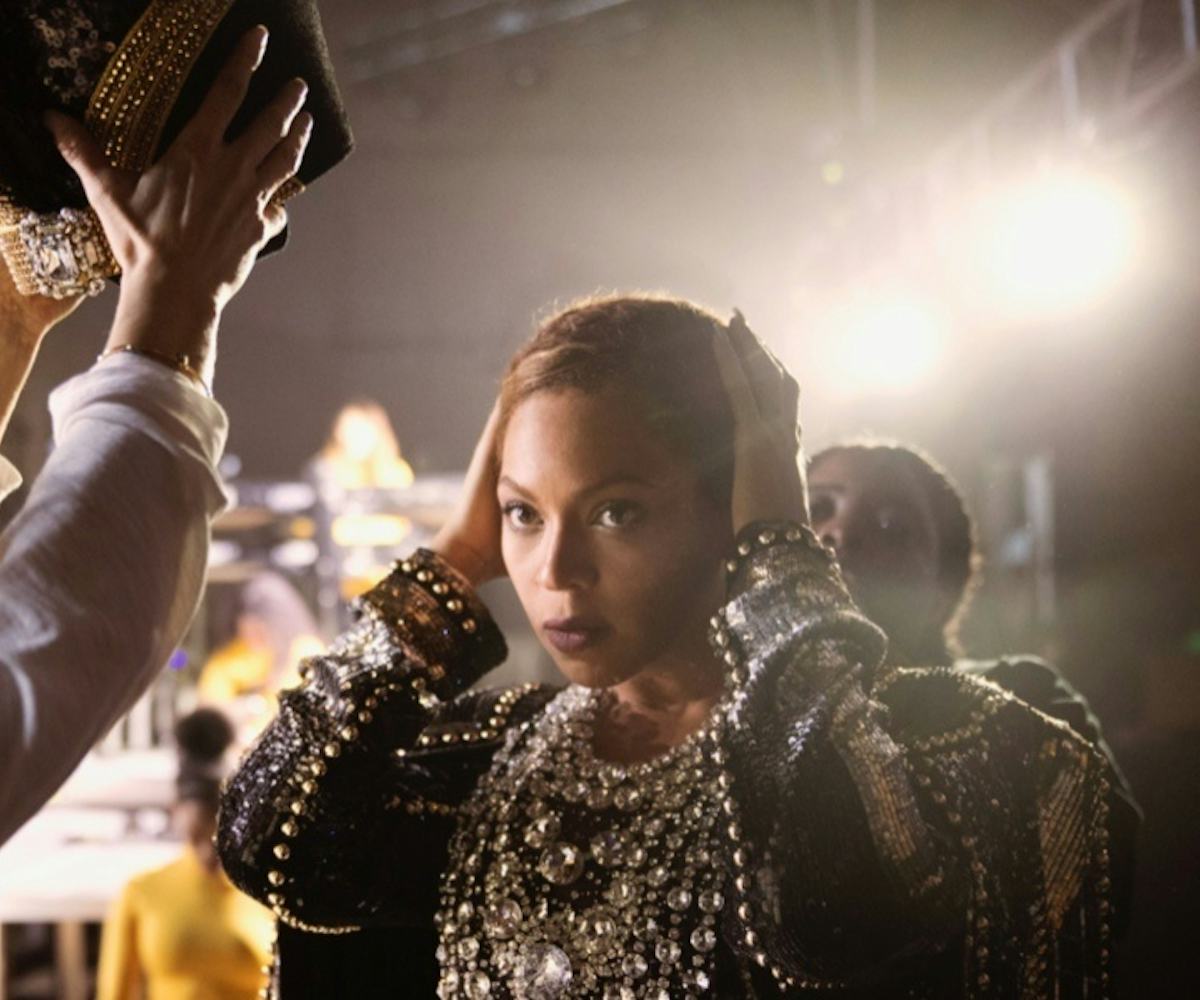 Photo courtesy of Parkwood Entertainment/Netflix.
Beyoncé's Emmy Snubs Are A Reminder Of How Harshly Black Women Are Judged
This wasn't surprising, but it was disappointing
You've probably heard by now that Beyoncé's Homecoming documentary/concert special didn't win a single of the Creative Arts Emmys for which it was nominated. It's a huge letdown for the Beyhive, which looked forward to Bey moving one step closer to EGOT status. But then, it was a letdown for music fans, in general, many of whom consider Homecoming one of television's greatest musical specials, offering an intimate glimpse into the creative process and personal journey of one of our generation's best entertainers. It was also a letdown for a community of Black people who felt honored and empowered by Beyoncé's commitment to Black culture, historically Black colleges and universities, and Black art. And it's this final disappointment that stings the most—especially since Beyoncé's glorification of Black culture might just be why the powers-that-be declined to formally award her with the accolades she so clearly deserves.
When I heard about Homecoming being snubbed, I immediately thought back to the 2017 Grammys, when Adele beat out Beyoncé in all of the three general categories in which they were both nominated. Lemonade, which was released as a creative film on HBO before the album was available to stream, raised the bar on visuals, defied genre boundaries, and took advantage of genius creative storytelling. The album was also an ode to Black women and people of color, who exist in a constant state of mourning thanks to anti-Black violence. And while 25 was a good album, it wasn't the momentous achievement that was Lemonade—and even Adele knew it. At the end of the night, Lemonade only won Best Urban Contemporary Album and Best Music Video for "Formation." This disappointment came after the film also failed to win any of the four Primetime Emmys it had been nominated for in 2016.
Fast-forward three years later, and Beyoncé was beaten by not one other contender, but a predominantly white slew of them. In the different categories in which it was nominated, Homecoming was defeated by Springsteen on Broadway for directing; Rent: Live for production design; Fosse/Verdon for music direction; Hannah Gadsby's Nannette for writing; Carpool Karaoke: When Corden Met McCartney Live From Liverpool for Outstanding Variety Series; and RuPaul's Drag Race for costuming. Drag Race's costume win is understandable, and I also see the merits in Gadsby's LGBTQ advocacy in Nannette, as well as Rent: Live's set production. But it's hard not to observe how whenever Beyoncé breaks the mold (i.e. with the surprise release of her 2013 self-titled album, which lost the Album of the Year Grammy to Beck's Morning Phase) or has anything politically substantial to say, she loses the highest honors to someone who fits more in line with the existing power structure.
Black children are raised to understand that we have to work twice as hard to get half of what our white peers do for the same work. But even when they exceed expectations, Black women like Beyoncé are judged more harshly and aren't justly rewarded—especially when they're advocating for Black liberation, advancement, or excellence. Maybe, then, what we'll learn from Beyoncé's exceptional career is that to be acknowledged for our self-advocacy, we will need to accept that there are some kinds of praise that we can only give ourselves. We have to learn not to give a fuck—which is a life goal that Beyoncé herself has clearly already achieved.