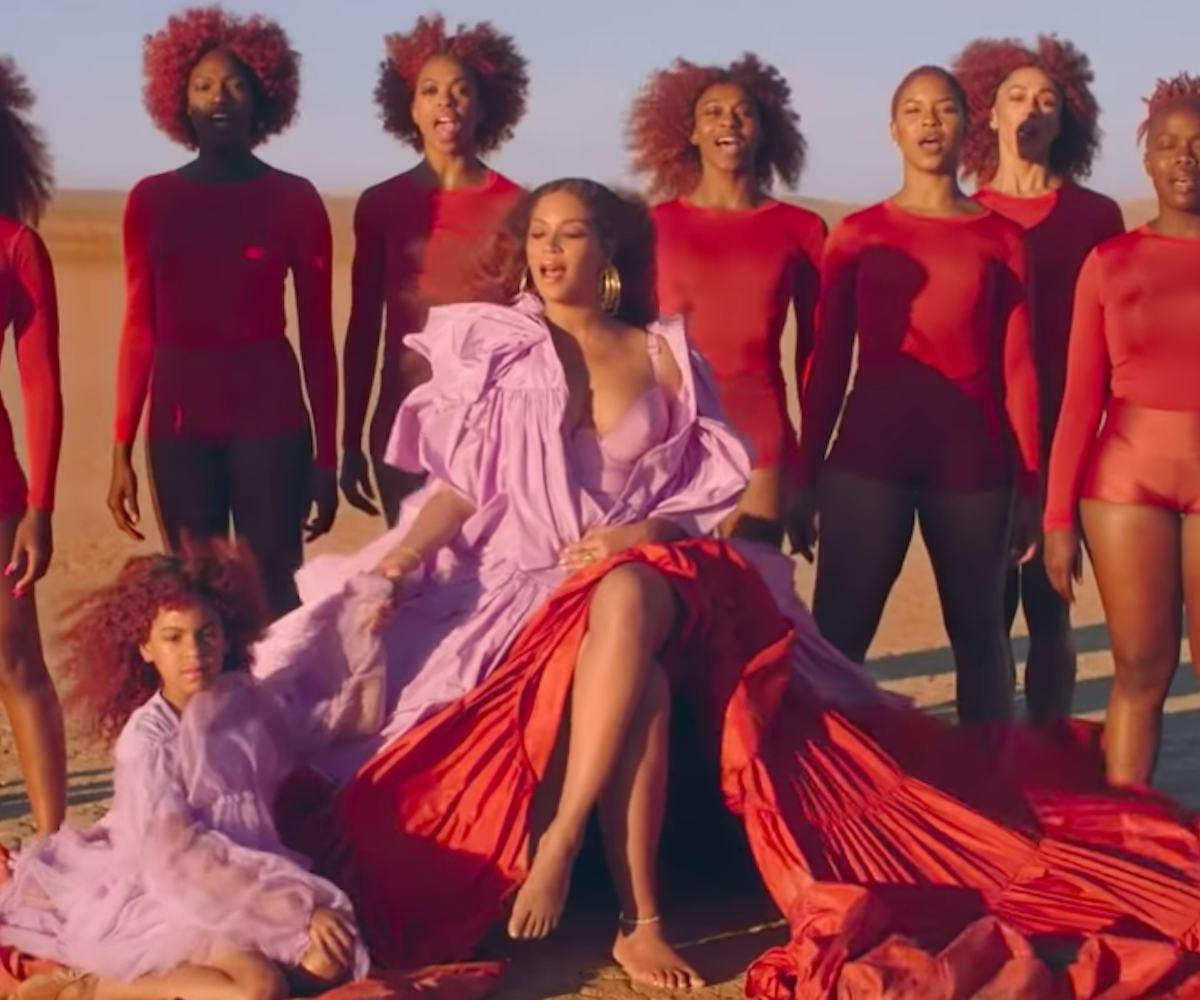 Photo courtesy of Parkwood Entertainment / Disney
I Can't Get Over Blue Ivy Serving In "SPIRIT" Video For 'The Lion King'
She is the princess to Bey's queen
Following the release of the visuals for her Lion King track, "Spirit," we now know why Beyoncé had to shut down the Grand Canyon for its filming.
Bey and an assortment of dancers gather in colorful outfits to dance in the wild, with huge boulders and rocks around them. The grand scenes are cut with clips from The Lion King, mostly showing lions and hyenas running around. While all of that is amazing, I can't get over the cameo from Beyoncé's oldest daughter, Blue Ivy. She's already beginning to master her mom's signature by staring directly into the camera, and she looks every bit of a princess to Beyoncé's queen as she sits at her mom's feet. But it's the styling that sent me over the edge.
The seven-year-old shows up in a lilac dress similar to the one her mom wears, and it appears that she's wearing a red-haired wig to match Bey as well. I don't know if it's all the recent fuss about a Black Ariel, but my Google search history now includes "how to safely dye children's hair" and "can kids wear wigs from birth?" I want to be prepared to pull this off should I ever have a kid.
Speaking of hair, I would be remiss not to mention another scene where Beyoncé and her all-male chorus of backup singers rock durags. Her tresses are covered with a black-and-white one to match her outfit, while theirs are lime green to contrast the pink suits. Whatever Beyoncé does, it's for the culture.
Check out the video below.