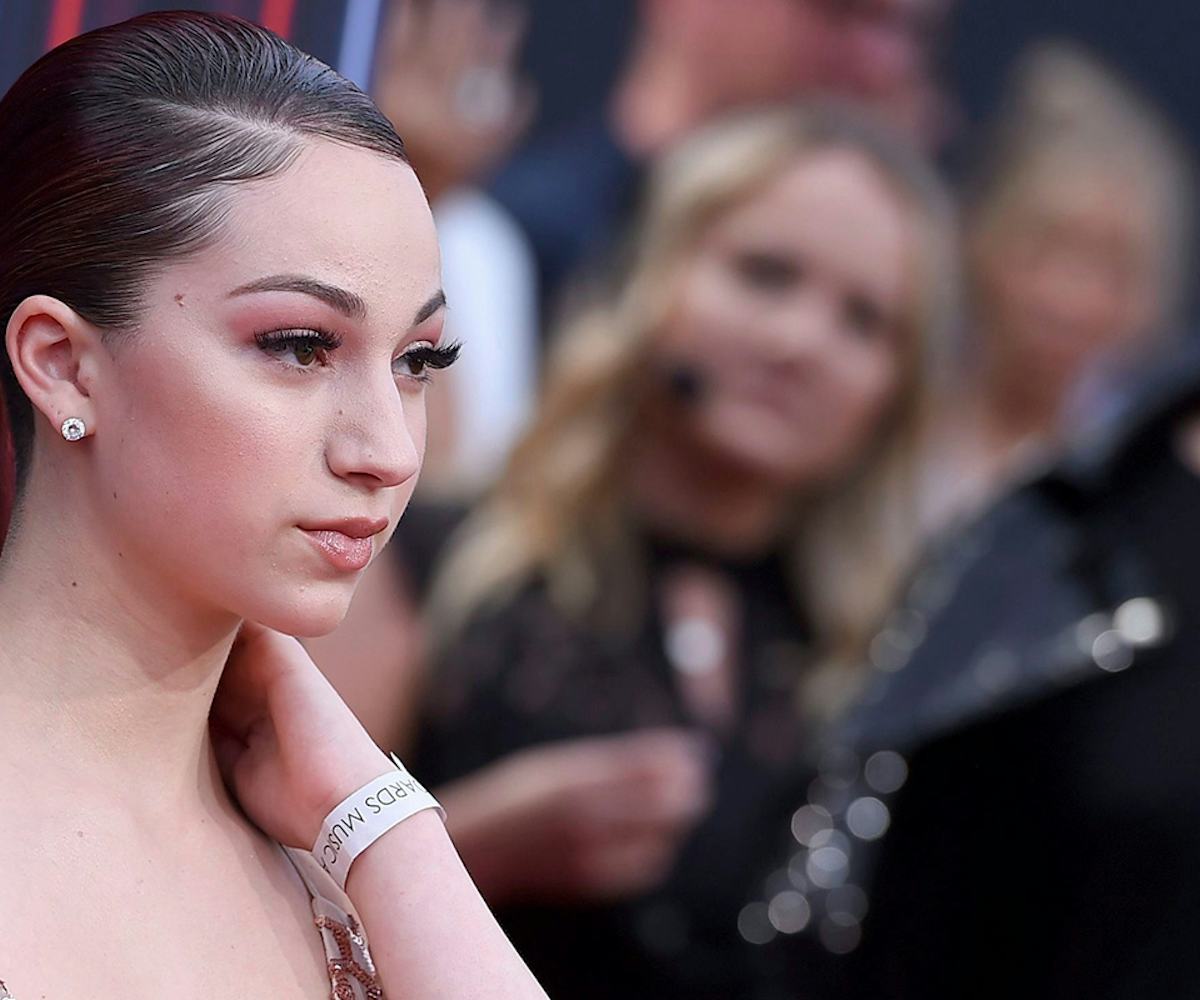 Photo by Jordan Strauss/Invision/AP/Shutterstock
Bhad Bhabie's Continued Success Makes Sense For One Reason
White privilege is alive and well
Bhad Bhabie—real name Danielle Bregoli, but perhaps still best known as the Cash Me Outside girl—is, well, cashing out. TMZ reported that the rapper just signed a million-dollar songwriting and co-publishing deal with Pulse Music Group.
This news comes right after the 16-year-old launched her own Snapchat documentary, "Bringing Up Bhabie," as well as following headlines about her $900,000 beauty deal with CopyCat Beauty. While I'm not one to hate on anyone else's success, I am more than willing to question the privilege that enabled it.
For those who haven't been paying attention: Bergoli's career first took off after she went viral for being a tragically misbehaved 13-year-old on Dr. Phil. When the audience accosted her for the blatant disrespect she showed the adults around her, she challenged one of the onlookers with the phrase, "Cash me outside. How bow dat?"
The catchphrase—and Bregoli—took on a life of its own on the internet, and she launched a music career less than a year later using the moniker Bhad Bhabie. Her first single, "These Heauxs," hit the Billboard charts instantly, and she's already snagged features with Lil Baby, Kodak Black, Megan Thee Stallion, Ty Dolla $ign, and Lil Yachty.
That these powerful industries have been so quick to back Bregoli speaks to their belief in her performance of youthful rebelliousness. Her appeal is problematically based on her ability to embody the traits, speech, and behavior typically associated with Black people. Get rid of that red ponytail and those acrylic nails, and you wouldn't be able to tell Bregoli apart from any other high schooler in the suburbs. She is an anomaly in rap, ready for war in a Fashion Nova outfit, and with the co-sign of your favorite Black rapper. This might be okay if there weren't so many other talented artists who are actually Black but will never get the same opportunities or endorsements as Bregoli.
This kind of white privilege isn't just the provenance of individuals like Bregoli. Major makeup brand Maybelline just got called out for being corny and co-opting the language of "hot girl summer." Maybe this wouldn't be a problem if Maybelline had chosen Megan Thee Stallion, who coined the term, to be a Maybelline Girl. And while they also haven't chosen Bregoli for that role, it's notable that her cosmetics deal effectively rewards her for the same things that lead to Black women being called ghetto and reductive.
This isn't about taking down Bregoli, but it is about elevating people who don't get the same opportunities as she does, and ensuring that those people don't have everything from their language to their aesthetic sensibility stolen in order to make more white people even more money than they already have.