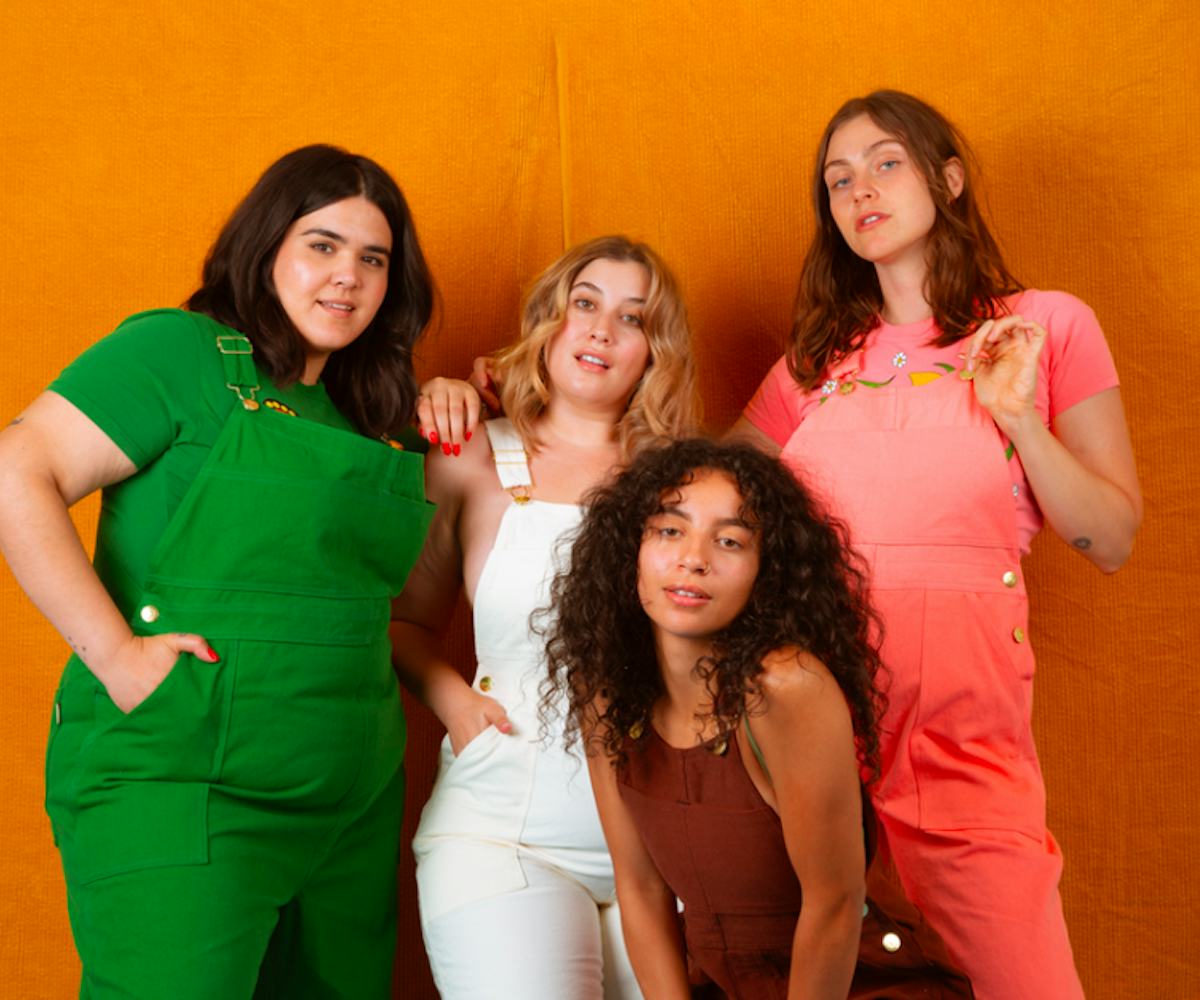 Photo courtesy of Big Bud Press
Big Bud Press Is Redefining What A Fashion Brand Looks Like
And we're here for this truly unisex and size-inclusive line
Posing in front of murals. Monochrome looks in colorful cafes. Selfies in a rainbow-framed mirror. These are the photo results from a #BigBudPress search on Instagram. Customers love the garments from the size-inclusive and diverse company—and they are not afraid to share that love on social media.
By celebrating different bodies and the way colors look on various skin tones, Big Bud Press is changing the definition of what it means to be a fashion brand in 2019. From having several people of different shapes and sizes modeling each piece to sourcing their fabric ethically and manufacturing in local facilities, the company is revolutionizing the fashion experience and how consumers connect to their clothes.
The brand, with a logo depicting a smiley-faced sun at the end of a pastel rainbow, was founded in 2015 as an online shop that's gradually transformed into a business with two stores and even more plans to expand. Big Bud Press is making waves in the fashion industry, not only with their innovative take on designing for all people and bodies but also by using vibrant colors like cranberry red, dusty rose, mustard yellow on clothing that ranges in unisex sizing from XXS to 5XL.
NYLON recently caught up with Big Bud Press founders Lacey Micallef and Philip Seastrom to talk about their revolutionary brand, what color means to them, and what they see for the future of Big Bud Press and the fashion industry as a whole.
What were the thoughts behind providing such an inclusive, unisex size range?
Lacey Micallef: My weight has always fluctuated. I just wanted to make a brand that I could shop at no matter how my weight was fluctuating. That was very important to me. And I'm excited for a time when we can get even crazier with sizing, when we have a little more money and when we're a little bigger.
As far as unisex goes, I've never been particularly drawn to either men's or women's clothing. There's women's clothing I like and men's clothing I like—except men's clothing, which is often sold as unisex, only fits a stereotypically male body, and that was also frustrating for me. So we've crafted, in my opinion, the perfect unisex garments that can fit a vast majority of bodies. Our T-shirt, for example, has been let out in the hips and the stomach. So, if you're a woman who doesn't want a shirt with sleeves that go down to your elbows, you don't have to wear a size that's two or three sizes too big because it has to fit around your hips and your stomach. It's just little things like that, that are actually unisex [that we incorporate], instead of saying they are unisex and making them for men.
Philip Seastrom: "Unisex" is just a term for men, but what we make is female and male, inclusive, unisex. I really feel the same thing as Lacey. I had frustrations [with] shopping. Brands wouldn't make something in my size or it would be hard to come by. What are these companies' deals putting judgments on people? Everyone's welcome. I want everyone to be happy and wear our clothes. How you dress is how you feel about yourself in a lot of respects. So, I don't want to be prejudiced of people in all respects. I want to offer as much as we can.
What does the Big Bud Press customer base look like?
LM: We suit a really wide range of gender. Especially when we get tagged in stuff, it's really eye-opening, which is wonderful. It makes me very happy. And as far as age range goes, it's 16 to 45 [years old]. Then a lot of women and female-identifying people shop with us. It's really across the board. A lot of men too and a lot of gender-nonconforming people. It really is all across the board which is very exciting for us.
What's your relationship with color?
PS: My favorite color is yellow, which is the brightest color. Colors are beautiful. They grab your attention; they grab other people's attention. I've always worn colorful clothes and wanted the world to be more colorful. I've always tried to make an effort to express who I am, and color's always spoken to me. It's like a full-color photograph because it gives you the depth and the reality of life.
When did you two decide to build a sustainable brand?
LM: We have an intense focus on U.S. production and having things made here and locally.
PS: We locally source production, and keeping it local, trying to keep it a community, and trying to keep it domestic is a moral decision. Reproduction overseas, the exploitation of people, the loss of wages for U.S. workers—I never wanted to be a part of that. We create clothes because we want to make the world a more beautiful place. I want the lives of the people who are making our clothes to be as beautiful as possible as well. The problem with most companies is [they're] fueled by greed. Obviously, we want to do well, but I don't want to do well at the detriment of other people. There are even local sweatshops as well in our backyard, and we also do not use those. Everyone we work with is licensed, they get hourly rates—not per piece rates—and they're above board. We don't work with anyone who's not.
What are your plans for the future of Big Bud Press?
LM: We really would like to open our own sewing facility instead of using contractors. We have a lot of new styles coming: We have a few different pants styles coming, we have overalls, and wait for it... denim! We're clearly not afraid to take risks because we do it all the time, and it's the only way to succeed in my opinion. So, we have a lot of stuff coming.
If you want shop Big Bud Press's colorful inventory or visit one of its Los Angeles stores, please visit here.