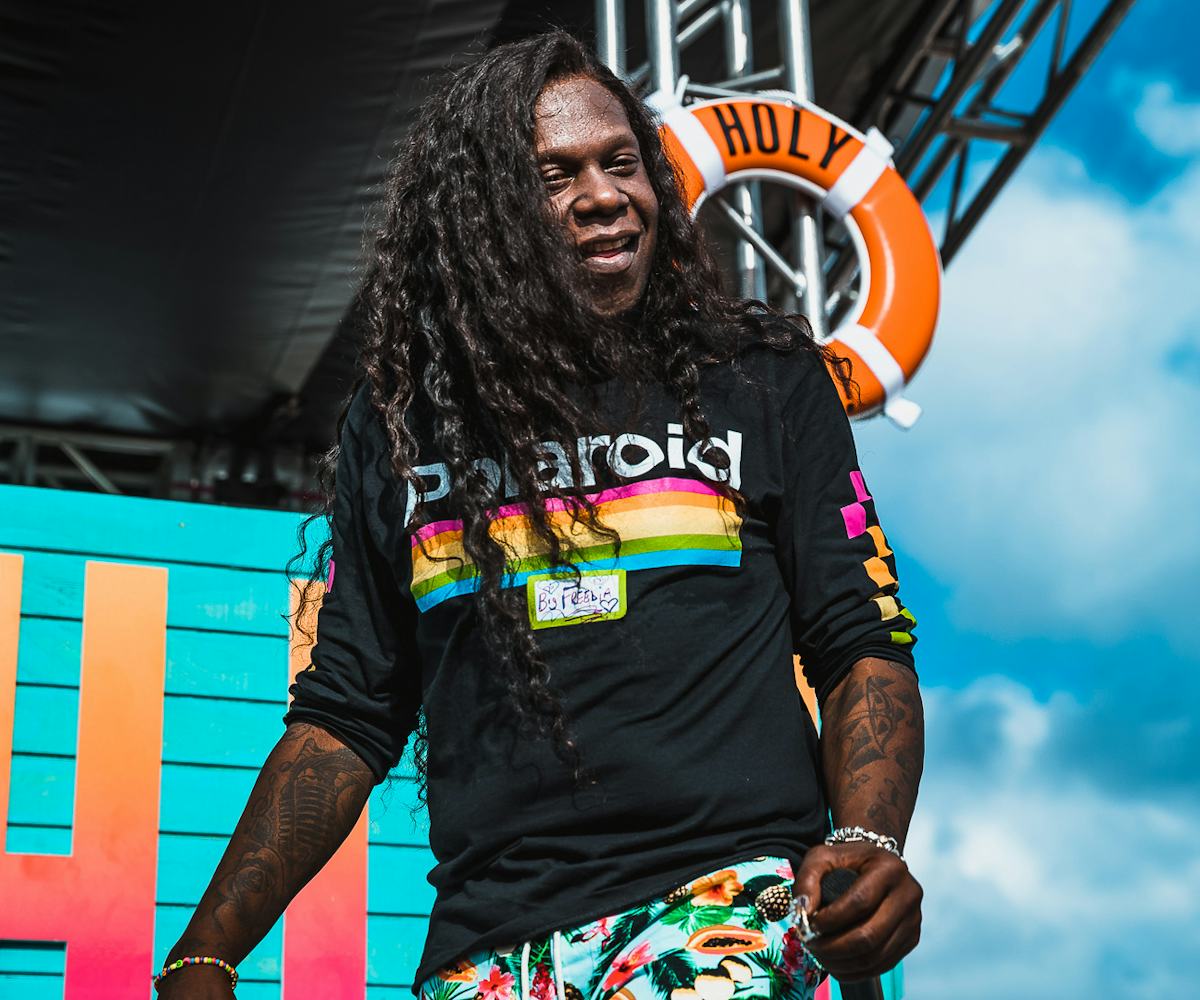 All photographs by Oh Dag Yo.
Big Freedia On Performing With Love And The Power Of Prayer
We caught up with the Queen of Bounce following the Holy Ship! performance
If you've ever seen Big Freedia live, you already know. The self-appointed (and deservedly so) Queen of Bounce—an upbeat, New Orleans-born form of hip-hop that pretty much necessitates twerking—is as electric as she is electrifying, sending crowds into screaming fits with a toss of her locks, an entourage of Spandex-clad backup dancers framing her amid their gyrations. It's the kind of frenetic energy that gets you noticed by Beyoncé and Drake, both of whom have sampled Freedia in "Formation" and "Nice for What," respectively. It's also the kind of energy you'd need to dominate the massive throngs of Holy Ship!, a nearly week-long, Florida-based electronic music cruise boasting crowds upwards of 4,000 people, which Freedia headlined earlier in the month. That signature kinetic verve, (which I can only imagine requires more than a few Red Bulls), is the reason I half expect rapid-fire responses when we sit down for a phone chat just days after her party voyage through the Bahamas. Instead, I find the bounce queen and LGBTQ icon (Freedia is openly gay) to be surprisingly unflappable and utterly down-to-earth as she opens up about pre-stage rituals, her unwavering spirituality, and prepping for shows in what may be the most low-maintenance way possible.
At this point in your career, you've performed in all kinds of venues. Was there something special for you about the Holy Ship! performance?
It was [special], being that it was my first cruise, and I got to enjoy myself and work at the same time. The whole overall experience was special—everybody was happy, everybody was partying till the sun came up and after. It was just like a big 'ole family. We had a great time connecting with the other artists and DJs there, meeting some amazing fans. All types of different music was playing; it was mostly EDM, but one night was all hip-hop. Then, of course, I brought my flavor of New Orleans and bounce. And just the different dynamics of going back-and-forth, performing on the beach and then performing on the boat. It was amazing—definitely an experience I'll never forget.
You often perform to huge crowds, and Holy Ship! was no exception; how do you emotionally prepare for a performance that big? Do you have to psyche yourself up?
I just go out there and have fun. I've learned that you can't overthink it; you just have to go for what you know, and that's what I do. I do different stuff when I see the way the crowd is racked, and it makes me racked in a different way. I might do something to make them say, Wow, or say something that make them say, Wow. I'm just watching the dynamic of the crowd, and we playin' off of each other's energy.
Walk me through what goes into creating your look before a show.
It really just depends on what the event is. I always try to have my hair and my nails did no matter what. As long as that's done, putting an outfit and some shoes together, and a little makeup, that's nothing. When I go shopping, I try to specify certain things for certain events, but most of the time, I have so much stuff to pull from at home in the closet. I'll be like, "Okay, how am I feeling today?" and I just throw shit on, and that be the look for the night. That's for smaller events, but, for bigger events, I do try to plan. For Holy Ship!, I had to plan a little because I wanted florals and stuff that felt beachy and fun.
When you're backstage before a show, how do you like the vibe? Do you want it to be pumped up and loud or do you need to get into a Zen space?
Very chill. You know, having a social drink, doing a little chitchatting, stretching every now and then, just kind of warming up. Really laid-back because the madness is gonna be on the other side of the door. The best times I've had backstage are when you have people around you who genuinely love you, respect your privacy, and have your back—that's what it's all about. You want to have a safe haven when you're in your dressing room or your green room. That's what's most important to me: having peace of mind and a safe haven. I will be very disturbed if it's overcrowded—too many people, you know, a moment where I can't mellow out before I hit the stage. When it's chaotic, it makes you kind of frustrated, because you feel like you're not prepared, but even then, you still have to put that switch on and go out there and perform.
When you're onstage, do you feel like you're being yourself, or do you have to switch gears and become an exaggerated or altered version of yourself?
Both. I definitely am myself, but sometimes I have to switch into stage mode where I have to really work hard to get the crowd into it, especially if it's an unfamiliar crowd or a new crowd. But I'm always me, regardless. Performing has always been a natural part of me. I grew up singing and I also was in a choir, so I always was in the spotlight and participating in all type of events that dealt with an audience. It does come naturally for me.
With the political climate now, do you ever felt like your shows are a form of therapy?
It definitely helps to take the mind off all the dumb shit going on in the world, but, at some point, we all have to get back to reality. It's a temporary fix. We all have temporary fixes, where we do something that take our minds off of a situation, but we always have to go back to reality. It comes with it all—politics, everyday life, work—whatever it is.
At the same time, so many people look to you and feel hopeful because of the positive change you represent. Does that ever sink in for you when you're on stage?
Yeah, definitely, especially when I look out on all the diverse crowds—I know I'm speaking for them and being their voice. I feel that a lot, especially when I'm on stage because I'm seeing the different kinds of people in the audience. But also, I just do what I do, and I do it from the heart with love and passion. I just want to speak what needs to be speaking and hear what needs to be heard when it's time.
You've experienced such an incredible evolution in your life, starting out in the Third Ward [neighborhood] of New Orleans and now headlining these massive festivals. Beyond working hard, what do you think has carried you from where you were to where you are?
First and foremost, keeping God first. In everything I do, no matter what it is—a performance, waking up in the morning, going to sleep, something successful happening in my career—thanking the being that's making it happen. Everything else falls in line. And just being humble, staying true to myself, and staying connected with my family, my friends, the fans. I'm just trying to balance it all, and the only way to do that is prayer. Prayer is a big part of it, for me and my whole team.
What do you have on the agenda for 2019?
I have some dreams that I'm working on. New music, new projects—either EPs or an album. I'm in the process of deciding which it's gonna be because the songs are already ready. I'm working on some new TV stuff to keep that world going. I also want to grow to the next level with some more personal things in my life—real estate and a cookbook.
What kind of food will the cookbook focus on?
Girl, of course New Orleans food! Yes, girl.