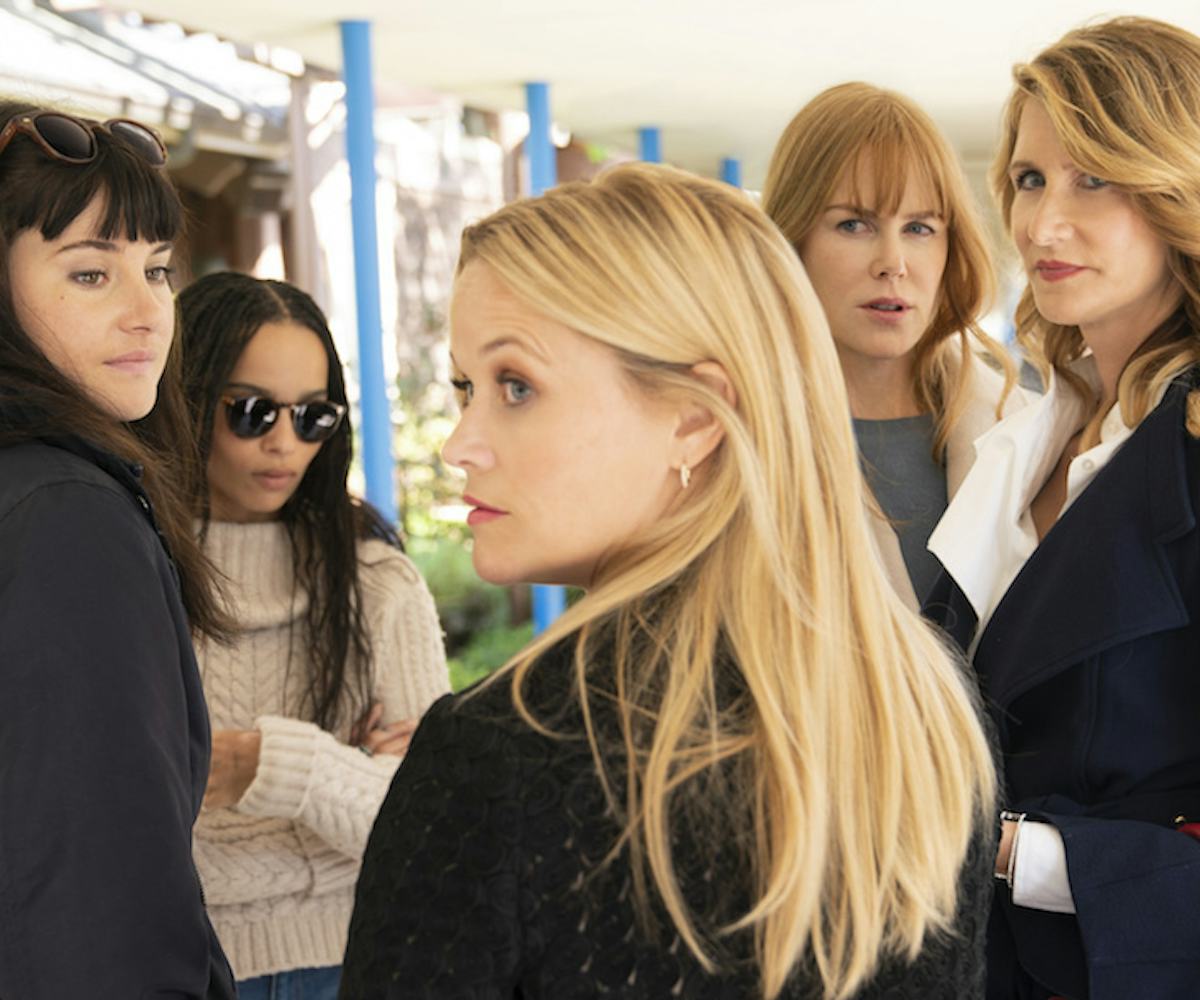 Photograph by Jennifer Clasen/HBO.
Why Imperfections Are The Secret To The Makeup Looks In 'Big Little Lies'
We chat with makeup department's Michelle Radow about the new season and her favorite scene of the show
Having to do makeup for a show featuring a cast made up of A-list talent is like being a conductor of an orchestra. At least, that's what the Big Little Lies department head of makeup, Michelle Radow, tells me when I chat with her ahead of the Season 2 premiere. "I know a little bit about each instrument, but I'm certainly not an expert in everything. I'm the decision-maker, I keep it flowing, I hire the right people for each task," she says. "I'm responsible for designing all the makeup looks including all the special effects, presenting a test or some sort of visual example to the director for approval, hiring and managing all the additional artists, breaking down the scripts."
Radow served as key makeup artist in Season 1, but then took over for the late Steve Artmont for the second season, and now helms a makeup department of 10 artists—eight of whom serve as personal makeup artists to the leading actresses Reese Witherspoon, Nicole Kidman, Shailene Woodley, Zoë Kravitz, Laura Dern, and, the most recent addition to the show, Meryl Streep—and ensures that the characters look cohesive despite the different people working on them. "In the case where personal artists have been hired, that artist becomes solely responsible for that character," she explains. "In that case, my role becomes more of a backup, a support—a clarification if they need anything from the director's vision."
Prior to Big Little Lies, Radow worked on shows like The Affair, SMILF, Dexter, and Sharp Objects, the latter of which was directed by Jean-Marc Vallée, who also helmed the first season of BLL (while Vallée is involved in the second season, it is directed by Andrea Arnold); it's Vallée who Radow credits for having a clear vision of every character's look. And while the makeup looks do not change drastically in between Season 1 and 2, Radow says there are some differences that reflect the new story line. "Some of the changes are more subtle, some of them are more obvious, but it's really about what the characters are going through emotionally, and picking up from where we left them, and what's happened to them emotionally inside, where you'll see some changes," she says.
And while Radow won't reveal specifics, it's fair to assume that positive changes are bound to reflect in both Celeste's (Kidman) look, now that her abusive husband Perry can no longer hurt her, and that of Jane (Woodley), who can maybe start processing the sexual violence she endured at the hands of Perry. Bonnie (Kravitz), on the other hand, might be in for a darker season, as she now has to live with the fact that she killed Perry and might revisit her traumatic childhood, which, though a part of Liane Moriarty's book upon which the first season was based, was not touched on in the show.
"It's just slight changes from maybe making certain characters' color schemes in their makeup a little bit warmer, a little bit brighter, maybe they're a little bit glowier, just to kind of give up that they're doing better or they're happier, and then vice versa. You know, maybe some characters might be wearing less makeup," she says. "Like when you feel a certain way or your emotions are going through something, it's definitely going to come out in the way that you look and take care of yourself."
A more obvious change, according to Radow, will be seen on Kathryn Newton who plays Witherspoon's rebellious teenage daughter. "She was really fun for me to kind of evolve her look into getting older. She was exploring more with makeup in this season, which is chunky and a little bit overdone because that's what you do when you're younger. You think that more is good," she says. "Just having fun with chipping her nail polish and layering different colors over top of each other."
The scene that will undoubtedly get a lot of attention this season, and was the most fun for Radow to work on, is the '70s, disco-themed party at Renata's (Dern) house (we can catch a glimpse of it in the trailer). "It took every single organizational skill I had to make it a success. We had 18 additional makeup artists every day, that were hired for a week straight, and this was in addition to the 10 that were on my team already. We had three different stations going, we had like a disco-glam, a facial hair, and a face-painting station," says Radow, who found inspiration in disco books and Soul Train videos and icons like Pam Grier and Diana Ross. With every character sporting an entirely different look, it's an explosion of color, teased hair, and some really good blue eyeshadow that Kravitz should consider wearing every day.
"It was definitely purposeful that each leading lady have some sort of a different look from one another, and a lot of that came from Alix Friedberg, the costume designer. A lot of the time you start there, and you kind of build out and brainstorm makeup from the costume and ideas from the costume," she says. "I was doing Ivy [George], who plays Amabella [Renata's daughter], and so I worked with Laura Dern's personal makeup artist. I obviously wanted it to look cohesive, like it was a mother and daughter look. Renata would've definitely hired, like, a glam team to come over and get the two of them ready together. So we really wanted the audience to see that."
And the explosion of shine and color doesn't just come from the sequin clothing, but the makeup as well: "I mixed seven tubs of my own glitter colors and creations that we used on a lot of the principals and the background actors," Radow says. "I definitely felt like I had been through some sort of a tiny war after we got through the week, but it was a lot of fun."
While many of the makeup looks were pre-determined by Season 1, an entirely new character appears in Season 2: Perry's mother, who's on a mission to find out what happened to her son, and who is played by none other than Meryl Streep. Radow worked with Streep's longtime personal makeup artist J. Roy Helland to conceptualize this character. "I did envision her character, I think, slightly different. But, Meryl, being the genius that she is, when she came up with her look with J. Roy Helland... when it was revealed for the first time... it just makes total sense with her character and the script for Season 2."
This authenticity of the character—where the makeup is "natural and real"—is what ties Radow's different work together. For example, it doesn't get more real than the makeup we see on Sharp Objects, especially on Camille. "For a lot of the things in Sharp Objects, instead of perfecting people, we were adding the imperfections to people in life. We were adding razor burn, adding freckles, adding scrapes and cuts," she says. "Part of what Jean-Marc is so brilliant at doing is that when the audience watches something like Big Little Lies or Sharp Objects, they see little imperfections. They're not perfect. And so that's what I like doing [in their makeup looks] as well."
Spoken like a true conductor.