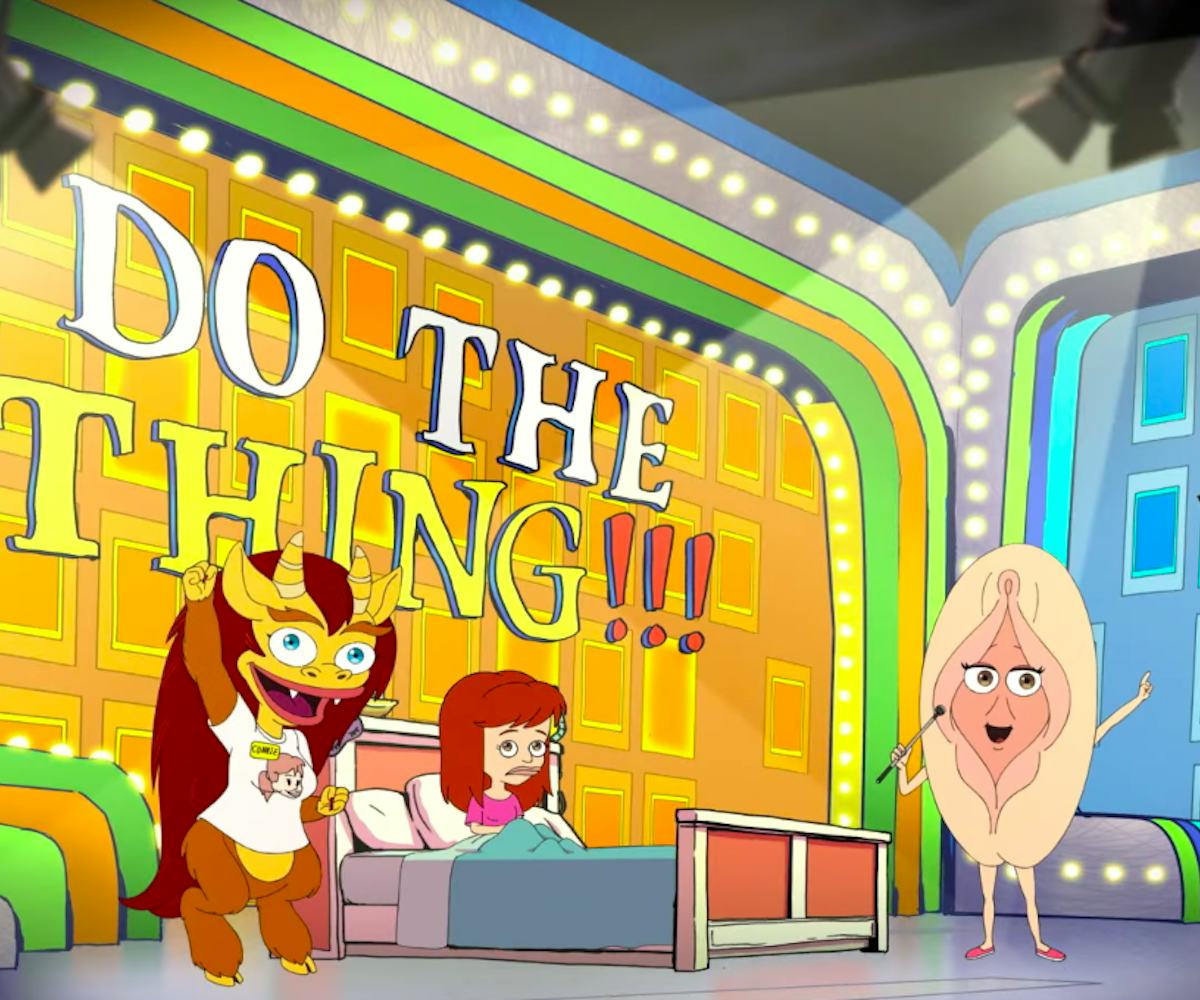 Screenshot via YouTube
The Dirtiest Things That Happened In The 'Big Mouth' Season 3 Trailer
The trailer for the upcoming third season of Big Mouth—the show that tackles puberty, and out-of-control sex drives and changing bodies that accompany that—has arrived, and it's absolutely filthy.
The two-minute trailer starts off with a game show about female masturbation hosted by main character Jessi's (Jessi Klein) vagina. Voiced by Kristin Wiig, who has previously made an appearance on the series, "Do The Thing!!" is a game "where you rub me until something awesome happens" while an offscreen audience cheers, "Let's! Touch! Our! Genitals!"
With the boys, horniness is uncontrollable, especially for the most sex-obsessed character, Jay (Jason Mantzoukas). "I wanna fuck everyone!" he screams into a school news broadcast airing live. To be fair, they all seem unable to control their urges, which leads Maury the Hormone Monster (Nick Kroll) to tell Andrew (John Mulaney) that they're all animals. Coming from him, that says a lot.
Of course, the girls are also incredibly interested in getting it on. There's a scene where Lola (also voiced by Kroll) starts dirty talking into the camera. The source of her horniness? A list made by the boys in the school, ranking every girl by hotness. Missy (Jenny Slate) gets a new Hormone Monster, and she ends up trying to come onto Nick (Kroll) again.
As to be expected from the show, there are also dirty moments that aren't sexy, but rather, plain gross. Andrew finds out he's really into his cousin during summer vacation, and his Maury talks about how incest could actually be described as "cute." Nope. Meanwhile, the nastiest character on the show, Steve (Kroll), is visited by a cartoon cast of Queer Eye, and he tells Jonathan Van Ness all about the brush he uses to clean his hair, teeth, and genitals.
Season 3 drops on October 3, so get ready by watching the trailer, below.