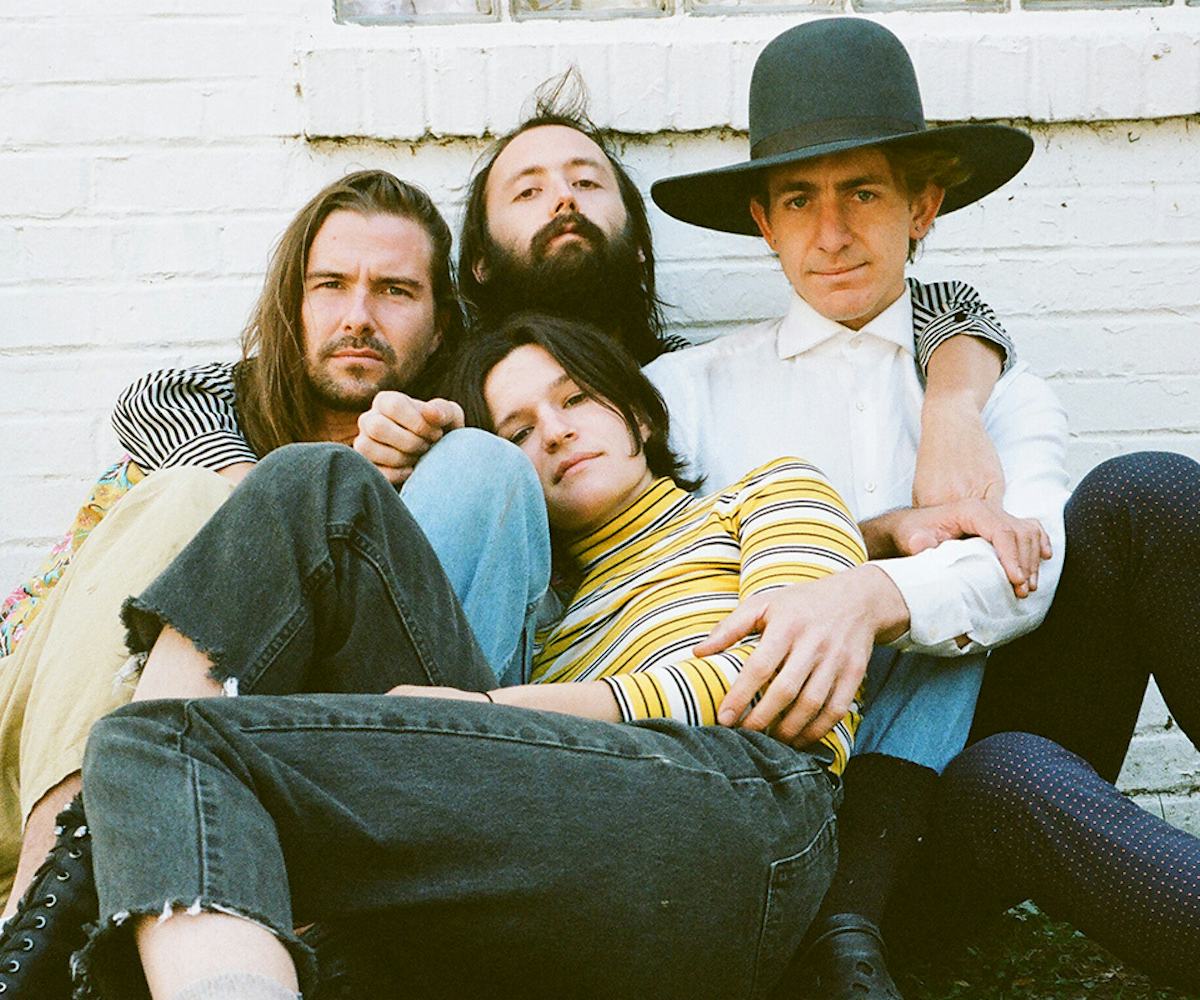 Photo by Michael Buishas
Big Thief Understands The Magic Of Making Connections
Talking with the Brooklyn-based band's Adrianne Lenker about their new album, 'Two Hands'
Fans of the Brooklyn-based band Big Thief were already fortunate to receive U.F.O.F., the band's third record, earlier this year. The album, created in the verdant forests of Woodinville, Washington, found the band channeling their lively surroundings into each song. It's a record at once emotionally unflinching and sonically nourishing, the gentle textural layering reminiscent of a healthy ecosystem, sustaining many symbiotic life forms. On its own, it's one of the year's best records, yet more evidence of the band's distinctive contribution to the enduring traditions of folk music, subtly twisted in the band's making.
But U.F.O.F. was just the first phase of a much larger vision. Within days of wrapping that album, the band decamped to a recording studio 30 miles west of El Paso, Texas, surrounded by 3,000 acres of pecan orchards and little else. In the unforgiving circumstances of a desert climate, with temperatures climbing over 100 degrees, the band threw themselves into Two Hands, the group's second record of 2019.
While many of the songs were written at the same time as those that ended up on U.F.O.F., lead singer Adrianne Lenker is quick to characterize their differences as familial: even as the two share many essential characteristics, it's as if the two were fraternal twins, separated at birth and raised in starkly different conditions. While the two records make their way back to one another when listened to together, it's clear that Two Hands had to endure far more to come to life, its recording conditions making sure that each track was born with an internal sturdiness that U.F.O.F. could get away without.
As the impact of each recording space suggests, the band experienced a closeness to nature that's often lost in modern life. The way that Lenker describes the process for both records is reminiscent of Jenny Odell's recent book How to Do Nothing, in which the artist and scholar argues for an increased connection to our natural surroundings as a way of resisting the temptation to distraction constantly drawing us away from the moment. Odell argues that bioregionalism, as she describes it, "has to do with an awareness not only of the many life-forms of each place, but how they are interrelated, including with humans." Big Thief's 2019 records testify to the magic of making connection to our environs, knowing that we're merely channeling energy already in the atmosphere.
What prompted the decision to record your last two albums in such different places?
It was all part of this plan that we were working on for a little while. We had a batch of songs that we were cooking up for three years while we were on the road, and then we went to Topanga Canyon in California to demo them all and realized that we had so many that we felt strongly about. But when we started planning them, the songs naturally started sorting themselves into two projects, and we wanted the environments to be vastly different, but we wanted to record them very close to each other, because they're very connected in a way that all the songs were written in the same era. They're like siblings, they share DNA, but they have completely different personalities. It just felt like we wanted to keep the momentum going from one to the next, and also threw ourselves for a loop by having to react to our environment. I think there was something energetically about going from the rainforest in Washington state to being in the Texas desert that really changed the recordings.
What were the most striking differences you felt between the two climates?
I think that we're connected to nature, and living in cities, it's easy to forget the connection that we have. As soon as you're walking around the woods, or barefoot in dirt, or just sitting in stillness in nature, you realize how deeply nourishing she is. Much of art is the earth, we're not these separate entities that are just traversing its surface. We're part of this earth, and it's easy to be disconnected from that.
In Washington, we were in the forest, it was lush and green, so everything was flowing. It just felt easier to let little ideas sprout into the music, add all of these colorful layers. We were also outside a lot, and just being there, the oxygen was really rich because of all the plants. We were making this lusher record that included all these textures that captured the sonic landscape. Going back to the desert, it was dry and hot, and the things that do grow there, they have to be more robust, work their way through the cracks of the soil. I think that was reflected in the music too in a way—not intentionally, like we didn't think, Okay, we'll go to the desert, and then it'll end up dry. But naturally, it was like that.
It was harder to make that record. When we listened back, it was less forgiving, we felt like we had to tweak all these little subtleties, but we weren't doing that much layering at all, and so whatever you recorded had to be it. Whatever the performance was, that's the recording. We were working totally different palates, different structures, a different flow altogether, doing things like moving an amp over a foot, so that it'd be less in the drum mic, things like that. The songs we ended up recording, there's a lot of rawness. It's right there, and it's very bare-bones.
Describing the songs on this album, you said, "I can imagine myself singing them when I'm old." You've also played a lot of these songs live before recording them. Do you think there's a connection between that existing relationship you already have with the tracks and your comfort that makes it possible to imagine them having this longer life span?
I don't really break it down. The songs just kind of exist, and even though there's a recording of it now, it doesn't necessarily affect my relationship to the song, it's just kind of taking a snapshot along the way. Some of these songs have been around for a little bit, "Not" and "Shoulders" are some of the ones we've been playing on tour for a couple of years. Actually, my relationship to both songs is only deepening, and I feel that way about a good handful of the songs, and then some of them has a season in them that I don't feel I can fully inhabit them anymore, so then I'm grateful that the recordings exist for that reason, so that they can live on; even when they're not resonating for me, they can resonate for other people and live beyond my own relationship to them.
But there's a lot of songs on Two Hands that have been around for a little bit, and some of which we've never really played for people before. With all of them, I feel like we trimmed it down to ones that felt most potent and alive for us, and I guess there's way of knowing for sure whether I'll still be playing them when I'm old—if I live to be old—but I do think the best songs, they have a timelessness within my own being that I'm just at the beginning of my journey of fully understanding them. I guess that's how I measure it, because sometimes it takes years for me to understand what a song means, and I just know that it resonates and that I feel a lot from it, and then suddenly I'll say, "Oh my god, that's what it means," and things just keep opening up, little parts of the songs come to life over time. There are so many tracks with that spaciousness, and I feel like I could go through a lot more growth and they'll still mean a lot to me.
How do you distinguish live performance and recording these songs?
I've always felt like they're different art forms, recording and performing. You can record a song a year ago, and then it can still be at the very beginnings of its unfolding, because when you play it for people, everything gets shaken up, and it's like, something that works in the studio might not translate when we play it live, so the song starts to shift, it starts to change to adapt to shows. In a lot of ways, I feel like these songs are just beginning their journey, now that we've recorded them. Also as soon as we finish a record, we're always naturally kind of thinking about the next body of things. Recording it is for us the end of one process, but putting it out into the world takes time, and then we're focused on letting the songs live in a different way, that we're not just playing the record, but figuring out how to be present with these songs, like they're creatures that are living and breathing.