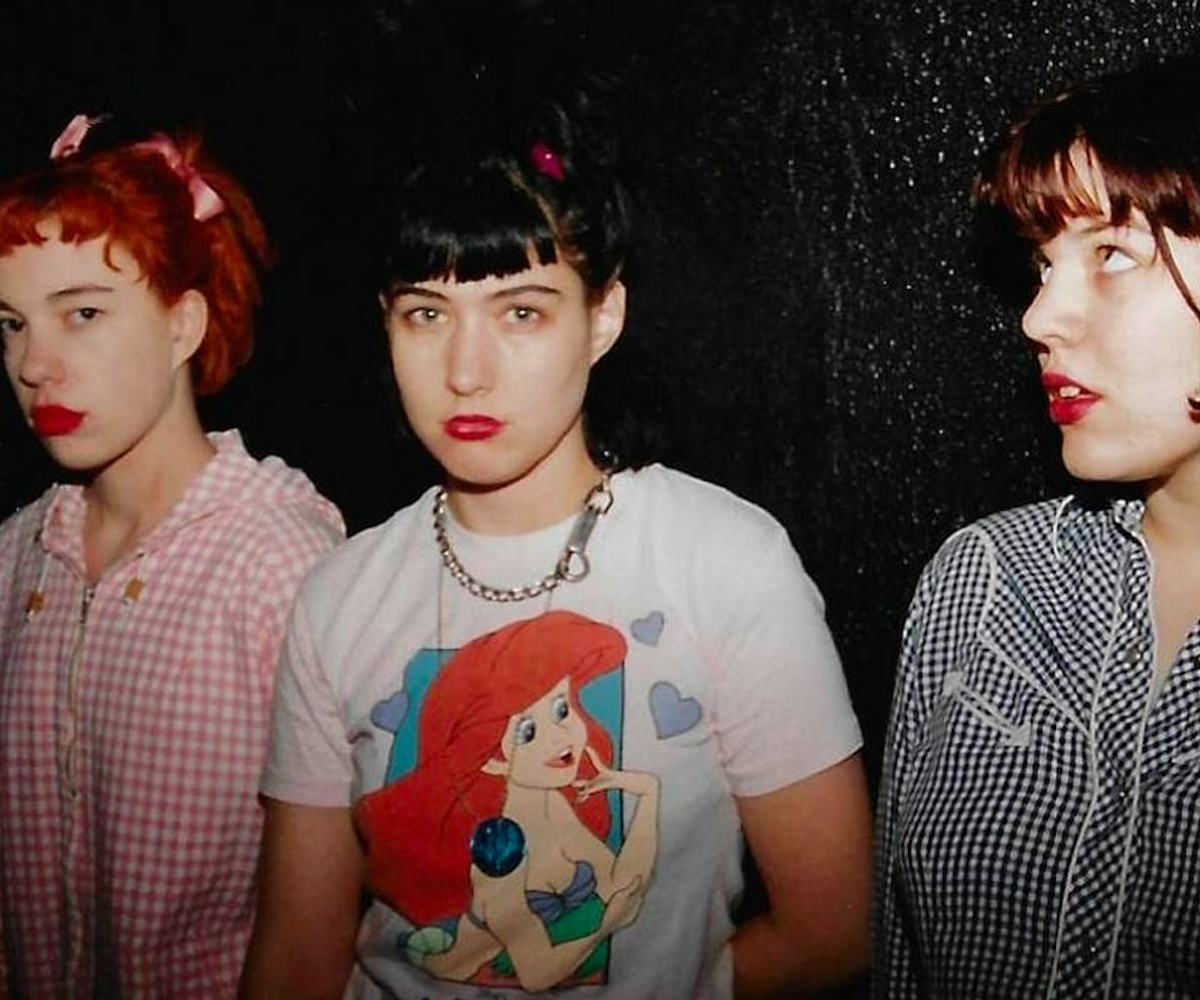 Photo by Tammy Rae Carland
How Bikini Kill Is Still Influencing Today's Punk Scene
We talk to femmes in punk about the '90s band's legacy
Defying patriarchal power has always been a core ethic for punk rock, and this act is especially true for the marginalized identities existing within this space. As such, feminism has always been intertwined in the history of punk, even when women's legacy in the genre has been neglected or buried beneath the achievements of men. This male-dominated narrative inevitably repeated the offenses of the same hegemonic power it tried to oppose; but in 1991, Bikini Kill made a very explicit call to end this by fiercely advocating, "We want revolution, girl style, now!"
The riot grrrl movement that Bikini Kill championed in the '90s seemed to be a distant and forgotten phase in the timeline of punk, but when news hit in January that Bikini Kill was reuniting, the response from fans was massively overwhelming. The first round of reunion shows in New York and California sold out within seconds of going on sale. The hype has even been felt internationally, as a London show was added for fans on the other side of the globe.
This high demand transcends ticket sales and nostalgia—this exorbitant need for Bikini Kill is a demand for the band's ideology and a demand for a feminism that is critical for survival in the present political climate. The work that Kathleen Hanna and her predecessors urged decades ago wasn't completed then, and still isn't done in 2019. In truth, this work won't be over until marginalized communities—made up of femmes, LGBTQ, and people of color—hold equal grounding as the white cis-males who continue to dominate the punk scene.
There's no question that the riot grrrl movement in its original form is dead, but a new phase has built on it to replace it with an intersectional approach. Bikini Kill's impact isn't ephemeral and was never a novelty, because it lives through many of today's femmes in punk who specifically attribute Hanna as their introduction to feminism. Below are several active musicians from California's punk scene, who describe how Hanna and Bikini Kill informed their feminism and influenced their involvement in the contemporary punk community.
Concepcion Del Rio-Ramirez
Concepcion says that as a teenager, all she wanted to be was a riot grrrl: "Bikini Kill gave me permission to write about the things that made me angry, to dress how I wanted, and to be loud." She manifests this doctrine every day in her Spanish punk band, Deseos Primitivos, who recently returned from a tour in Peru, released an EP called Existir, and were invited to perform with Rancid at their sold-out San Francisco show in November. Concepcion says her songs explore political issues like colonization and immigration, and she proudly describes Deseos Primitivos as "a feminist band."
"I'm actually very glad to be a part of a growing movement of femmes in bands, either fronted or members… As a teen and into my early 20s—when I was going to punk shows in the Bay Area—I rarely saw girls in bands," she said. "It felt so out of reach for me to make music and be taken seriously. As the punk scene continues to include more femmes, queers, and non-binary folks, I think it's important for males to take a backseat and let these other voices be heard."
Listen to Deseos Primitivos, here.
Drew Arriola Sands
Drew describes her youth as one full of pent-up aggression because of her queer identity, but she says that Bikini Kill's music helped alleviate a lot of that tension. "These women's voices spoke to my angst. I was granted permission at that early age to be feminine, to be disgusting, to be angry, to be sexual, and to be insane," she said. In 2014, Drew started Trap Girl in Los Angeles—around the same time that she came out as transgender. She says she drew inspiration from Bikini Kill to live out her truth musically.
"Coming out as transgender, a bunch of anger bloomed, and as a musician, I need to scream, I need to break stuff, I need to wear high heels, I need to be ultra-feminine, I need to be scary, I need to be ugly, I need to be unapologetically myself," she said, "I need to be over-the-top because I'm not gonna die, I'm not gonna kill myself, and I'm not gonna allow the world to do that to me, so I'm going to reclaim that, turn it into this great crazy band, and it just took off."
As Trap Girl works on their new record, Drew is keeping busy in a collective created by Alice Bag called Turn it Up, which aims to propel femme voices across all media. Drew is also currently organizing the third annual Transgress Fest, a music festival that celebrates trans people in bands.
Listen to Trap Girl, here.
Gina Marie Scardino
Gina credits an unexpected source for her introduction to punk feminism: a summer retail job at Sanrio (the company that brought you Hello Kitty) during the '90s. She became friends with a coworker who linked her to riot grrrl, and the rest is history. Gina said she connected to Bikini Kill's music immediately, "It was super-raw to me. Fast and aggressive and totally unapologetic. It was brave and smart."
Their music ultimately helped spark her musical aspirations: "I started playing music as soon as I could. All throughout high school I just daydreamed about being in a band with other women. I even named my future/dream band, and doodled art for what I'd imagine our logo, shirts, stickers could be." Fast-forward to the present, and Gina has achieved and surpassed her adolescent dream by being in two post-punk bands. She drums and sings for Ötzi and is also the vocalist for Adrenochrome. And if that wasn't enough, Gina also runs Near Dark Records and co-organizes its accompanying Near Dark Festival.
Listen to Ötzi, here; and Adrenochrome, here.
Myriad Slits
At 22, Myriad found herself homeless and in a state of despair. She was couch-surfing at a friend's place when she came across this friend's Bikini Kill CD collection. She was immediately captivated by their sound: "I had never, ever heard a woman sing like that." But it wasn't just the sound that impacted Myriad—she was also moved by the topics Kathleen was singing about. "I hadn't wrapped my head around the blatant sexism and misogyny that I faced day-to-day since the day I was born," she said.
"When I was homeless, I found myself in a situation where I was taken advantage of, and I allowed it to happen because I was never really taught any language for standing up for myself," she said, "I honestly felt that whatever abuse I received, I deserved… Enter Kathleen Hanna screaming in my ear, 'We want revolution! Girl style now!' and it was a total head explosion. That album was the biggest fresh breath of air to me."
Bikini Kill's influence on Myriad came full circle—she's the vocalist of a post-punk/electro band called ModPods, which is also inspired by Kathleen's dance project, Le Tigre. She is also a backup vocalist for The Andrea Dangerfield Band, a country-punk hybrid that features Drew from Trap Girl.
Listen to ModPods, here.
Fatty Cakes and the Puff Pastries
The five femmes from this eccentric punk/experimental/pop group (which Alice Bag produced recently) professed their love for Kathleen Hanna, as they described meeting her in a small cramped bathroom at one of their shows. They asked her for advice about dealing with the negativity that comes with being in a feminist band. "She was like, 'Who cares about those people, you're doing your thing. Just keep your eye on the prize, try to do what you know is best, and do what you wanna do for the community,'" drummer Audrey Johnson said.
The Fresno, California-based band has had to deal with a ton of blowback as a consequence of their progressive politics and ideals. "People have a lot to say back about it, and that is the part I struggle with," said backup vocalist, Victoria Crow.
"Fresno is super-conservative in general. The space itself has a lot of conservatives and really racist undertones. Going out and screaming, 'Fuck you and your neo-nazi friends' in a conservative town is gonna make it so that a bunch of really scared white men are going to lash out at you," bassist Vishinna Turner said.
Just as problematic for them are the men at punk shows, as lead vocalist Amber Fargano recalls a time when they used Hanna's "girls to the front" mantra to counter the men during one of their performances. "It was super white cis-male-dominated, and these femmes and queers were just being pummeled [and] pushed to the back of the crowd… So we kept yelling between every single song, 'Women and queers to the front,' and the guys literally left," she said.
And while critics are quick to point out that Hanna's message in the '90s was flawed because it largely catered to "white feminism," the band appreciates her mission to improve her feminism and make it more accessible. "I respect Kathleen Hanna a lot because she looks back on that time and recognizes the shortcomings… not seeing queer women or not seeing trans women or not seeing women of color enough, and she recognizes that, and I see her now moving forward in this time and present," said backup vocalist Staci McDowell.
Listen to Fatty Cakes and the Puff Pastries, here.