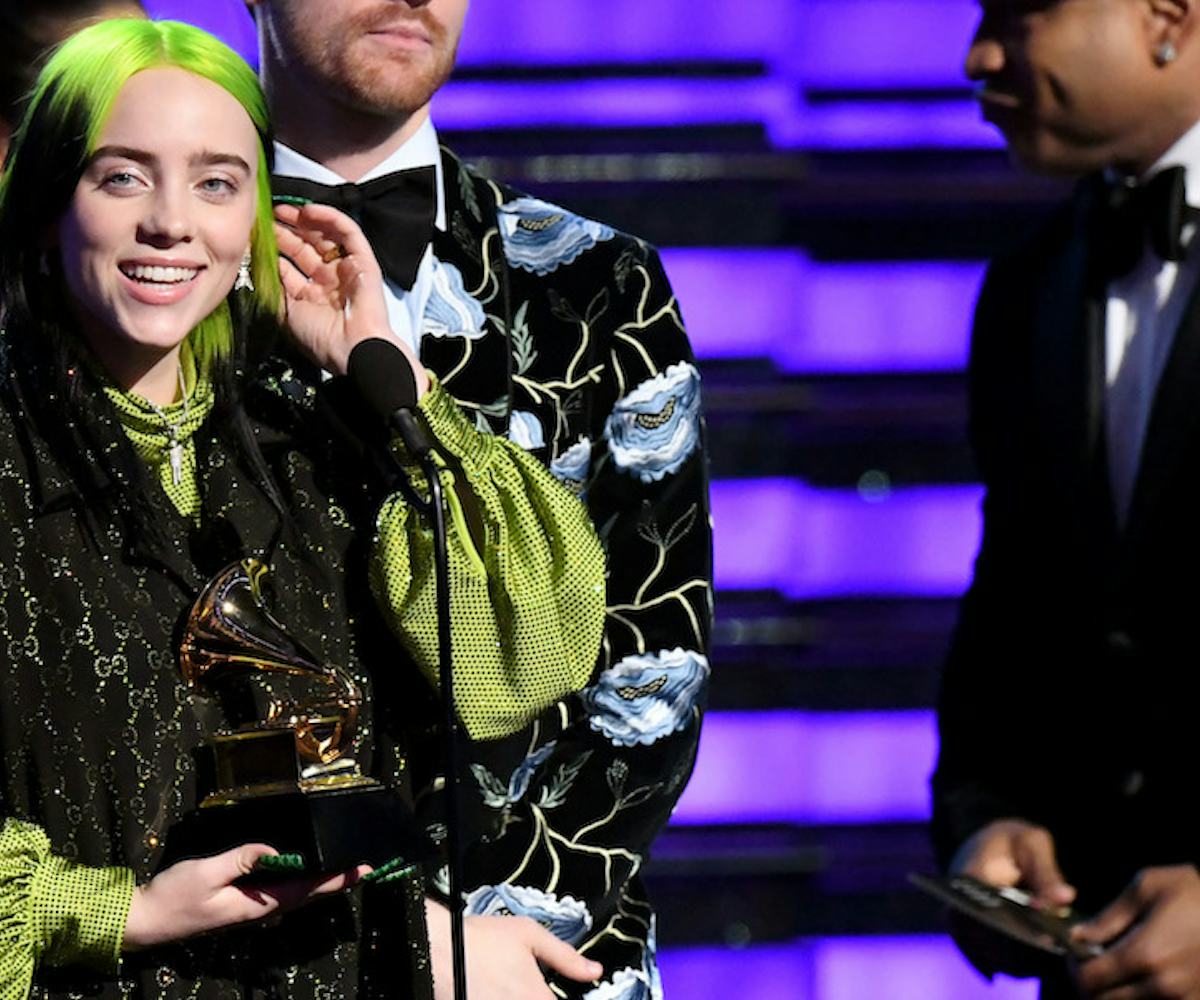 (Photo by Jeff Kravitz/FilmMagic)
Billie Eilish Just Made Grammys History
She's the first female artist to sweep the four main categories in one year
Billie Eilish officially made history at the 62nd Annual Grammy Awards in Los Angeles on Sunday night, becoming the first female artist to win all of the four main categories in one year.
The "General Field," or four main categories of awards are: Record of the Year, Album of the Year, Song of the Year and Best New Artist. Eilish, just 18-years-old, took home all four alongside her brother and close collaborator Finneas O'Connell. She's also now the youngest artist in Grammys history to take home the Album of the Year award.
Eilish's debut album, When We Fall Asleep, Where Do We Go? and its hit single, "Bad Guy" won for Album of the Year and Record & Song of the Year, respectively. Eilish also won for Best Pop Vocal Album, and Finneas won Producer Of The Year, Non-Classical. When the siblings got up to the mic to accept their final award, they simply said, "Thank you" as Eilish wiped away tears.
The only other artist to achieve the feat in Grammy history was Texan singer-songwriter Christopher Cross in 1980. Adele has also won all four categories, but not in the same year. This year, fellow newcomer Lizzo had the most nominations at eight, with Eilish and Lil Nas X following close behind with six each. All three artists delivered show-stopping performances, and Lizzo and Lil Nas took home their own trophies.
Eilish performed at this year's ceremony, crooning an intimate rendition of "Everything I Wanted" in sparkling Gucci jammies.
See all the night's winners and the best red carpet looks here.