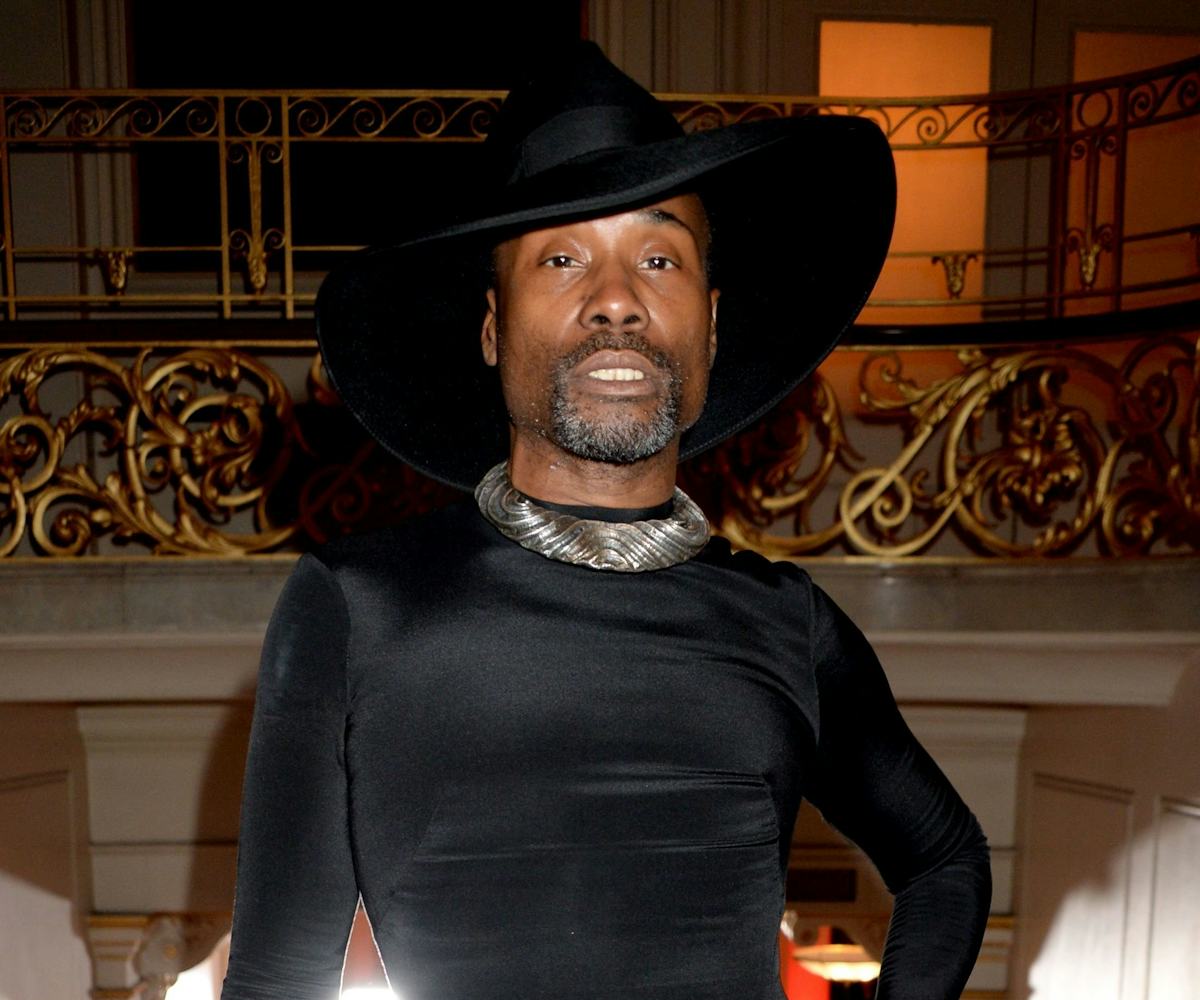 Photo via Richard Young/Shutterstock
Billy Porter Just Ended Me In This Double-Slit Dress
The actor is solidifying his style icon status at London Fashion Week.
UPDATE 9/18/2019 9:46am: Billy Porter is continuing his streak of posh London Fashion Week style moments by making a case for us all to invest in a pair of gloves. He wore a hot pink pair of Wing + Weft gloves to the Richard Quinn runway show, which complemented the bright colors of his drapey coat.
Billy Porter is taking London Fashion Week by storm, but there is one look in particular that has me feeling like I need to replicate it, stat.
The "Pose" star arrived at the Royal Opera House for the Virgin Voyages capsule collection launch event on Sunday wearing a floor-length black dress with two high slits up the side of each leg, showing off a pair of sparkly mesh tights underneath. The slits are so high, in fact, that you can see a pair of black underwear underneath. Your fave could never!
In true yeehaw fashion, he paired this already iconic look with a droopy cowboy hat. And if I wasn't already obsessed with his whole ensemble, he finished it with platform open-toed shoes and a bag that reads, "fuck u pay me." Please, I am begging you, tell me where I can buy this bag.
Porter has been making the LFW rounds in some other amazing outfits: At the Fashion For Relief show on Saturday, he wore the same shoes with a feathery all-black look, and he made the English proud with out-of-the-box hats both here and at the Sharon Wauchob show.
After multiple all-black looks, he switched it up with some vibrant 'fits, too. For the Victoria Beckham show, he donned a printed shirt with matching red pants and a bandana wrapped around his head.
Finally, for Roland Mouret, he paired a mesh hat with a flowy dress and jacket combo.
If you're at LFW, you can stop trying with your street style looks — Porter has won the game already.