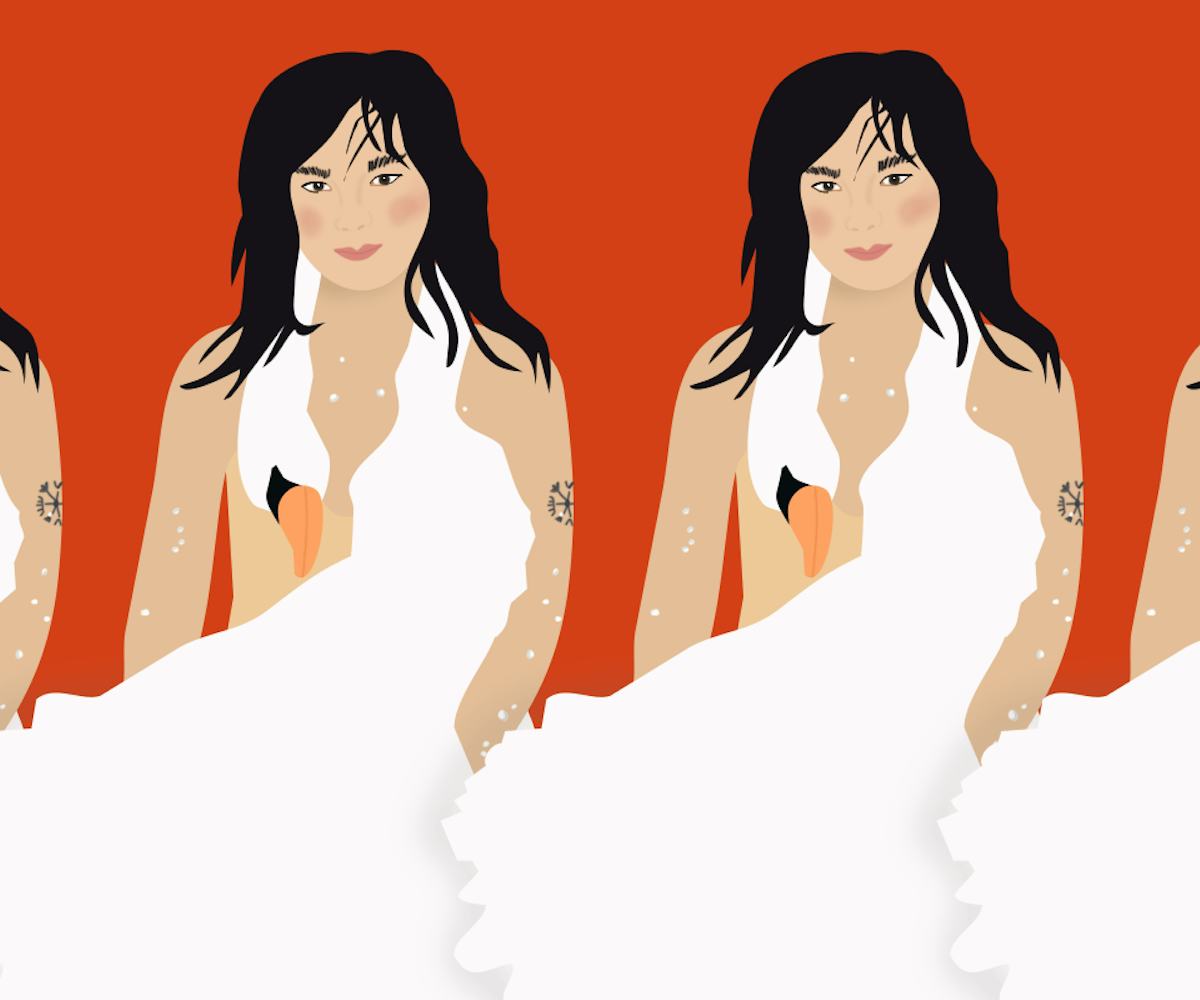 Illustration by LIndsay Hattrick
Björk's Swan Dress Was The Ultimate Campy Red Carpet Moment
The artificial was used in the service of broadening reality
The real star-turn at the 73rd Academy Awards didn't happen during the ceremony, but rather before it, when the world collectively experienced the Great Björk Swan Dress Moment of 2001™—forever after known as a pivotal moment in campy red carpet fashion. The singer showed up to the Oscars that year in a gown made by Macedonian designer Marjan Pejoski, making her stand out against a background of rather monotonous fashion choices. No one seemed to quite understand what was to make of the outfit—particularly once Björk decided to "birth" eggs onto the red carpet.
It wasn't until I was in high school that I saw this iconic look; back then, I felt like the ultimate outsider, stuck in the Alabama public school system, and resisting the unofficial dress code of strappy sandals and Free People pastel shirts. Björk's swan dress felt revolutionary, a moment of pure fashion rebelliousness that I desperately needed to see. It was a reminder that feeling different—that being different—wasn't just something that happened in high school, but that it was something world-famous pop stars also experienced. It was a reminder that glamour didn't mean one thing, and that style could never be mandated by people that called themselves the Fashion Police.
Because, according to the kind of people who think it's a good idea to police fashion, Björk had pulled a major red carpet blunder: Björk's swan dress was hailed in its time as being one of the "worst fashion moments" ever. Really, though, it was just the kind of campy masterpiece that the mainstream needed time to get used to seeing. Since 2001, it's been exhibited at the MoMA, reimagined by Valentino, and will now be shown at the Metropolitan Museum of Art's Fashion Institute as part of its "Camp" exhibit. And Björk's look paved the way for other celebrities to take daring, campy fashion risks: Björk laid eggs on the Oscars' red carpet, so Lady Gaga could be carried down the Grammys' red carpet in an egg in 2011.
Perhaps most importantly, and certainly most campily, Björk's outfit was a reminder of the inherent absurdity of the red carpet, of how there shouldn't be anything serious about parading around in outfits that cost more than most people make in a year. So why not have fun with it? It's all just a game. Camp makes the game fun, though; it rewrites the rules. Camp reminds us that everything is constructed, so why not lean into that, and make ourselves a new, more colorful reality?