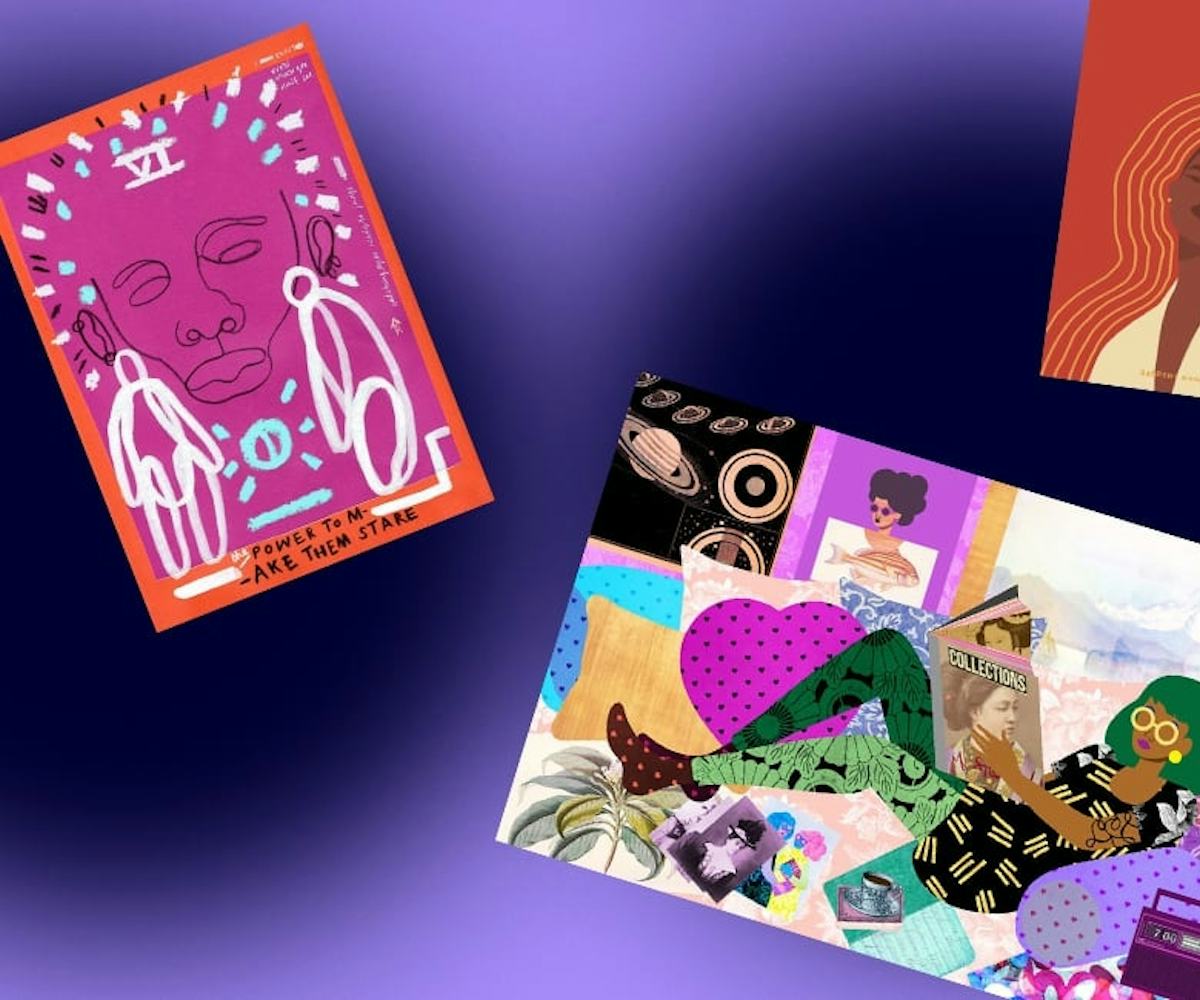 Photos courtesy of Joy Miessi, Tabitha Brown, Sabren Khadija, and Alexander Ikhibe
These Black Artists Are Making Beautiful, Affordable Art
You can buy it all online
It's not enough to simply appreciate art in a museum, or like it on Instagram if it happens across your feed. For artists to survive, we have to buy their work. And while far too few art institutions are representative of the diverse art community, it's easy enough to find an abundance of great art by people who aren't straight white men if you know where to look.
Need help on your search? In celebration of Black History Month, we're highlighting nine Black artists whose work is beautiful, affordable, and you can buy it online. Check the list out, below, and consider starting your collection by buying one from one of the following artists.
"My practice as a visual artist explores various themes and ideas dealing with identity, culture, and history, bringing up questions of representation of the Black body in a contemporary context. I am interested in ways in which the 'other' is perceived or portrayed in society, and the impact that has on a wider view or understanding of difference."
"It's very important for me to focus my creative energy on illustrating QPOC and POC enjoying who they are, finding love in themselves, and creating space for us in my work."
"I paint, write, and create with whatever is around me and draw inspiration from my everyday life. Some pieces reveal personal stories and some comment on current social-political issues—I respond to the environment around me. Overall, my work is about preserving memories, feelings, and thoughts by translating them into mixed media artworks."
"As an artist and woman of color, a lot of my work is focused on providing visibility to women who identify with that as well. I try to contribute to the representation I want to see more of in the art that we consume, so I'm constantly looking for ways to create eye-capturing illustrations that can make others feel seen and inspired."
"Black women aren't often shown in art as normal human beings, doing everyday things. I like to put Black women in patterns and colors, joyously going about their daily lives."
"My work explores the identity and futurity of Blackness—examining, appreciating, and reimagining Black figures through future narratives. The focus is not to erase a past, but to liberate a people to reach beyond, imagine anew, and radically shift the way Black art is presented.
I feel the work I do is indispensable. Although I don't—and could never—discount what my ancestors endured for me to be here, the fight, and the fight we are STILL fighting, I hope to invoke a sense of future that impels an aspiration for Black people to not underestimate the power of the imagination. This work is liberating."
"My goal is for my work to hopefully be enjoyed and recognized, even when I'm gone—to share sentiments and thoughts. I want my art to light a candle in the dark and to be a lookout for others who might need encouraging."
"In my work, I use figure painting to capture Black bodies in movement, focusing on Black women and nonbinary people's expression of individuality and exploring the strength and intimacy of the relationships that appear in their lives. The scenes are set in the midnight blue and glowing light of London's QTIBPOC nightlife scene."
"To me, creating anything from imagination and bringing it to life is a form of alchemy. My invariable search for the golden truth through my work is what drives me, and I'm sharing with the world what I discover as I go. I like to believe I'm a modern-day alchemist."
NYLON uses affiliate links and may earn a commission if you purchase something through those links, but every product chosen is selected independently.