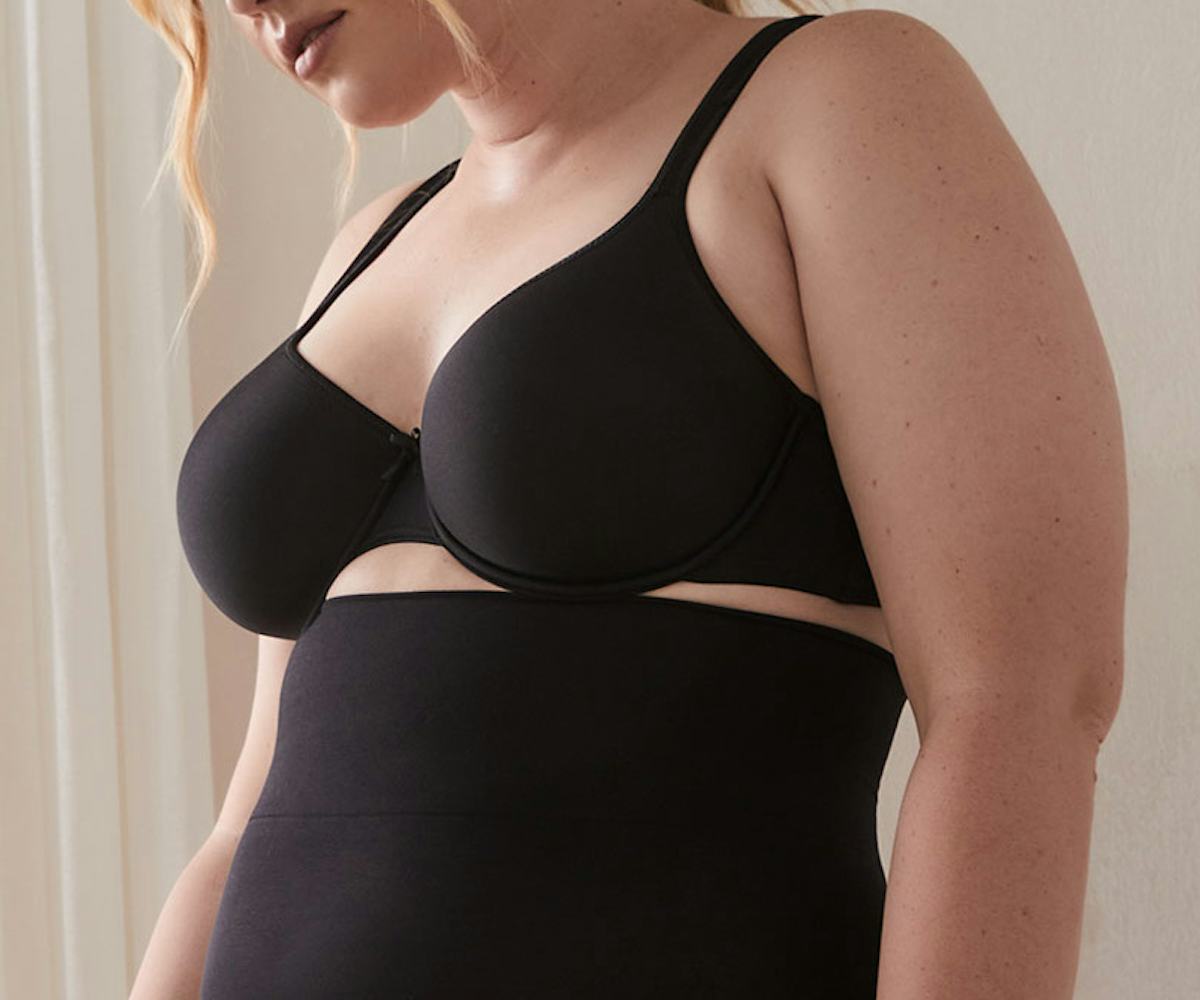 Photo Courtesy of Addition Elle
Can You Be Body-Positive And Still Love Shapewear?
This topic is still difficult to broach
Within the body-positive community, conversations around shapewear can still feel taboo. Even I, someone who's constantly and actively engaged in the community both in real life and online, find the topic tricky to bring up — and I'll occasionally wear some version of shapewear. But it's not like people aren't buying it: One report estimates that this market will reach a worth of $6.4 billion by 2024. Still, when I've ventured to ask body-pos friends and influencers about whether they wore shapewear (regularly or even from time to time), I've found that many were hesitant to answer.
I understand why. Shapewear has long been marketed as being fatphobic, aimed to slim down a woman's figure. That's changing, much like the way we talk about fashion. There are more size-inclusive shapewear brands out there, firstly: Spanx goes up to 3X; Kim Kardashian's Skims, up to 4XL (and 5XL in select styles); Maidenform and Addition Elle also extend to 4XL. Plus, now, when you see a shapewear ad, there's often less of a focus on the "slimming" effects it could have; rather, there will be a range of body types and an emphasis on some of the other benefits.
"I like not having [underwear] lines," says Alysse Dalessandro. "To me, shapewear is more comfortable than wearing a thong, so that's my choice... because it's all about my comfort."
The Cleveland-based blogger says she began wearing shapewear at a young age, with the sole purpose of slimming down. Once she learned about fat acceptance and became part of the body-positive community, though, she made the choice to stop using it altogether. "I completely stopped wearing it because the only purpose that I thought that it served was to look smaller," she says. "As I learned to love my body, I didn't want to hide it, and it felt like that was a way of hiding it."
Since then, Dalessandro says her perspective has evolved. She's begun wearing shapewear on occasion once again, realizing how useful it can be — for reasons that have nothing to do with appearing thinner. It can solve common wardrobe frustrations, like chub rub or visible panty lines, a substitute for bike shorts.
Still, even those heralded as leaders in the body-positive community have received backlash for embracing shapewear, regardless of their reasons. Two years ago, former NYLON cover star Tess Holliday shared a photo of her wearing shapewear on her Instagram, equating it to the choice of wearing makeup. "Wearing makeup doesn't make me less of a feminist, and neither does wearing shapewear," she wrote. "It's all about our choice to wear & do what we want with our bodies."
Brianna McDonnell, the Los Angeles-based blogger behind The B Word, says she started wearing shapewear around age 13. Like Dalessandro, her original intent was to appear thinner, but, as she educated herself on body positivity, she decided to stop. And similarly, it took her a while to revisit shapewear and realize the non-slimming benefits it can have. "It helped me to be more active in dresses," she says. "Especially being six feet tall, dresses are just shorter on you, so that really helped me to feel more concealed and cover."
Though some in the community have been open to turning to shapewear as a wardrobe staple, it can be hard to separate these benefits from the long-standing idea that, if you're wearing it, you want to "fix" something about your body.
Shapewear brands themselves are taking steps to reframe that narrative. For instance, Kardashian has long been the poster child for an extreme hourglass figure — however, when she set out to create Skims, her messaging was all about getting wardrobe solutions, for all different sizes and body types, not for getting her exact shape.
"Solutions are for everyone, shapewear is kind of an outdated term," Skims's VP of Marketing, Julia Collier-Ungano, told Glamour. "It says if you have a problem with your body you need it. We want women to feel like the most confident version of themselves."
Model and activist Denise Bidot shares a similar point, explaining that at its core, "shapewear is so beneficial." She tells NYLON that as a Latina woman, shapewear has been a conversation in her family for her entire life, recalling instances when her abuelita would instruct her to wear her faja to fix her posture. When she became a mother herself, Bidot saw the benefits in using shapewear postpartum to help realign her body. And as a model, shapewear is integral to her everyday life.
"As a model, you're expected to have all the proper garments for any outfit they should choose to put on you," she explains. "If you're changing in and out of a few outfits a day and you have your undergarments steady and solid, then you can change quickly without having to worry about any adjusting at all."
When choosing shapewear, Bidot leans toward thicker, high-waisted options. She recently partnered with Shapermint to help change the conversation around the garments, praising the brand's wide array of shapewear options. "I always talk about shapewear; I'm an open book. I'm not using it for any ill reasons. When I was posting [about Shapermint], someone in the comments came at me, and I had to immediately respond to that because [smoothing out] my lines has nothing to do with my confidence or my body positivity."
Bidot adds, "Opening the conversation is half the battle."
Still, there are issues to unpack. For some, shapewear can promote a specific type of body shape (small waist, big butt), even if it embraces all different sizes. "I want all bodies of all shapes and sizes to be celebrated. I think it's dangerous for us to not acknowledge that we still value some bodies over other shapes and sizes, even within the plus-size community," says Alex Michael May, a Los Angeles-based influencer. "There has been this movement toward embracing your natural body shape and not feeling like you need to conceal or hide or flatter or cover, and I think that's where the conversation in general in plus-size fashion has been going."
According to the body-positive influencers I talked to, this is exactly why it's important for people — especially those within the plus-size community — to be vocal and honest about why they choose to wear shapewear (or choose to reject it). After all, if wearing shapewear is a personal decision, then why are so many fat women shamed for their usage of it?
"This is what I want to do with my body," says Little Rock-based blogger Rochelle Johnson, "... so I still wear it, and I still consider myself to be body-positive."
A major use of shapewear aligns with a core message of body positivity: for every person to choose what is best for their body. The shame surrounding shapewear, however, has led them to stay silent on the matter — or worse, to fear being shunned from the community for wearing it. While past marketing methods may point otherwise, there's nothing inherently fatphobic about using shapewear. But this topic is still difficult to broach.
Labeling products as "solutionwear" versus "shapewear," like Skims does, helps us move away from the idea that the whole point of these garments is to change your shape. They'll smooth lines, maybe enhance a curve, but they won't transform a size 24 frame into a size 14 hourglass. Thinking that that's the only reason for someone to want to wear shapewear is inaccurate and only contributes to this stigma.
Beauty, body image, and self-confidence are personal topics, all of which can be added by the use of shapewear. But the decision to wear these undergarments is, once again, a personal one — and no person should be ridiculed or shamed for that.
"It shouldn't just be one narrative of beauty. I think the conversation is definitely moving in a way where it's open to a lot of narrative and ideas," says McDonnell. "Do you need it? No. If you like it, then live your best life. That's where I think the conversation needs to move."