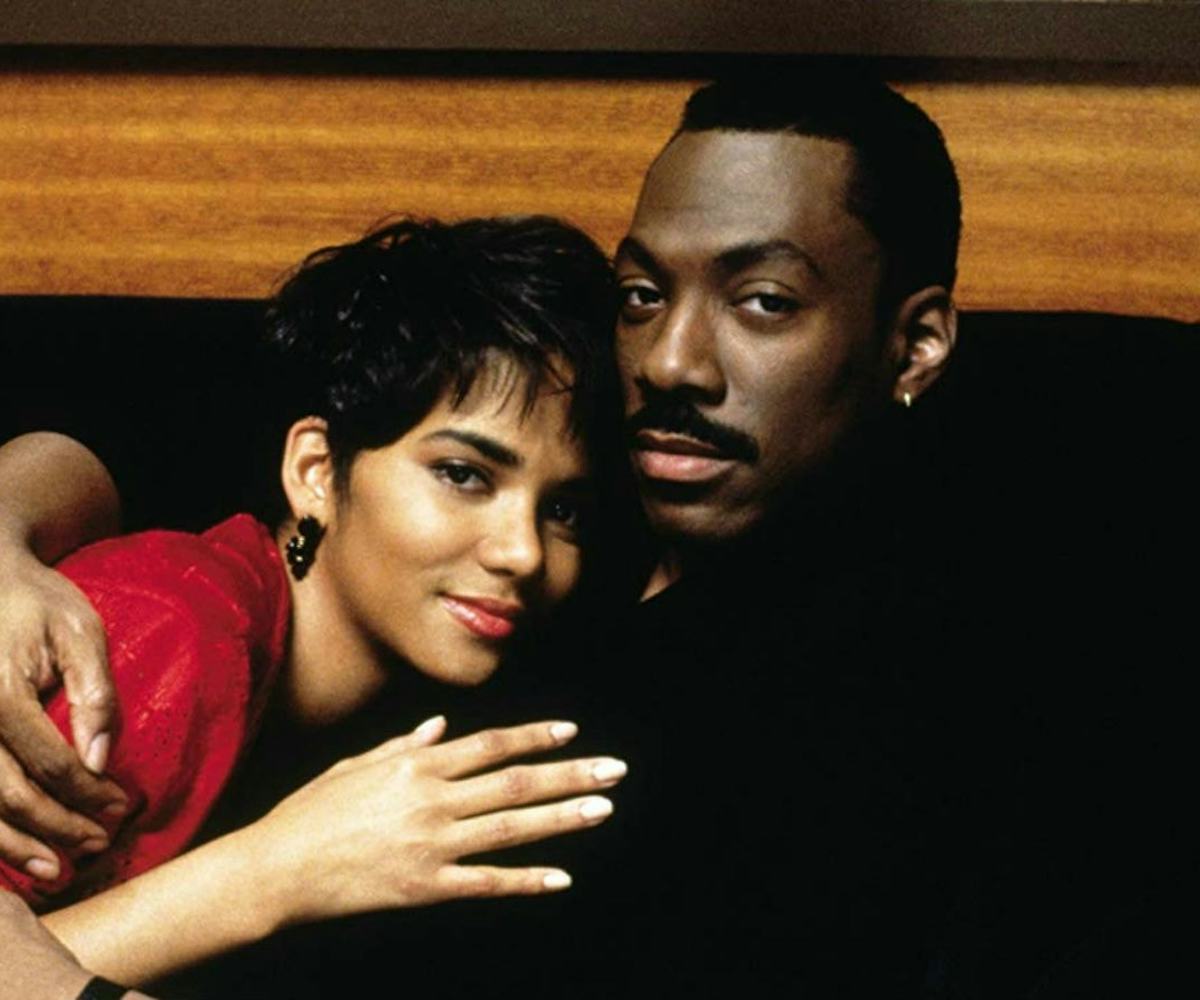 How 'Boomerang' Defined What It Is To Be A Black Rom-Com
We want more movies like it
In Look Back at It, we revisit pop culture gems of the past and see if they're still relevant and worthy of their designated icon status in our now wildly different world.
Boomerang came out when I was two years old, and thanks to that, and the fact that I'm really, really bad at watching films that I haven't seen 50-plus times already, I only watched it for the first time a couple of months ago, but it really holds up. The film is as rom-commy as rom-coms get, starring a successful advertising executive (Eddie Murphy) who sleeps around with abandon. His attitude shifts when he starts sleeping with his new boss (Robin Givens); she challenges Murphy's misogyny and starts treating him the same way he treated every other woman. It's a typical love story, where the nice girl finishes first and the player actually changes. But, despite the predictable plot, it's become canon for a number of reasons—and now will get further attention thanks to the fact that Lena Waithe is producing a television series based on the film for BET.
The film's charms come courtesy of a number of things. First, there's the cast, which is a delectable mash-up of actors that have Big Name recognition today but didn't so much back in 1992. Beyond Murphy and Givens, there's also David Allen Grier, Martin Lawrence, Chris Rock, and, most notably, Halle Berry. The film was her first major role and the one that put her on Hollywood's radar. Audiences were also introduced to a young Toni Braxton by way of the song "Love Shoulda Brought You Home."
Boomerang also does something else virtually unheard of at the time, which is put Black corporate wealth on display. It was key that Murphy's character was successful not because he was an athlete or a criminal, but rather because he worked (or maybe slept in his case) his way up the ladder—at a Black-run company at that. Givens's character also wasn't shy about her success, which is refreshing to see from any female character, but particularly when it's a woman of color. And even if you couldn't relate to those business-focused lifestyles, maybe you could relate to Berry's bohemian character or the quirky, sex-positive nature of Eartha Kitt and Grace Jones, who also starred in the film. The characters weren't just archetypes, they were fully realized individuals.
The film is often referred to as "underrated," but, actually, it was appreciated at the time (and today) by those for whom it was made: Black people. Save for a couple of white extras, the cast is entirely Black and the culture is evident from the R&B-heavy soundtrack to the way they encounter and casually shake off incidents of racism. As writer Tanisha C. Ford put it, it's the "FUBU of romantic comedies. "
I recognize that the first sentence of this story, where I acknowledged that I only recently joined the cult of Boomerang, likely brought into question the status of my Black card. Understandable! But I'd also like to argue that waiting this long to watch the film provided perspective. The '90s and early '00s were great decades for Black romantics. We had Love Jones and Poetic Justice, Brown Sugar and Love and Basketball. But watching Boomerang today—during a time when rom-coms are so rampant that there's an entire movie dedicated to making fun of them—made me realize that there hasn't been a film with a Black romantic lead and a predominately Black cast in a while (we don't count Think Like A Man). This was brought up late last year, with the nonsense involving Rebel Wilson and her erasure of Black rom-coms, but it's a topic worth revisiting until something changes. And given the success of Black-led movies like Black Panther, Black KkKlansman, If Beale Street Could Talk, and Moonlight—combined with the fact that Boomerang, to this day, is one of the highest grossing Black rom-coms—there's no reason there shouldn't be a couple of projects already in production.