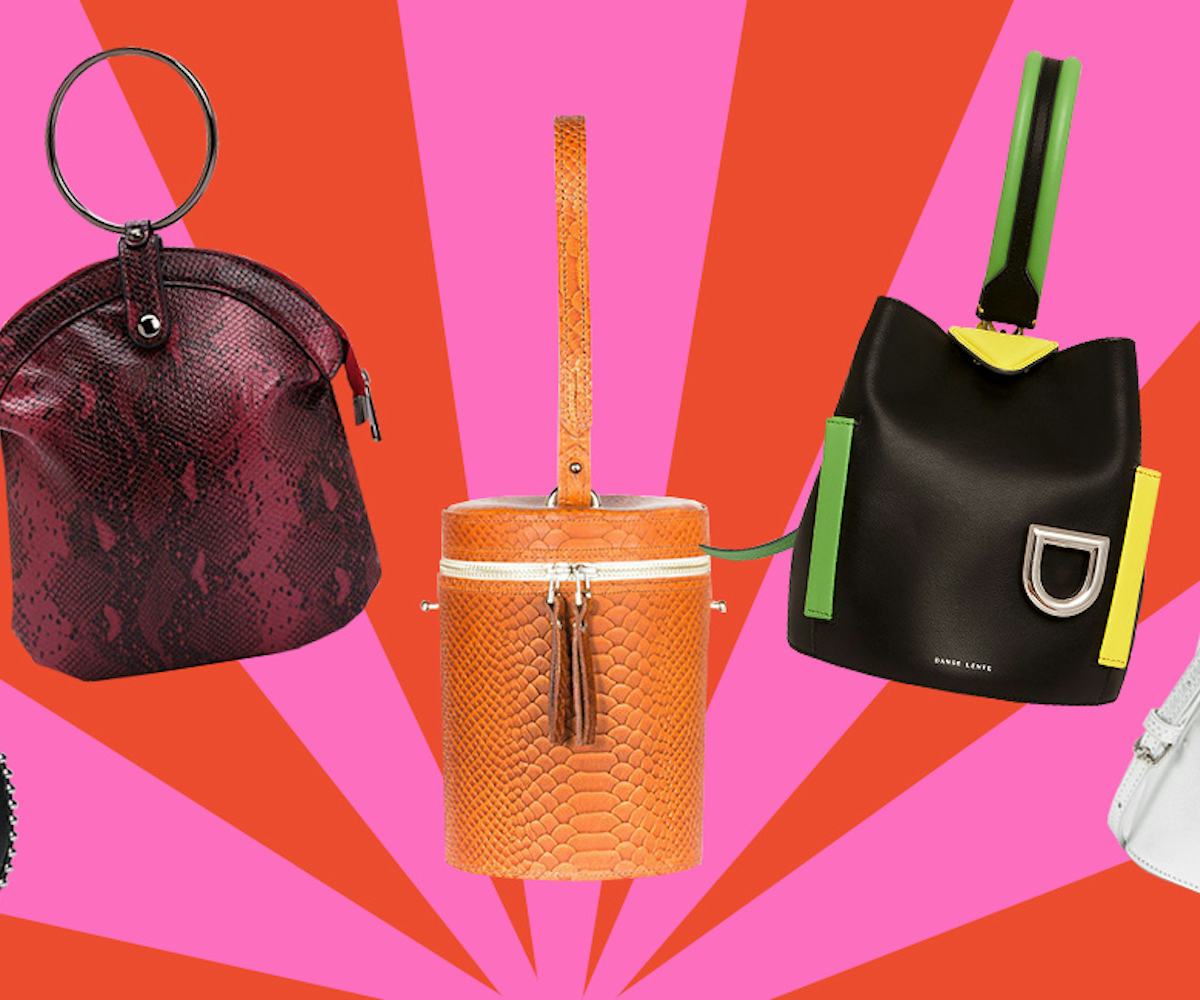 The Updated Wristlets You'll Want To Carry All Winter Long
They're back, and better than ever
Remember wristlets, the long-ago bag trend of our youth? The flimsy, zippered pouches that (barely) fit our Motorola phones and lipgloss, and were likely covered in some sort of monogram print by way of Coach or Dooney & Bourke? Well, we have news for you—the wristlet's cool older sister has stepped into the spotlight, and she's way more stylish and sophisticated.
Enter: the bracelet bag, the new bag trend providing us with all of the convenience of having everything we need at the flick of a wrist while being far more practical than the "handbags" of our youth. Today's bag-of-the-moment is large enough in size to fit our 2019 necessities and comes in way sleeker and edgier styles than in the past. With their unexpected textures and unconventional shapes, many of these wristlets practically double as works of art.
Check out the 18 must-have bracelet bags of the season, below.
Reclaimed Vintage, Inspired Bag with Tort Handle, $45, available at ASOS.
Sonya Lee, Half Maya, $336, available at Sonya Lee.
Lartigent, Faux Fur Bag in Yellow, $77, available at W Concept.
Truss, Party Bag in Green, $100, available at Truss.
Otaat Myers, Ring Pouch Medium Camel, $160, available at American Two Shot.
Charles & Keith, Circular Handle Clutch, $49, available at Charles & Keith.
Building Block, Cylinder Wristlet in Tomato, $495, available at Building Block.
Pixie Market. Leopard Faux Fur Pul Through Bag, $108, available at Pixie Market.
Zara, Wallet Handbag, $45.90, available at Zara.
Danse Lente, Josh Black, $515, available at Danse Lente.
Pretty Little Thing, Silver Diamante Chainmail Pouch, $38, available at Pretty Little Thing.
Edas Jewels X Ashley Isokpehi, Crux Tote Denim Bucket Bag, $125, available at The Break.
Alexander Wang, Roxy Mini Hobo, $495, available at Alexander Wang.
WANT, Python-ic Moment Circle Handle Bag, $14, available at Nasty Gal.
Suryo, Frambos Sac in Raspberry, $95, available at Lisa Says Gah.
Mango, Wood Detail Bag $35.99, available at Mango.
Parisa Wang, Addicted Bracelet Bag, $245, available at Parisa Wang.
Cult Gaia, Devora Hive Bag, $328, available at Cult Gaia.
NYLON uses affiliate links and may earn a commission if you purchase something through those links, but every product chosen is selected independently.