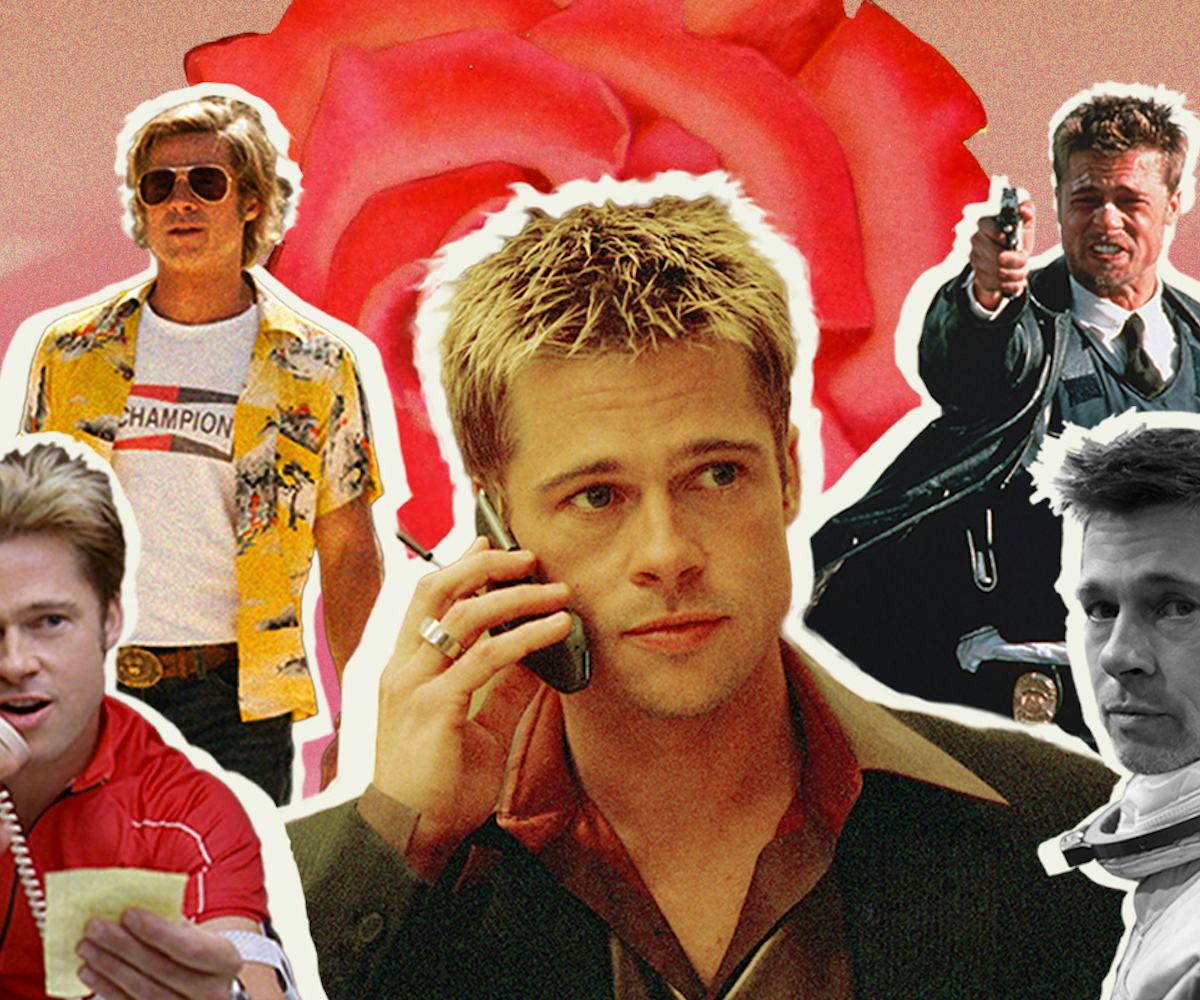 PHOTOS (LEFT TO RIGHT) SHUTTERSTOCK, ANDREW COOPER, SHUTTERSTOCK, SHUTTERSTOCK, AND FRANCOIS DUHAMEL
Brad Pitt Is So, So Beautiful—But He's Also So Much More
Everyone knows Brad Pitt is ridiculously good looking, but there's more to him than meets the eye
Early on in Once Upon a Time in Hollywood, director Quentin Tarantino shows the dual appeal of Brad Pitt—and it all happens without needing Pitt to say a word.
After having dropped off has-been star Rick Dalton (Leonard DiCaprio) at Dalton's home, Cliff Booth (Pitt), who serves as a stuntman/driver/best friend for Dalton, trades out the keys for his boss' off-white, classy Cadillac Coupe de Ville for a 1960 Volkswagen Karmann Ghia convertible. In the Coupe de Ville, Booth was seen driving slowly, carefully delivering Dalton to a sound stage and then to Dalton's home on Cielo Drive. In his own car, Booth screeches out of the driveway, his engine roaring. On the highway, Booth speeds and weaves through Los Angeles traffic.
In this scene, Tarantino perfectly defines Pitt's acting career. Pitt is a traditional leading man who is known for his looks. People's two-time "Sexiest Man Alive" can say more with a casual glance than most can with any overwrought monologue. At the same time, Pitt's best roles know there's something dark, dangerous, and defiant under those trademark abs, chin, and grin.
In 2019, at 55 years old, Pitt has a major movie year ahead of him, starring in the already-praised Once Upon a Time in Hollywoodand fall's sci-fi drama Ad Astra. After a two-year drought, Pitt is back. Well, sort of.
In a recent interview with GQ Australia, Pitt hinted that his best acting days are behind him. He said his career will "move on naturally." He'll continue behind the scenes work with his Plan B production company, but overall, he'll do "less and less acting." Pitt's desire to produce more as he ages is unsurprising. He won his lone Oscar, producing Best Picture winner 12 Years a Slave. Plan B also consistently drives thought-provoking films like The Big Short, Selma, and Moonlight to thousands of theaters.
As interesting as his producing career is, Pitt is just as great an actor as his contemporaries George Clooney, Matt Damon, and DiCaprio. Unlike those contemporaries, Pitt's acting continues to go underrated as Pitt continues to shine in less-successful movies. If this is one of the last big years for Pitt, it's time to take a step back and bask in his greatness.
Pitt's transformation into an "actor" started in the mid-'90s. At first, the actor wooed audiences with turns in Thelma & Louise and Interview with the Vampire. To "escape the cheese" of Legends of the Fall, Pitt took on the role of a rookie cop in Se7en in 1995. That same year, he garnered his first acting Oscar nomination for Best Supporting Actor in Terry Gilliam's sci-fi trip Twelve Monkeys.
Thanks to the work of that one year, Pitt was no longer seen as just a pretty face. In Se7en, he played Mills, a willingly reckless homicide detective who is partnered with the veteran Somerset (Morgan Freeman) to catch a sadistic serial killer (Kevin Spacey) who tortures victims based on the seven deadly sins. As gruesome as the movie is, Pitt's intensity propels the film into its finale as he repeats the memorable line, "What's in the box?" In Twelve Monkeys, Pitt let loose as Jeffrey Goines, the mad son of a scientist who introduces James Cole (Bruce Willis) to a new institutionalized reality. As odd as Gilliam's movies can be, Pitt's commitment to the ticks and oddities only solidify Twelve Monkeys' crazed atmosphere.
It's true: The guy whose first role was literally in a movie titled Hunk was a big reason—if not the main reason—why two uneasy, unsettling movies were successful in the mid-'90s. Pretty Boy Pitt had something sinister lurking underneath those looks. In that space was his acting talent, and he wouldn't return to that type of role until 1999's Fight Club.
Working again with Fincher in Fight Club, Pitt's Tyler Durden is the representation of everything Ed Norton's narrator wants to be. Durden is a menace with chiseled abs who chain-smokes cigarettes, lives in an abandoned building where he makes soap, works part-time as a movie projector, and fiddles full-time on a plan to let loose mayhem upon the world. If Fincher had reportedly cast Pitt in Se7en because the actor looked like "he could get away with murder," the director was blasting that idea for nationwide audiences to see in all its bloody glory in Fight Club.
However, critics and audiences didn't show up to douse Fight Club with praise—at least, not at first. In the U.S., the movie barely made half its budget back at the box office. Only upon its home video/DVD release did the movie start to pick up word of mouth praise and cult classic status, grossing more than $55 million in video/DVD rentals and selling more than six million copies within its first decade of release. Less than 10 years after its release, magazines like Total Film, Premiere, and Empire named Fight Club one of the best films of all-time. More to the point, Fight Club, like Pitt's best movies, might stall at the box office—and sometimes with critics—only to praised and loved years later by new audiences. Such is the case with 2007's The Assassination of Jesse James by the Coward Robert Ford.
A nearly-three-hour, meditative Western from director Andrew Dominik, The Assassination of Jesse James by the Coward Robert Ford features Pitt as the mercurial and legendary outlaw, Jesse James. A lonely Robert Ford (Casey Affleck) idolizes James, creating a David vs. Goliath-type tale, where David is an eager weirdo no one wants to be around. Beautifully shot by Roger Deakins and full of quotable dialogue, the movie grossed $3.9 million against its $30 million budget in the U.S. Though critics praised the film and Pitt won the Volpi Cup for Best Actor at the Venice Film Festival, this biographical drama came and went. Now, a dozen years after its release, the movie's popularity has started to rise thanks to a mention on an international critics poll listing it as one of the best films released since 2000.
That same pattern of response can be seen in 2008's Burn After Reading, 2012's Killing Them Softly, and 2017's War Machine. All of these films are blips on mainstream audiences' radars. Yet, they are all movies buoyed by Pitt's commitment to the director's thematic choices. These filmmakers know what Tarantino and Fincher knew: Pitt is best goes when he acts against his iconic looks, or, if not fully in opposition to them, at least with a knowing wink.
In Burn After Reading, Pitt plays an affable, naive gym manager named Chad. If ever there were an actor born to play a gym manager named Chad, it's Pitt. In the Coen Brothers' hilarious take on government intelligence, Pitt's Chad is a buffoon who pumps his fists while riding the treadmill. He tries and fails to threaten a fired CIA agent with the line, "We have your shit." It's a performance that mixes his whacked-out insanity from Twelve Monkeys with his stoner-cool from The Mexican and True Romance. Against a cast with greats like Frances McDormand, Tilda Swinton, John Malkovich, and Clooney, Pitt runs away with Burn After Reading's best moments.
Re-teaming with Dominik for Killing Them Softly, Pitt plays the no-bullshit hitman Jackie Cogan. A filthy, monologue-driven, cynical allegory on the American Dream, Pitt's Cogan delivers one of the coldest monologues ever.
"Don't make me laugh," Pitt tells co-star Richard Jenkins in a smoky bar. "I'm living in America, and in America, you're on your own. America's not a country. It's just a business. Now, fucking pay me."
Benjamin Button just said that. Without blinking.
For David Michôd's Netflix dramedy War Machine, Pitt plays American General Glen McMahon. It's a satire where Pitt leans into an American Western-style mold that played so well in his earlier collaboration with Tarantino, Inglourious Basterds. As McMahon, the general brought in to "win" the Afghanistan War, Pitt brings method style to a hilarious caricature. One hand is constantly hooked as if holding an unlit cigar at all times. He runs awkwardly around the base camp, looking like an ostrich. One eyebrow is constantly at a 90-degree angle.
The response to all three of these performances has been pedestrian, at best. After all these transformations, Pitt is still the hunk. In between these underrated movies are better-received/bigger hits: the Ocean's trilogy, The Curious Case of Benjamin Button, Mr & Mrs. Smith, Troy, Moneyball, and World War Z. Hell, had it not been for his previous roles and chiseled image, his bit part in Deadpool 2 might be his most memorable role to some. Such roles are reminders of Pitt's looks and charm, that he can carry (or steal) movies with that knowing wink and Paul Newman-like attitude. That's the Pitt we've seen and known for the past 30 years. Perhaps this year, with Once Upon a Time in Hollywood and director James Grey's upcoming Ad Astra, audiences will see what directors like Tarantino, Dominik and the Coens see: Brad Pitt is more than a hunk; he's a great actor, too.