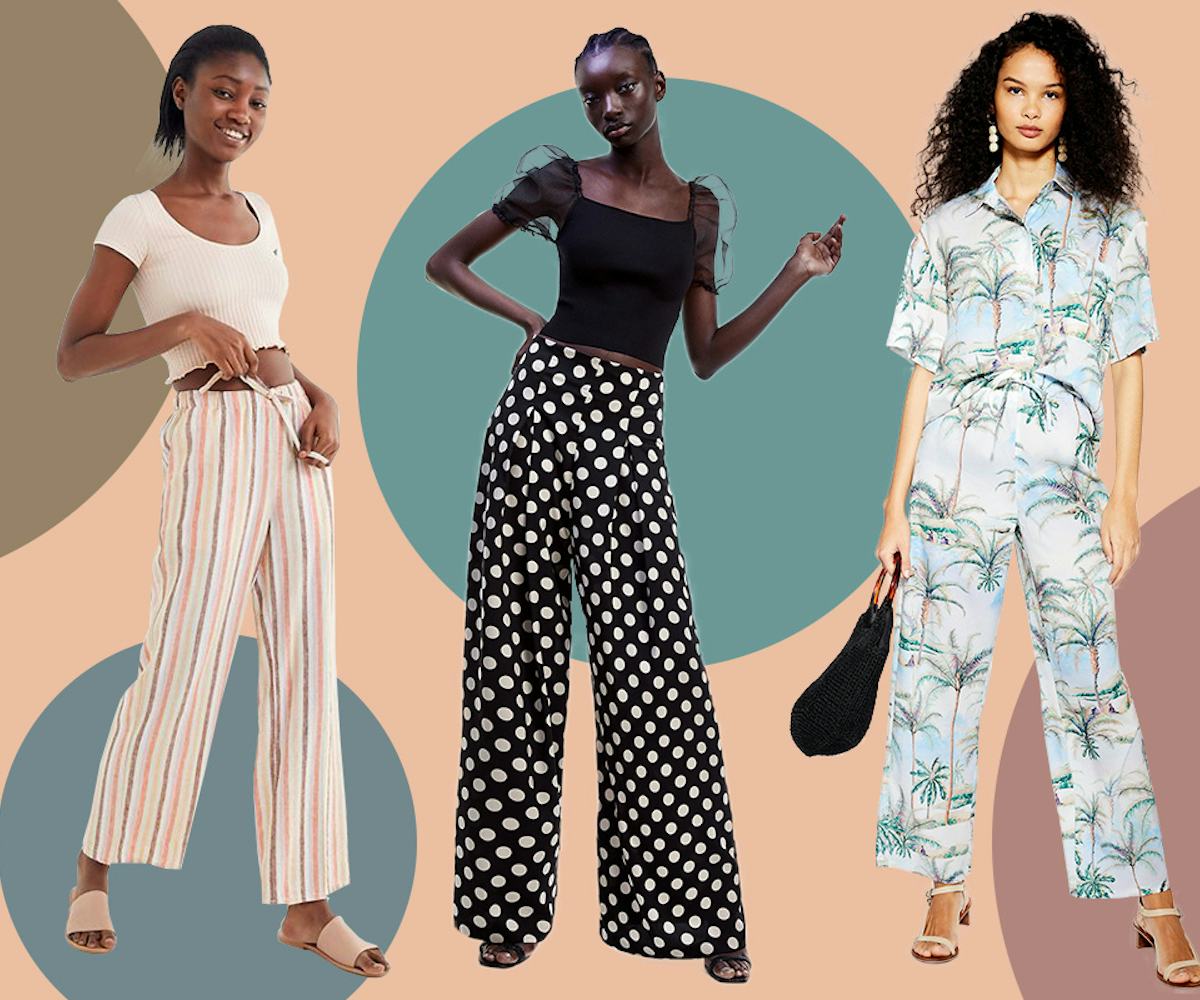 14 Pairs Of Breezy Pants Fit For Summer Weather
Supercool options for when you're sick of your sundresses
Look, we're not here to hate on summer or anything, but hot weather dressing options tend to be pretty slim. Due to rising temps, we tend to opt for as little coverage as possible, turning to our favorite sundresses, tank tops, and denim cut-offs, and not giving thought to much else—especially not pants.
However, pants don't need to be a sweaty summer weather catastrophe—there are actually lots of non-constricting suitable options fit for sweltering weather. Bring on the linen, the wide legs, the culottes, and the palazzos!
Below, check out our 14 favorite sweat-proof summer pant options, giving you lots of coverage, but no sweating.
Zara, Wide Leg Polka Dot Pant, $69.90, available at Zara.
ASOS Design, Curve Wide Leg Pants, $56, available at ASOS.
Whimsy + Row, Valentina Pant in Rose, $134, available at Whimsy + Row.
Staud, Ponza Pant, $195, available at Staud.
Bershka, Flowing Culottes, $35.90, available at Bershka.
Pixie Market, Linen Skort Culottes, $142, available at Pixie Market.
& Other Stories, High Rise Kick Flare Pants, $79, available at & Other Stories.
Paloma Wool, Green Querido Pant, $166, available at Bona Drag.
NEED, Kenly Pull On Pant, $130, available at Need Supply Co.
Reformation, Calabria Pant, $158, available at Reformation.
All Things Mochi, Paloma Pants, $248.50, available at Shopbop.
Topshop, Hawaiian Wide Leg Trouser, $68, available at Topshop.
Batsheva, Wide Leg Trouser, $253, available at Lisa Says Gah.
Urban Outfitters, Chance Striped Linen Pull-On Pants, $39, available at Urban Outfitters.
ASOS Design, Shirred Waist Culotte, $35, available at ASOS.
NYLON uses affiliate links and may earn a commission if you purchase something through those links, but every product chosen is selected independently.