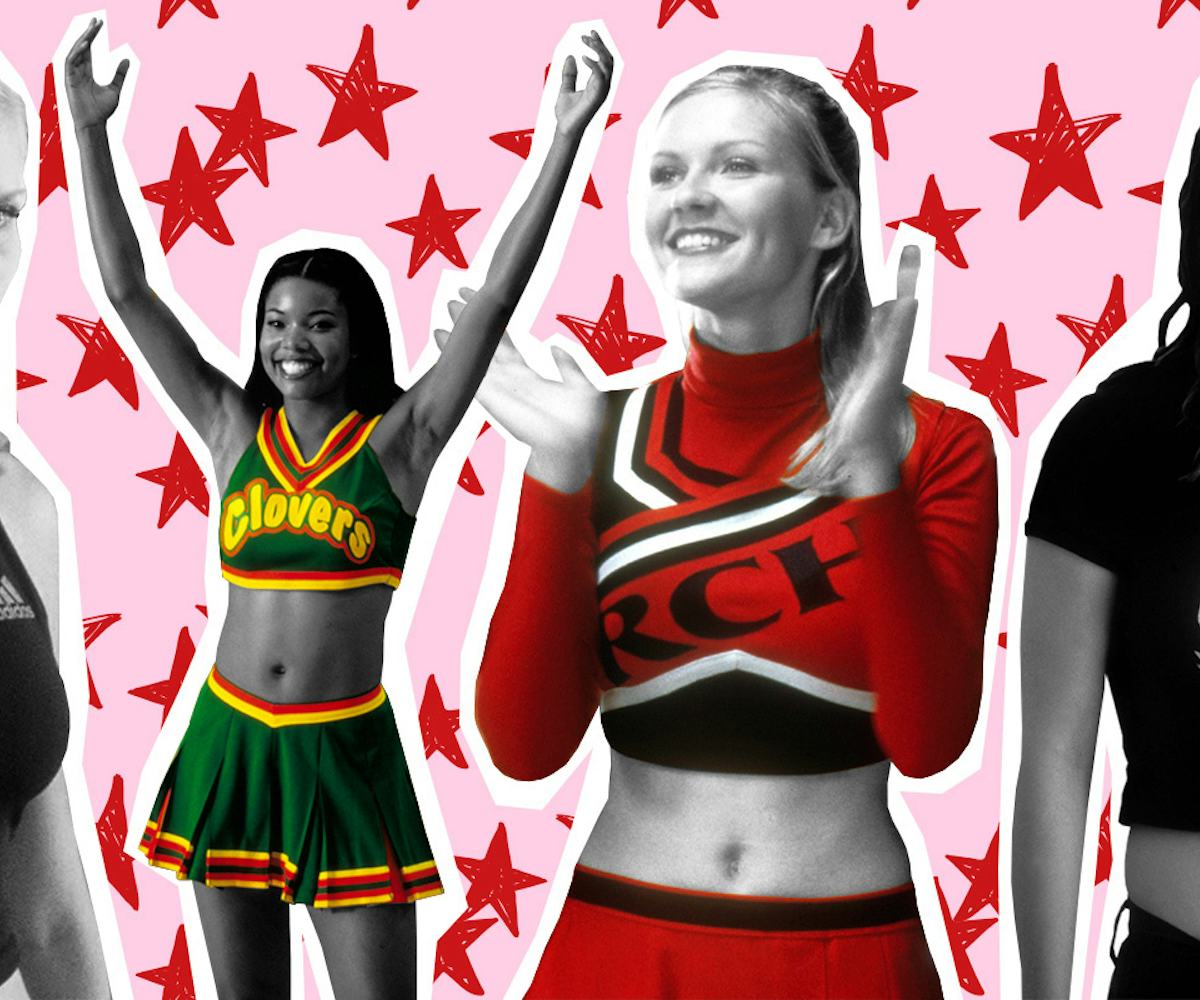 Photos from Shutterstock
In Praise Of 'Bring It On'—The Original Cheerleading Phenomenon
20 years before 'Cheer,' there was this film featuring peak cheerleader style
Cheerleading has long been an American cultural fascination. It pairs a feminine aesthetic with hard-core athleticism, making jumps and flips look effortless when of course that's hardly the case. Recently, the Netflix docuseries Cheer has taken the internet by storm, inspiring hours of viewing and countless tweets. Societal sexism has often led to cheerleaders being underestimated, but it's obvious that they do far more than stand there and look pretty, and Cheer shows just how grueling the sport can get. Cheerleaders, like gymnasts and ice-skaters, blend extreme athletic prowess and strength with a distinctively sparkly, somewhat garish but always fun look. It's no surprise that audiences are drawn to their stories. If you want to see the height of cheerleader style in film, look no further than the masterpiece that is Bring It On fashion.
Bring It On was released in 2000, during a fruitful period for fashion-savvy teen films—and 20 years later (if you can believe it…), the cheer uniforms remain iconic. (Just recently, one of the film's stars Gabrielle Union and her daughter wore matching cheerleading uniforms from the film.) The two central cheer teams, the Toros and Clovers, have unforgettable, brightly colored costumes that define their opposition to one another. The Toros, a mostly-white squad from San Diego, wear a red uniform with black-and-white accents. There are a couple variations of their top—one is cropped straight across while the other has a slightly fancier crisscross accent. Both play into their flirty yet wholesome popular image.
Red—primary, vibrant, and seductive—feels like the classic all-American cheerleader color. Bring It On has a winking, satirical eye, and tackles cultural appropriation as one of its main subjects, albeit with a light hand.
The Clovers, a racially diverse squad from East Compton, and the originators of the Toros routines, wear green uniforms with red-and-yellow accents. The colors, reminiscent of an African flag, are less expected than the Toros' classic red, and make for a stylish and proud display of Black culture. The Toros' tops are emblazoned with "RCH" for their school, Rancho Carne High. The Clovers don't have an acronym—they announce themselves, and you can take it or leave it. Their tops are also a little more cropped—there's a slight edge to their uniforms. You could see the Toros' uniforms in any cheer movie. The Clovers' uniforms, with their eye-catching color palette, feel more distinctive.
It's always revealing to see how athletes dress to practice. Outside of their competition uniforms, they dress for the same purpose of comfort and ease of motion, but each girl has a slightly different outfit stored in her locker. This being 2000, the practice looks, with Nike and Adidas sports bras as tops, baggy pants, and chunky sneakers, feel very Sporty Spice.
No look at Bring It On would be complete without mention of Eliza Dushku's alt girl style. As Faith on Buffy the Vampire Slayer, Dushku already had the cool goth look on lock. As Missy in Bring It On, she's the edgier brunette cheerleader on the Toros squad while Kirsten Dunst, as Torrance, is the blonde, enthusiastic alpha. Torrance wears light colors while Missy favors darker looks with bold lipstick to match.
You can't get more 2000 than a crop top printed with a vaguely orientalist graphic. Missy's Buddha shirt is the cutesy yet slightly "edgy" type of thing you could've ordered from the dELiA*s catalog back in the day.
Torrance, on the other hand, wears lots of pink. Even her swimsuit and two pairs of pajamas are pink. Torrance revels in the typical color of girlishness. She's fun-loving and maybe a little basic, but proud of it. She has the wardrobe of a popular girl-next-door type.
More than any of the individual outfits, though, the main fashion legacy of Bring It On is rooted in the spectacle of a cheer team in their uniforms. In one of the film's best-known quips, Torrance says, "This is not a democracy. It's a cheerocracy." You can't join the cheerocracy without a crop-topped, short-skirted uniform, and the girls of both Bring It On and Cheer wear them with panache.