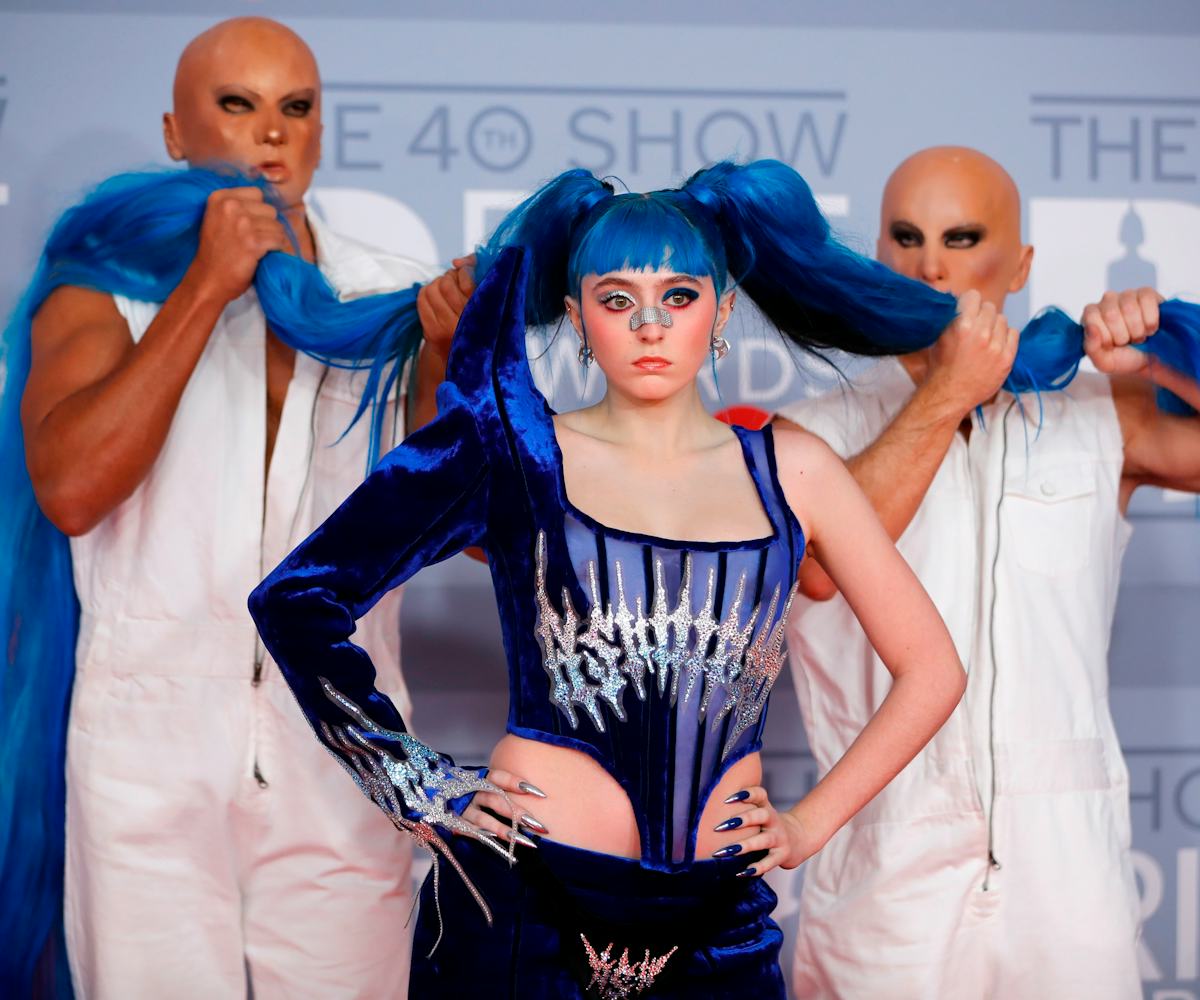 Photo by Tolga AKMEN / AFP) / RESTRICTED TO EDITORIAL USE NO POSTERS NO MERCHANDISE NO USE IN PUBLICATIONS DEVOTED TO ARTISTS (Photo by TOLGA AKMEN/AFP via Getty Images
Ashnikko's Bright Blue Pigtails Required Their Own Escorts At The 2020 BRIT Awards
The red carpet was big on bling and 'Euphoria'-inspired looks
When it comes to musicians on the red carpet, anything goes, and this proved especially true when it comes to the beauty on display at the 2020 Brit Awards. Some of music's biggest names of today — including Lizzo, Billie Eilish, and Ashnikko — brought the best in beauty routines, offering the red carpet everything from colorful pigtails to eyeshadow inspired by your favorite chocolate bar. And of course, the night also featured some classic glam staples, including a smoky cat eye care of the one and only Charli XCX.
But it wasn't only the big names well-known stateside that brought major beauty moments to the 2020 Brit Awards. Rising star Daisy Maskell, host of one of the UK's most popular breakfast radio shows, showed up in a '90s R&B-inspired look and braids, while Celeste and her baby hairs gave the carpet old Hollywood glamour. And as for rapper Ashnikko's bright blue pigtails — they were so long that they needed to be chaperoned down the carpet by two (!) handlers. Needless to say, the 2020 Brit Awards red carpet has seen no shortage of stand-out beauty looks on either end of the extreme spectrum.
If your invite to tonight's ceremony got lost in the mail, get a front row seat to all of the best beauty looks that walked the red carpet — from FKA Twigs' streaky bangs to Billie Eilish's Burberry nails — below.
Ashnikko
Ashnikko brought bright blue pigtails and matching eye makeup — one eye in blue and one in silver — to the red carpet. Her ponytails were long enough that they needed their own escorts, and she turned a pore strip into a sequined accessory.
Billie Eilish 
Another awards show, another memorable look from Billie Eilish. The singer brought Burberry-inspired nails to the red carpet, and she paired them a glossy lip and a wild, see-through visor hat.
Daisy Maskell
Daisy Maskell was literally glowing on the red carpet, pairing a bedazzled two-piece suit with long braids and a mauve lip.
Lizzo
Lizzo had some candy-inspired fun with her Brit Awards look. Matching her makeup palette to her Hershey's dress, she went with a deep red lip, eye makeup that featured various brown hues, and an updo.
Laura Whitmore
Laura Whitmore went with dreamy hair clips, sectioning off her loose waves with two moons and a sun.
FKA Twigs
Thanks to the addition of two orange-colored wisps, FKA Twigs gave an edgy makeover to the traditional ponytail. As for her makeup, she went with red liner around her lips and a sweep of shimmering shadow on her lids.
Charli XCX
Charli XCX served up one fierce cat eye. The smoky look matched her dress perfectly, and she paired it with hair slicked to the side.
Anne-Marie
Anne-Marie was rocking Euphoria-inspired beauty with her pink eyeshadow. The look featured a cat eye made of sequins, bubblegum pink hair, and a headpiece of diamonds. She completed the all-pink everything routine with a rosy lip and a touch of blush to her cheeks.
Celeste
From her bold red lip to her head of soft, short curls, Celeste looked straight out of old Hollywood. Although, thanks to the addition of a single curl across her forehead and a sharp wing, she put a modern-day twist on the entire look.
Vick Hope
Vick Hope also took a cue from Euphoria for her red carpet makeup. Although she kept her hair very traditional — choosing a bun with a few loose pieces — she had some fun with sequins for her eye makeup. A few loose sequins were placed purposefully around her eye and they were accompanied by a dark shade of shadow and thick lashes.