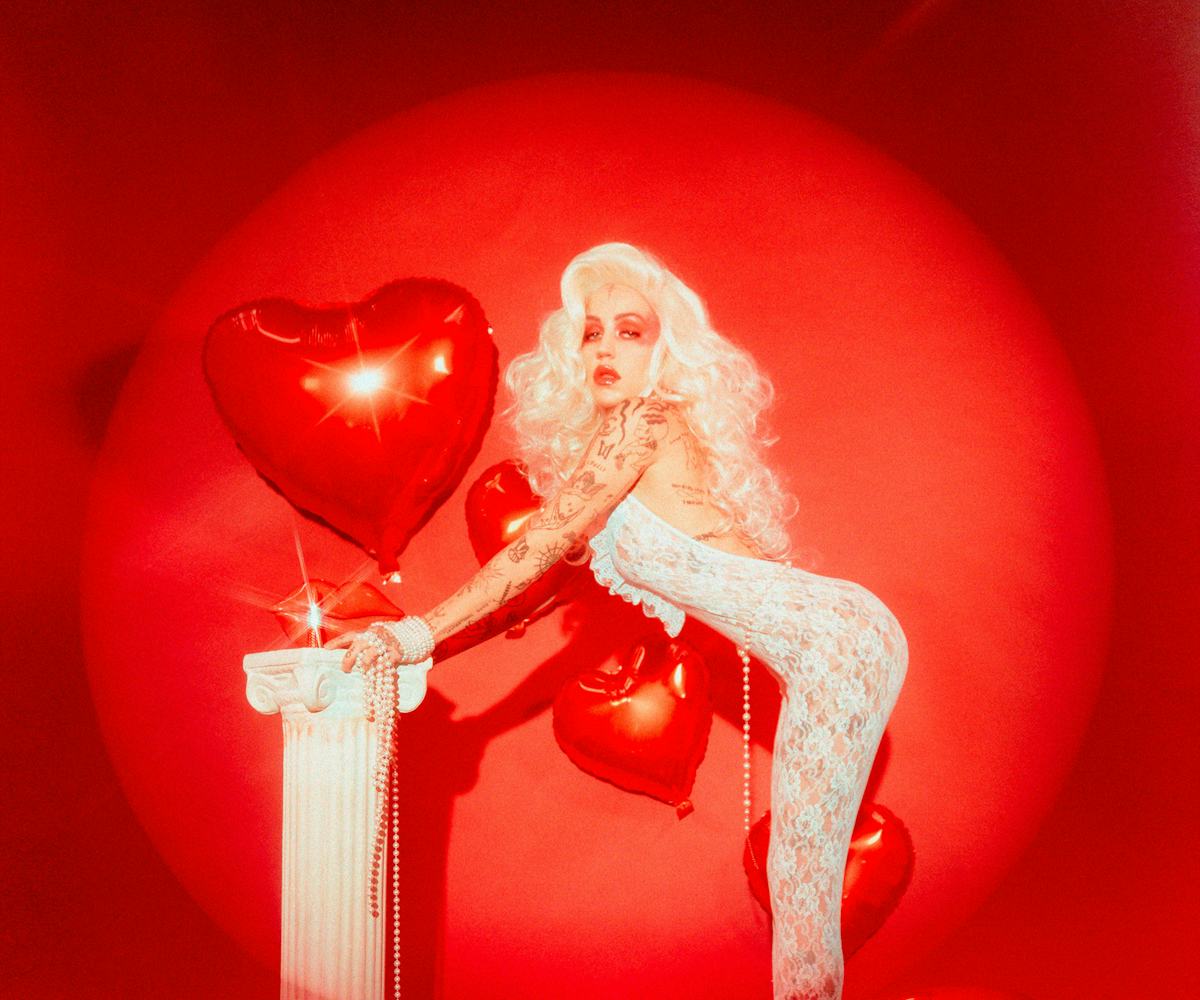 Photo by Savanna Ruedy
Brooke Candy Wants Fans To "Embrace Who They Are"
The artist opens up about her new album, queerness, and the male-dominated music industry
Brooke Candy calls me an hour ahead of our scheduled time slot, preparing to take her dog for a walk after returning from a night of deejaying with her good friend Charli XCX. She jokes, "I actually didn't get home too late. I'm a little tired, but I'm good." She tells me what she is wearing—a pair of Converse and pants with "dice all over them"— and explains between laughs, "My aesthetic comes from whatever I'm into at the moment. I would say it's very campy."
Despite her light, witty banter, it doesn't take long for Candy to turn introspective. "I've always wanted to help people embrace who they are," she says. Her dog may be barking throughout our call, but I hear her loud and clear: Candy's artistic vision is meticulous, but above all else, she wants to make an impact.
Candy plans to use her growing platform to accomplish this. The star just wrapped a West Coast tour with Charli XCX and released "FMU," a collaboration with Rico Nasty and Boys Noize. She's also been devoting her time to work on a conceptual adult movie entitled I Love You, which premiered on Pornhub and exhibited at the Museum of Contemporary Art in Barcelona. She's accomplished all this while pouring herself into her debut album, SEXORCISM, out today, featuring icons like Rico Nasty, Charli XCX, Erika Jayne, Maliibu Miitch, Violet Chachki, Aquaria, TOOPOOR, and more. Her new album — along with her ability to juggle projects — reflects her desire to put meaningful work into the world that is both feminist and sex-positive.
Ahead of the release of her new music, NYLON spoke with Candy about SEXORCISM, queerness, and her ever-evolving relationship to the music industry.
A few of your first singles, "Das Me" (2012), "Everybody Does" (2013), and "I Wanna Fuck Right Now" (2013), really set the groundwork for your career. How do you think you've changed since you released those songs?
I'd say the main thing that's changed is my aesthetic. My work is now a more grounded version of who I am. And the music on my new album is a lot of the same. I've always been very feminist. Even on my new album, I only have female contributors.
How has your work aesthetic changed?
The next two videos that are coming out are actually very different from each other. However, they both include nature. I really wanted to focus on the beauty of nature. I also want my work to showcase some of the most beautiful places that I've traveled to.
Can you tell me more about your creative process?
I've created music in so many different formats. Making music for me is about finding people you trust. Trust is so important to the creative process. And with this new album, that's exactly what happened. Everyone who worked on the album just found their way into my life. Being part of a label didn't always work for me.
How do you think being signed to a label influenced your sound?
It took away my creative control. When I was signed, what I was putting out wasn't coming from spirit, and I became a vehicle for other people's spirits. When I was a signed artist, I felt less of an artist myself. That isn't to say that I wouldn't be open to the opportunity again. It definitely has challenges though.
What advice would you give to emerging artists?
It's one of the hardest industries to break into. I've watched my friends, like Lizzo and Charli, do it successfully, but it breaks you down. It's a really, really, really tough, male-dominated industry.
As a woman, there are certain stipulations put on you if you want to make it. I just say try to persevere and have the tenacity to keep trying because that's what I have always done. This industry is unforgiving. It really hard to tackle. You just have to have the ability to keep trying no matter what. It's just about never giving up.
How do you think who you are has influenced your work?
I am a quiet person, and I go to bed by 9pm. I just have a desire to help people, and I won't give up.
My adversity and trauma have taught me the importance of self-reflection. I also believe that, because of my platform, it's important for me to just be who I am and speak out about what I want to speak out about. Again, I really want to help people through my art.
There are so many people with platforms that don't really do anything with them. I don't think that's helping the planet. I'm just trying to come to terms with what I am and what I love and then share that with everyone.
I want to change the planet.
Why do you think it's still so hard for even queer artists to talk about queer love and sex in their lyrics?
I think fear.
I've been labeled a "queer artist." I think a lot of artists don't want to be labeled as anything other than a musician. Many of them are afraid to come out and attach themselves to labels because they want their art to come first, rather than have their sexuality overkill it.
I've never cared. My sexuality is powerful.
When do you feel the most yourself?
When I'm making art. When I'm in L.A., and I'm with my best friend, and we are conceptualizing a video treatment or even just behind the lens of the camera directing something.
I'm still trying to discover new parts of myself. I want people to internalize that if you feel badly about yourself, or feel like something isn't right, you should reach out for help. Get out of your head!
My mental health has become especially challenging as I've become more successful. We all need to be more open about mental health. I have to share what I've learned with other people.
Tell me about SEXORCISM. What are you most proud of?
I got to make an album with some of my favorite human beings. It's a really fun dance party, and an authentic Brooke Candy album. I don't really even care about the feedback. It's for my fans.
This album is so sex-positive and feminist. If I can help one woman feel free, or even just one woman become more sexually uninhibited and empowered, I think my job here is done.
Photographer: Savanna Ruedy
Clothing Stylist: Gabriel Held
Set Design: Chelsea Finkel
Makeup Artist: Mollie Gloss
Hair Artist: Sergio Estrada
Cakes: Samantha Hoescherl
Gifs by: Connor Catalano
Thanks to Beyond Studios