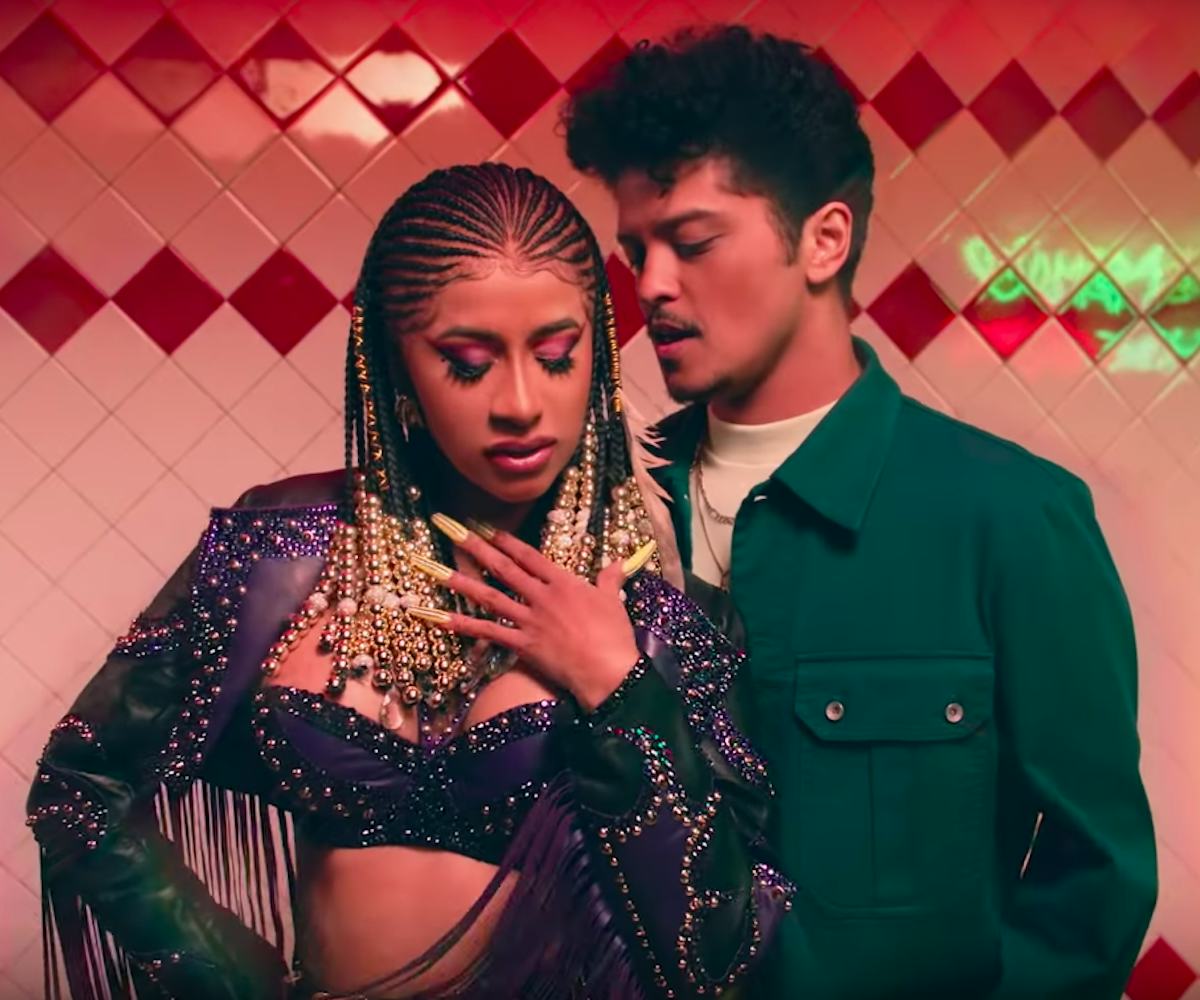 Photo courtesy of Atlantic Records.
Cardi B And Bruno Mars Meet The Old-Fashioned Way In "Please Me" Video
Its a classic case of love after the club
Cardi B and Bruno Mars are taking us back to a simpler time in the music video for their latest collaboration, "Please Me." The sexy track sees Cardi slowing down her flow as Bruno taps into the classic R&B tradition of "begging for pussy" as my elders would say. So to truly capture the era of this jam, Bruno and Cardi are modern-day lovers who fall in lust at first sight at a late-night taco spot. Tinder be damned.
"Please Me" takes place at a Taco Mexico "somewhere in Los Angeles" and "after the party." Bruno is there, chilling with his homeboys when Cardi walks in with her homegirls (recapping the night, insisting that her friend "shoulda smacked that bitch" who was talking "wild crazy"). They lock eyes, everything stands still, then the beat drops. What follows is a well-choreographed story of thirst on both sides. The "Please Me" dance sequences draw you in, and my 14-year-old self would have definitely practiced them after school with my friends. The visuals are colorful and playful, but still very sexy. It should be noted that Bruno directed the video, with Florent Dechard, and choreographed the dancing, alongside Tanisha Scott and Phil Tayag, himself.
Apparently, Bruno and Cardi are big on nostalgia. The 2018 music video for "Finesse" was an homage to the '90s sketch show In Living Color, and they both dressed the part.
Check out the video for "Please Me," below.