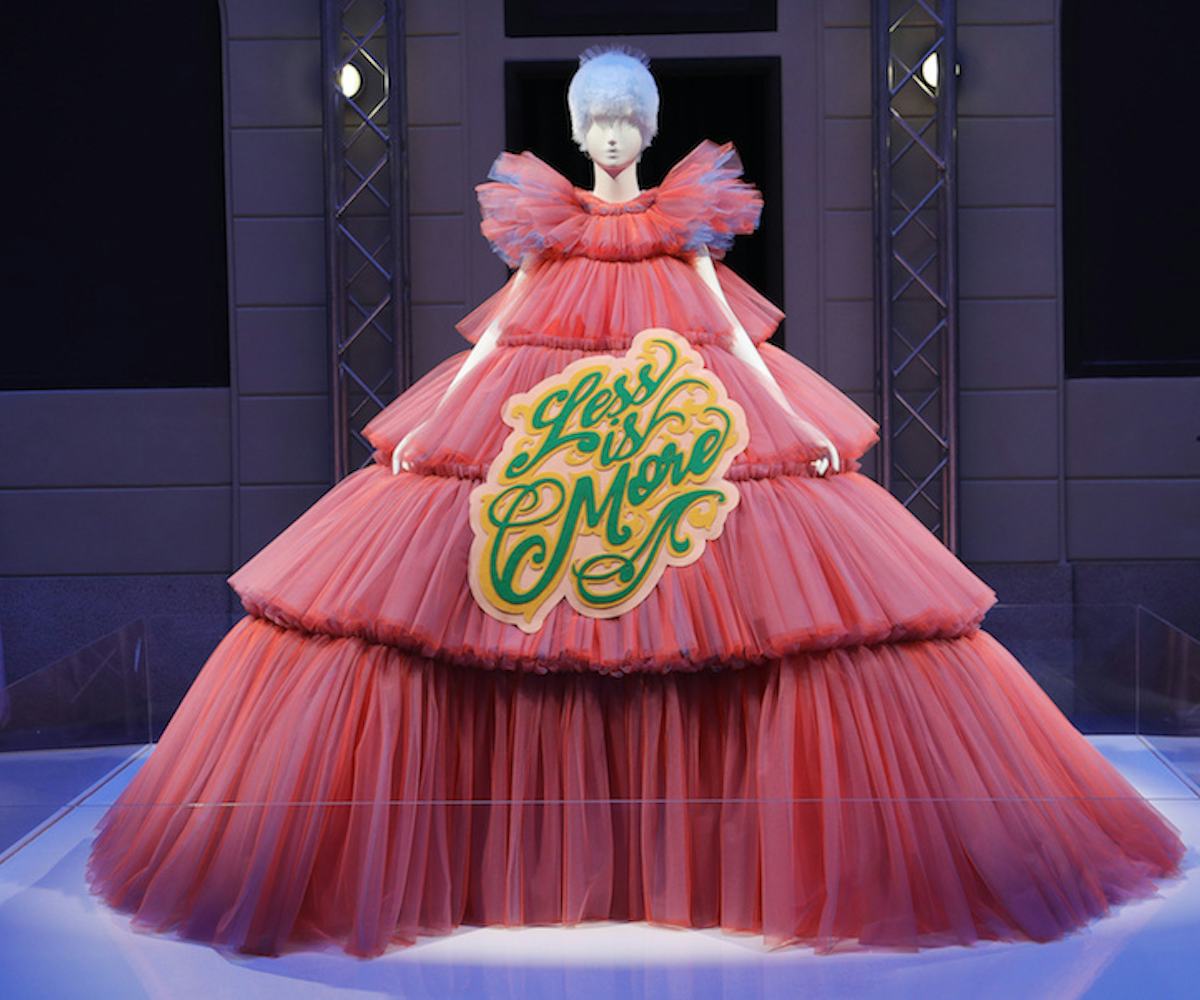 Photo by Vittorio Zunino Celotto/Getty Images for The Metropolitan Museum of Art.
Is This Camp?
The Costume Institute's new exhibit has some answers to this question
"One should either be a work of art, or wear a work of art." While this quote is attributed to Oscar Wilde and not Susan Sontag, whose 1964 essay "Notes on Camp" is the thesis for this year's Met Gala theme, these are the words that stayed with me as I made my way through the Metropolitan Museum of Art's Costume Institute's "Camp: Notes on Fashion" exhibit.
Ever since the theme was announced last year, according to Andrew Bolton—the Met's Wendy Yu Curator in Charge of the Costume Institute—the two most commonly asked questions from the public have been: Why choose this theme for a fashion exhibit? And: What is camp? The answer to the former can be found in the press release, in which Bolton is quoted saying, "Fashion is the most overt and enduring conduit of the camp aesthetic." The exhibit itself seeks to answer the latter.
The show attempts to define the concept of excess, extravagance, and theatricality by closely examining Sontag's language, though not without first looking at camp's origins and queer roots. Starting with the etymology of the word, the exhibit opens with the story of Louis XIV and his court days in 17th-century France, when the concept of se camper, translating to "to flaunt" or "to posture," first began to be used.
It quickly moves to photos and letters of Ernest "Stella" Boulton and Frederick "Fanny" Park—two men who dressed in women's clothes and impersonated women in 19th-century England, when, according to the exhibition notes, the word "acquired distinctive homosexual connotations" and "emerged as part of a secret language among gay men." There are also letters and texts from writer Oscar Wilde, whose appearance and style is responsible for popularizing the term "dandy" and whose work sparked outcry during his time for its references to gay relationships. Providing framework for how camp and queerness have come to overlap and intersect in culture, the artifacts are housed within tight halls, where the sound plays on low, a nod at camp's formerly "clandestine status," according to Bolton. And there was good reason for camp to be an encoded rather than overt language—the stakes were real. Because while Fanny and Stella were acquitted when tried for conspiracy to seduce men while in "drag" in 1871, Wilde was tried for "gross indecency" and sentenced to two years imprisonment with hard labor in 1895 after his affair with another man was made public. (Wilde's final days were explored in the film, The Happy Prince, starring Rupert Everett, whose hushed voice narrates this part of the exhibit.) While ensembles from archives of Chanel, Jean Paul Gaultier, and Yves Saint Laurent, as well as modern-day Gucci and Alexander McQueen, appear throughout these sections, the fashion highlights are undoubtedly the two delightful floral dresses by Erdem Moralioglu, whose Spring 2019 Erdem collection paid tribute to Fanny and Stella "as heroines of queer London."
Camp's move from the margins of society to the mainstream begins to be explored with Christopher Isherwood's Camp room, where his definition, from 1954's The World in the Evening, is explored alongside the 20th century's emergence of the sailor as a figure of "camp queerdom." Popularized by Rainer Werner Fassbinder's 1982 film Quelle, the point is cheekily supported by a crop top-and-sequin trouser sailor look by Jean Paul Gaultier, who credits the film and the book upon which it is based for his '90s sailor-inspired fashion streak.
The Sontagian Camp room is where the elusive question of what is camp gets answered, overwhelmingly so—in 58 points from "Notes on Camp" that flash brightly above the pieces on display. The first writer to approach the concept from a cultural analysis standpoint, Sontag defined it many ways, including as a "mode of aestheticism," "pure artifice," "love of the unnatural [and] exaggerated," "playful, anti-serious," and "dandyism in the age of mass culture." This makes room for a Caravaggio painting, whose art Sontag referred to as camp in her writing. Other "random" examples include Swan Lake and actress Mae West, via a feather gown by Cristobal Balenciaga; according to Sontag, '20s women's fashion with feathers, embellishments, and fringe is camp. And there's also room for uber-camp works by Andy Warhol who went so far to use Sontag's musings in his 1965 movie Camp.
Fashion lovers really get to appreciate the concept from an aesthetic lens as the exhibit explores the difference between naive and deliberate camp, concepts that Sontag defined as "a seriousness that fails" and "camp which knows itself to be camp," respectively. Here, high-fashion designs by "serious" designers like Cristobal Balenciaga and Yves Saint Laurent are presented alongside avant-garde and unabashedly camp designers like Mary Katrantzou, Jeremy Scott, and Thierry Mugler, whose delightfully architectural 1995 pink-and-black gown with a sequin bodysuit—worn by Cardi B at the Grammys this year—is on display. If you're still unsure what all this means, the distinction is made very clear with the first display—housing Salvatore Ferragamo's rainbow platform sandals designed for Judy Garland in 1938 (naive camp) and Alessandro Michele's popular Gucci Resort 2017 rainbow platform sneakers (deliberate camp) side-by-side.
If the first section of the exhibit was meant to be quiet and contemplative, the last room of the exhibit is an explosion of the senses that speaks to today's understanding of camp: exuberant, playful, ironic, outrageous, unapologetic, and nostalgic. Sontag's voice booms over Garland singing "Over the Rainbow"—the "camp anthem" according to Bolton—and over-the-top looks and accessories curated in a series of vignettes crowd the dark room's two levels. This is the type of camp that was most on display at the Met Gala earlier this week; it boasts Björk's iconic swan dress, Maison Martin Margiela's split-toed boots and Demna Gvasalia platform crocs for Balenciaga, Louis Vuitton's logomania, and gowns from Viktor and Rolf's most recent, snarky collection, among others.
Christopher Bailey's rainbow-colored cape that closed his last Burberry collection takes on even more significance here. A new appreciation is also given to Jeremy Scott's over-the-top designs for Moschino, with a prosciutto dress, a peas-and-carrots, mashed potatoes-and-gravy cape, and a McDonald's sweater dress made for this display rather than the runways on which they debuted. These looks serve as a reminder that fashion is most exciting when it doesn't take itself seriously; they're all options that modern figures of camp—most notably, drag queens, but also celebrities like Cardi B and Lady Gaga—would probably not hesitate to wear on the red carpet, and it's what made this Met Gala the most exciting one yet. Interestingly—mostly because it's the Costume Institute and sponsored by Vogue and Gucci—"Camp" displays the works of younger designers like Tomo Koizumi, who was in the audience during the preview, and Vaquera alongside established names like Vivienne Westwood, Marc Jacobs, and Thom Browne.
It's with this in mind that it's worth noting the aspect of Sontag's definition of camp that promotes "the equivalence of all objects" and asserts that camp is "a mode of enjoyment, of appreciation, not of judgement." And, it feels particularly significant that "Camp" arrives during a time when the society is questioning institutions, challenging conventions, defying labels, and, overall, moving to a more inclusive world where differences and nonconformist views are celebrated rather than persecuted.
So does "Camp" succeed in providing a neat definition of the term? No. It instead proves the inherent futility of trying to define a concept so elusive and subversive at all.
"Camp: Notes on Fashion" is on view at the Metropolitan Museum of Art from May 9 to September 8.