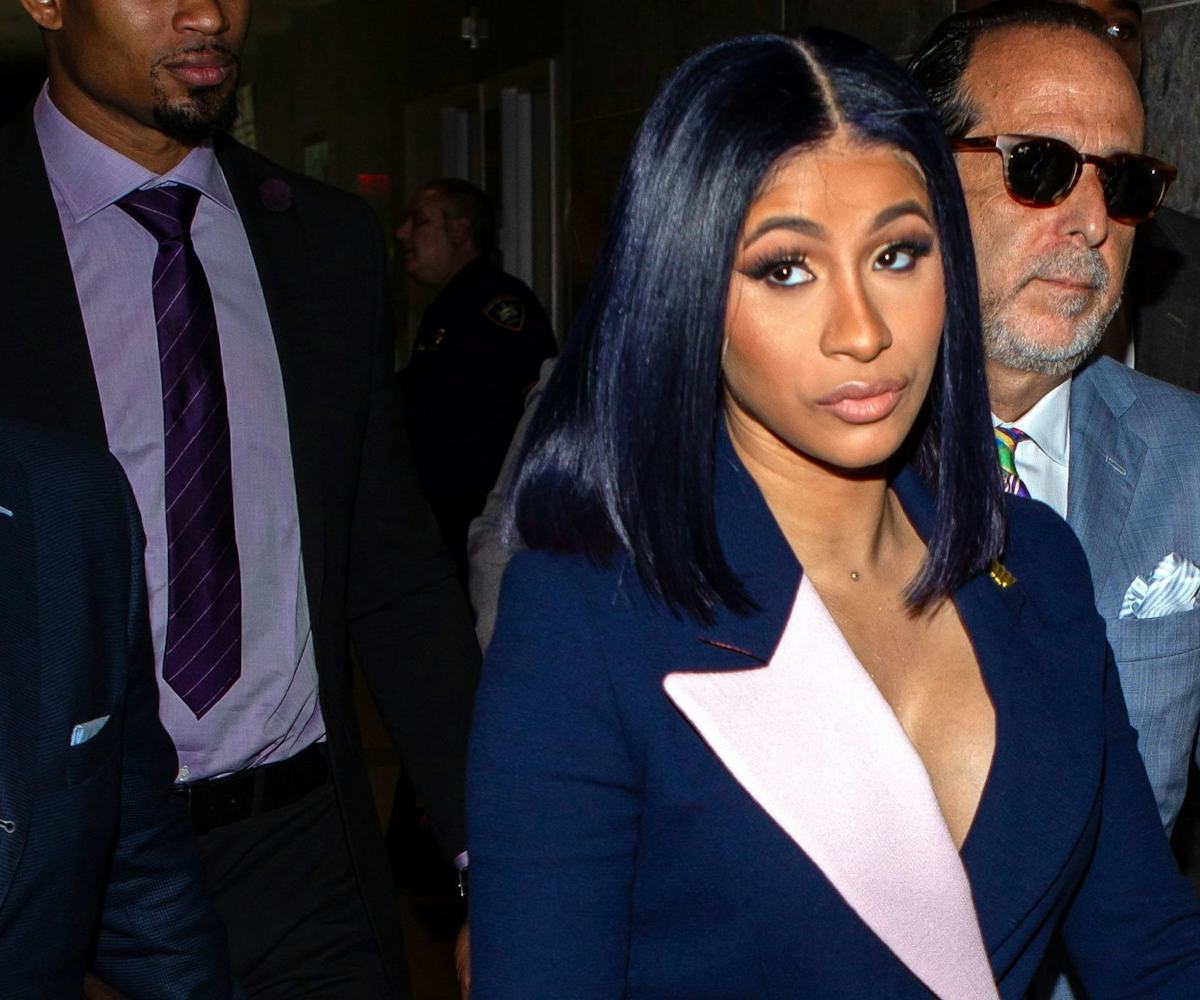 Photo via Anthony DelMundo/POOL/EPA-EFE/Shutterstock
Cardi B Calls Out Attorney Who Made Sexist Comments About Her Courtroom Style
"I dress like a young fucking lady"
Cardi B took to Instagram to criticize the lawyer who told the New York Postthat she was using her court appearances "like a runway show," and only cared about how she dressed.
The article in the Post, titled "Cardi B isn't the only star guilty of red-carpet courtroom style," focuses on the outfits that Cardi has been wearing to the court proceedings surrounding her alleged involvement in a strip club fight. It quotes the criminal defense attorney, Joseph Tacopina, who is representing the alleged victims, Jade and Baddie Gi (aka Sarah and Rachel Wattley).
"Cardi treats her trips to the courthouse like a runway show," Tacopina tells the Post. "Here's a woman who got indicted by a grand jury with felony charges, and appears to only be concerned about what she's wearing. There's going to be a 'Come to Jesus' moment with her, because it's not consistent with someone who's taking this seriously."
In response, Cardi posted since-deleted videos on Instagram in which she apparently speaks directly to Tacopina. "Bro, I don't dress inappropriate when I go to court. I dress like a young fucking lady," she says. "Where am I supposed to get my suits from, bro, H&M? Why are you worried about the way I dress? That just goes to show that y'all do this shit for press."
Cardi also points out that she's been to court multiple times, and once went with just Chapstick on, though she paired it with a fur coat, which is pictured in the Post's piece. She points out that she only has bubble coats and fur coats, and she chose the latter. "I cannot control that there's 100 cameras outside every single time I go to court," she says.
Cardi finishes her statement by pointing out that Tacopina also represents Meek Mill, who is fighting for prison reform, and notes that she has also donated money to that cause, but he only cares to talk about her when it's about "what I put on my fucking body."
Watch her videos, below.