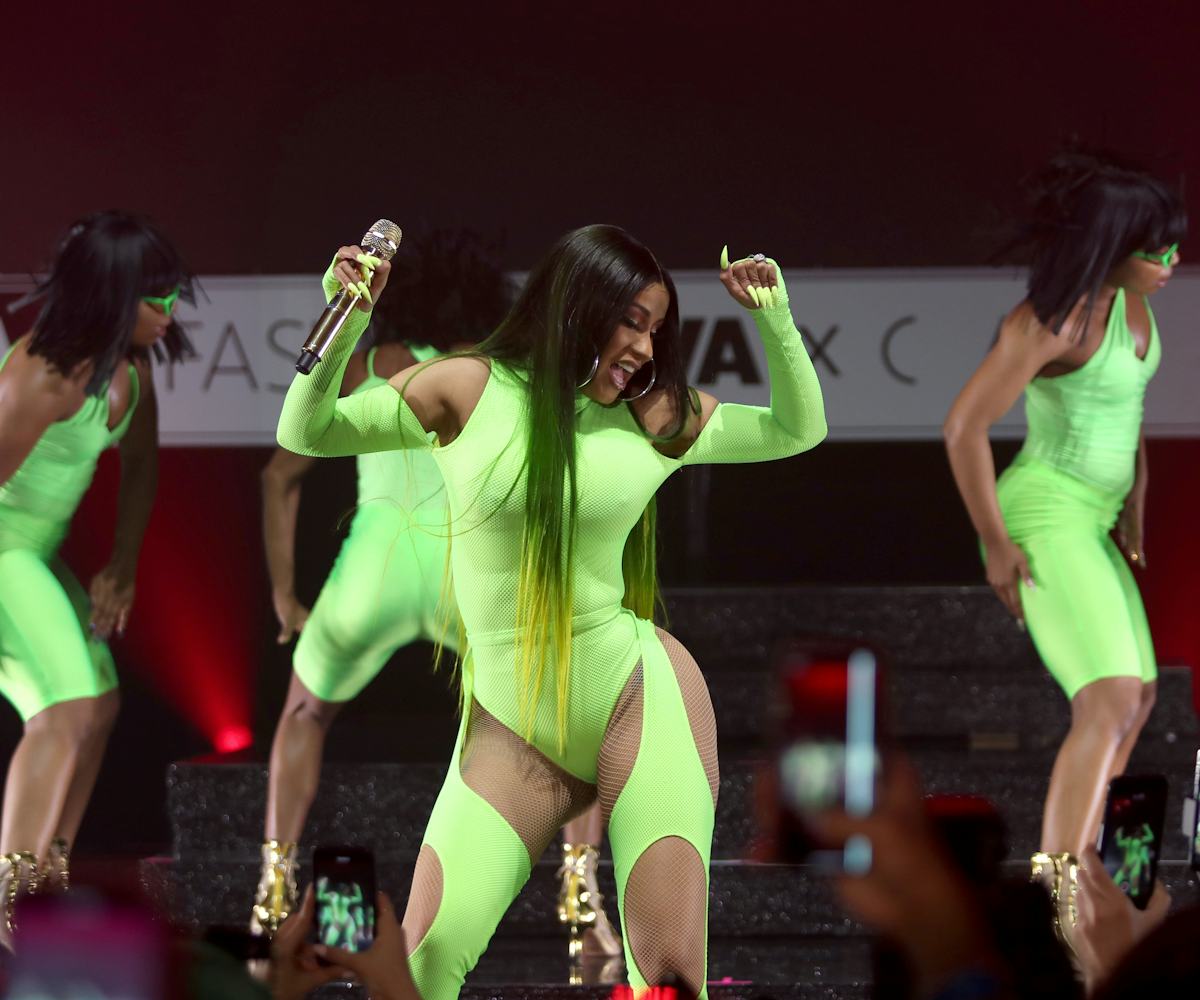 Photo by Jerritt Clark / Stringer / Getty Images.
Why Cardi B's Plastic Surgery Saga Is So Refreshing
She's been wonderfully honest about the ups and downs of her procedures
There is a good chance that, right now, Cardi B is wearing really something really tight. I'm not talking about one of the pieces from her Fashion Nova collection, either. Instead, she's probably cooing at baby Kulture while swaddled in a compression garment, a necessary part of the healing process after certain cosmetic surgery procedures.
As reported by E! News, Cardi B has had to cancel several performances after her doctor ordered her to rest and allow her body to recover following cosmetic surgery. A rep for Cardi explained to E! that "Cardi was overzealous in getting back to work" and that "her strenuous schedule has taken a toll on her body and she has been given strict doctor's orders to pull out of the rest of her performances in May." This followed an admission by Cardi herself, at the Beale Street Music Festival earlier this month, that she should have canceled her performance because moving too much would mess up her lipo.
Cardi's transparency about plastic surgery is nothing new for her. She has opened up in the past about her underground butt injections, including the financial pressure she felt and the risks she took to get them. She's been open about both of her breast augmentation procedures as well, most recently getting them redone after giving birth to her daughter. But Cardi's transparency about the ups and downs of plastic surgery is still rare amongst celebrities and is therefore refreshing.
And it's not just celebrities who keep quiet about these procedures. The first person I knew to get a butt augmentation was a friend from high school. We reconnected as adults, and I remember going to her apartment after her surgery, and seeing her pace the floor in her compression garment, since it was still too soon to sit and put pressure on her backside. But even in the comfort of her own home, she seemed to speak in a hushed tone about having had the surgery. Before I'd arrived, she just told me she'd had a "medical procedure," and didn't say anything more. This has been the case for other women I've met who have gotten "work" done, including my aesthetician, a colleague who got a nose job, a darling YouTuber with whom I had the pleasure of having dinner; all of them would only acknowledge their enhancements in secret—the shame was palpable, and unfortunate. It's clear that women who get plastic surgery might be celebrated for the results, but there's an expectation that they should keep quiet about it, and feel bad for having made a choice about their own bodies.
So it's no surprise that, in the pop culture realm, people like Cardi are exceptions to the rule. Thanks to the internet, we can easily track the fullness of a celebrity's lips or backside over the course of time without them ever explicitly acknowledging the medical intervention that took place. And while people, of course, have the right to privacy, and should be able to do whatever they want with their bodies without offering explanations, it would still be nice if they opened up, if only to take away the attached stigma that affects so many people. Which is why I hope Cardi's willingness to lay it all out there becomes a trend. No one should have to harbor shame for investing in having a body that looks the way they want it to.