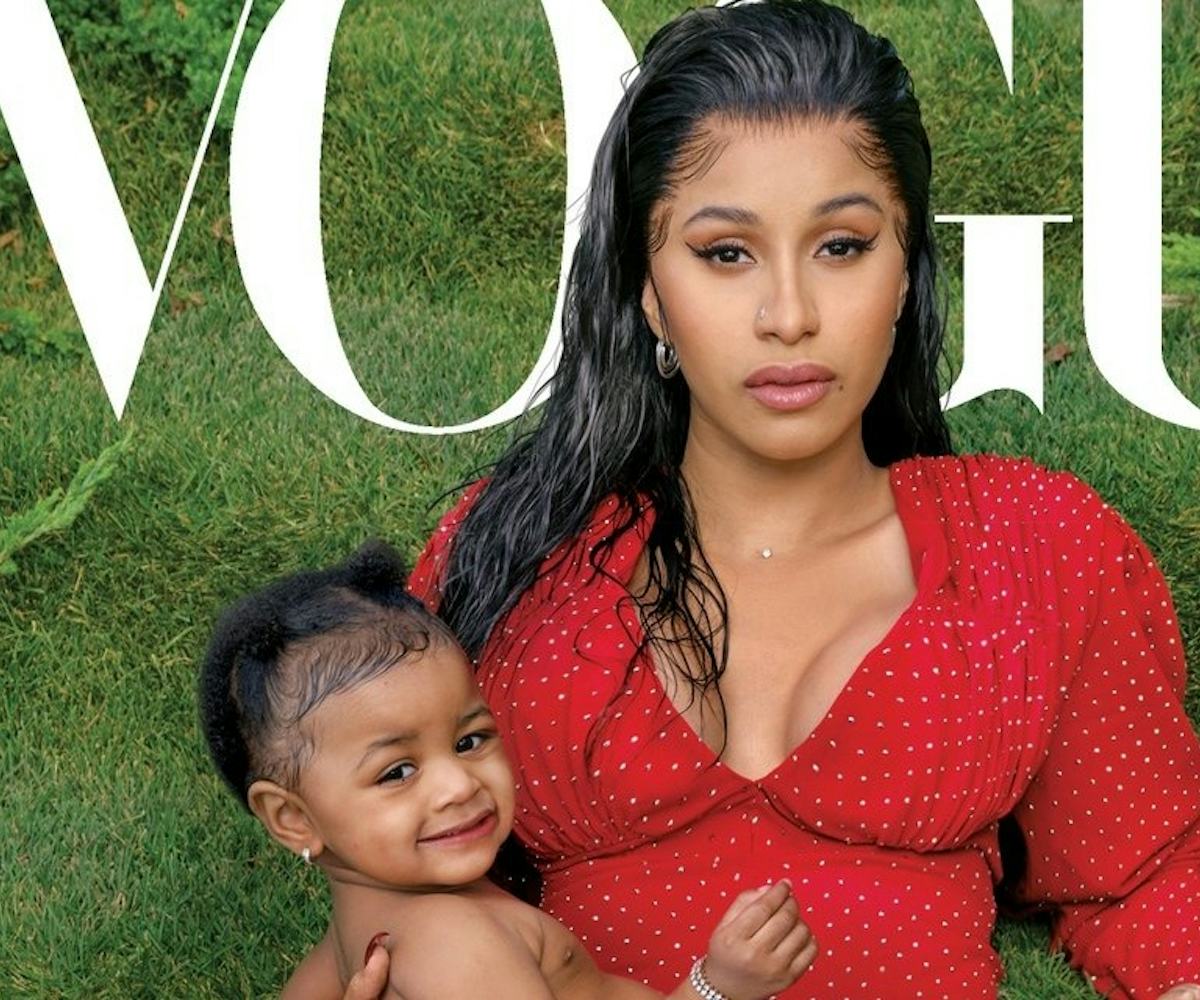 Annie Leibowitz for Vogue
Cardi B Makes History As First Female Rapper To Cover American 'Vogue'
Kulture joins her for the iconic Annie Leibowitz photos
Cardi B has been unveiled as the last cover star for U.S. Vogue's January 2020 issue which celebrates "four fearless creative forces, role models, and mothers." She joins Greta Gerwig, Ashley Graham, and Stella McCartney as the issue's four cover stars, and in doing so, makes history as the first female rapper to cover the U.S. publication.
The Annie Leibowitz-helmed photos show Cardi B and her daughter, Kulture, at home, as the cover story focuses on the rapper balancing motherhood with the stresses of fame, as well as her imminent next album. ""Being a mom—how can I say it? Things are a little bit harder to balance, but it's good for the mental," Cardi B tells Vogue. "Like, if I'm playing with my daughter, I forget about the issues."
Elsewhere in the story, she talks about her long-awaited second studio album, which will be released early next year: "It's scary because it's like, now you got to top your first album, and then it's like, damn. I wonder if people are gonna relate to the new things, to the new life, to the new shit that I gotta talk about now," Cardi B says of the music selection. "Music is changing. I feel like people just wanna hear twerk-twerk music, but it's like, is that just a phase? I probably need a sexy song. I need a lot of turn-up songs. I need a slow song, a personal song. And those are harder for me—I always need help when it comes to talking about my feelings.
The rapper also reaffirms her support for Bernie Sanders, stating that he "has the perfect intentions," and that when it comes to her ideal president, she wants a candidate who is not an entertainer. " I want my president to be, like, extremely holy," she says. "That is the person I want to look up to. I don't want my president to have any hatred toward a certain type of people. I don't want my president to be arguing with freaking celebrities or caring what people think of him. I want my president to tell me an answer on shit that really matters. I don't want my president to entertain me. I just don't."